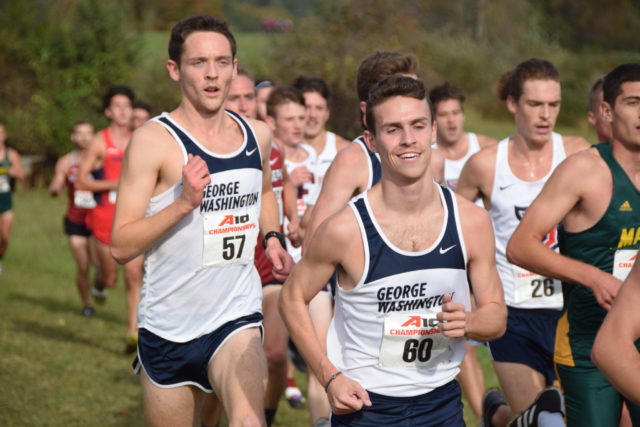 High school teams raced their district and conference meets and colleges held their conference meets over the last week. Here are the local individual team and individual high school winners and the overall college team conference finishes and the top runner from local teams. College teams race their regional meets in two weeks. Virginia and Maryland teams run regional meets this week and D.C. teams race their state meet this Saturday at Kenilworth Park.
Private High Schools
Mid-Atlantic Athletic Conference (MAC)
Sidwell Friends; John Moxley – Flint Hill
Interstate Athletic Conference (IAC)
St. Albans; Tre Simmons – Episcopal
Independent School League (ISL)
National Cathedral; Page Lester – National Cathedral
Washington Catholic Athletic Conference (WCAC)
Boys: Gonzaga; Max Greczyn – Bishop O'Connell
Girls: St. John's College; Cady Hyde – St. John's College
Virginia Public Schools
Cardinal District
Boys: Forest Park; Zachary Diller – Forest Park
Girls: Forest Park; Laura Webb – Woodbridge
Cedar Run District
Boys: Patriot; Justin Sriver – Patriot
Girls: Osbourn Park; Lindsay Yentz – Patriot
Concorde District
Boys:James Madison; Chamberlain Zulaf – James Madison
Girls: James Madison; Nicole Re – Chantilly
Dulles District
Boys: Loudoun Valley; Rylan Pettit – Woodgrove
Girls: Loudoun Valley; Sophie Hudak – Woodgrove
Gunston District
Boys: Annandale; Mikyas Sahlu – Annandale
Girls: West Potomac; Julia Ghiselli – Annandale
Liberty District
Boys: Herndon; Sean Casey – South Lakes
Girls: South Lakes; Olivia Beckner – South Lakes
National District
Boys: Edison; Yared Mekonnen – Edison
Girls: Marshall; Heather Holt – Marshall
Patriot District
Boys: West Springfield; Edward Cerne – Lake Braddock
Girls: Lake Braddock; Seneca Willen – Robinson
Potomac District
Boys: Tuscarora; Derek Johnson – Tuscarora
Girls: Tuscarora; Emma Wolcott – Tuscarora
College Conference Championships
Atlantic 10
Men: 3.George Washington, 8.George Mason; 6.Matthew Lange – George Washington
Women: 6.George Washington, 9.George Mason; 14. Madison Yerke – George Washington
Big 10
Women: 10.Maryland; 12. Alexandra Lucki – Maryland
Big East
Men: 1. Georgetown, 1. Jonathan Green – Georgetown
Women: 3.Georgetown, 9. Josette Norris – Georgetown
Capital Area Conference
Men: 105. Chase Goodwin – Marymount
Women: 7. Marymount, 33. Brooke Saunders – Marymount
Landmark Conference
Men: 5. Catholic; 18. Kevin Luchler – Catholic
Women: 6. Catholic; 8. Kiera Lyons – Catholic
North Eastern Athletic Conference
Men: 12. Gallaudet; 34. Chance Hohneke
Women: 10. Gallaudet; 20. Kristi Luna
Patriot League 
Men: 4. American; 6. Alaeldin Tirba – American
Women: 6. American; 4. Adriana Hooks – American
Recent Stories
Fairfax County Detectives have arrested and charged a 42-year-old Herndon man with crimes related to indecent exposures near the Washington and Old Dominion Trail in August, the department reported.