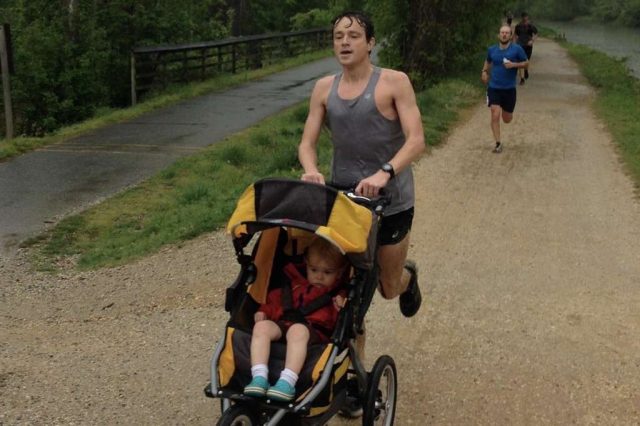 Name: Paul Karlsen
Self-described age group: I will be a Masters runner by the end of this year.
Residence: Bethesda.  Previously London.  Originally Scotland.
Occupation: I work at the British Embassy, on a Posting from the U.K.  We have been in the United States for four years already and were supposed to leave in the summer.  But I fought like a passenger about to be bumped from a United flight, and they eventually conceded that we could stay four more years.
Volunteer roles in the running world: I am a very occasional volunteer at Fletcher's Cove parkrun.  Also, I head up the support crew (Hans, 3, Dottie, 1, and myself) when my wife, Fiona, is running.  She recently won her Age Group at Steamtown Marathon.
Why I run: I think it makes me a better person. And it is mostly quite good fun.
When did you get started running: I have always enjoyed the occasional run, but grew up playing football (aka soccer) in Scotland.  When I was 33, Fiona signed up to run the Great North Run in Newcastle, England, to raise money for a fantastic charity called RedR.  They had a spare place so I got roped in.  I was overweight and out of shape, so it was a painful but rewarding experience. A year or so later I was running almost every day.
Have you taken a break from running:  Never by choice!  Only due to injuries.
Training shoe: Saucony Kinvara and Adidas Adizero Takumi Sen
Coach or training group: I think of myself as part of Alan Pemberton and Dan Yi's Dojo of Pain training group but family and work commitments mean I most often run alone.  Strava serves as a virtual training group.
The hardest race you've ever run: I 'ran' the Stone Mill 50 miler a few years ago.  I am not sure if it was the hardest race but it was certainly a particularly unpleasant way to spend a Saturday.
Most adventurous decision you've made with your running: I bought a pair of bright pink running shoes.
Running mentors: My fellow Dojo runners, especially those running really fast times despite being, ahem, a few years out of college: Alan Pemberton, Jen Maranzano, Jim Moore, and others.
My favorite place to run in the D.C. area is:  The Capital Crescent Trial.  The trail access at mile 5.5 is at the end of our street.  So despite there being many excellent places to run in the D.C. area, I seem to do a huge percentage of my running on the small section of the CCT between  Bethesda and the Dalecarlia Reservoir. The Big Loop was my favourite long run and it made me quite sad that I was injured around the time the Georgetown Branch closed and didn't get to do one last loop.  We will have left D.C. by the time it reopens.
Favorite local trail:  I love having Glover Archbold and Battery Kemble near my office, for a lunchtime trail run.
My best race was: Monster Mash Marathon, 2017, in Dover, Delaware.  I went out too fast, ran a HM PR for the first half, and expected to be walking by mile 24.  But the inevitable never happened.  I ran an even split, won the race and totally exceeded all of my expectations.  Disclaimer:  I would not recommend this as race strategy.
Favorite local race: I love CB10 but am also a huge fan of parkun.  My local parkrun at Fletcher's Cove is fantastic and friendly.  There are also events in College Park and Rosovelt Island, and another starting in Anacostia later in the year.
Ideal post-run meal: Pizza from Tomo Pizzeria in North London.
Favorite flavor of gel, gu, etc: Gu Tri Berry
Pet peeve: That the weekly mileage it takes for me to get into PR shape is apparently very slightly higher than the weekly mileage it takes for my body to start to break down.
Goals: Life begins at 40.  And so does my assault on the Dojo masters records.  I would also love to celebrate by running a sub 2.40 marathon at some point during 2018.  But at the moment I will be happy if I can just stay injury free long enough to run a race of any distance.
Your advice for a new runner:  I now make a point of not giving out advice (I refer you to the injuries question below).
Favorite running book: I have an old copy of Running with Lydiard, which I think looks really good on our coffee table.  I enjoy Adharanand Finn's books.  The Sports Gene, while not exclusively about running, was very interesting.
Song in your head during a run: Mostly kid's songs. Running 22 miles while internally reciting 'Down By The Bay' in time with your cadence is a particularly cruel form of torture.
Have you dealt with a major injury: I have had more than my fair share of injuries in the last four years, mostly due to my own impatience and stupidity.  I don't deal with it very well so thankfully I have never been out for longer than a couple of months at a time.Running quote: "Running with the Dojo will either get you a PR or hurt.  Quite possibly both." – Source Unknown.
Why is the D.C. area a great place to be a runner:  The trails, the races, but mostly the people.