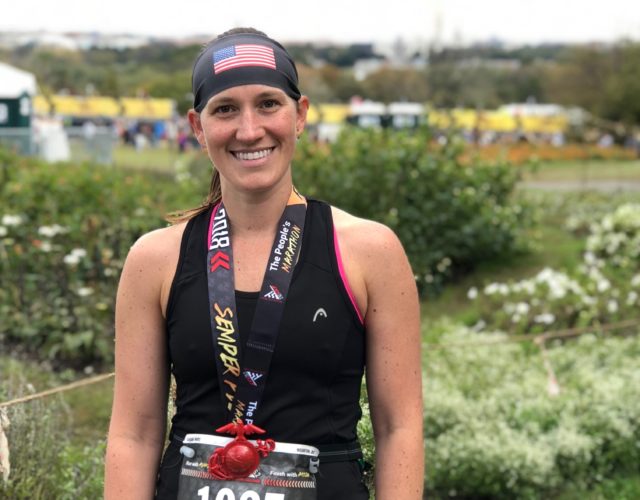 Sarah Beth Hensley is the digital news manager at WTOP and has been writing for RunWashington since 2017. She doesn't want you to run a race wearing someone else's bib.
See more of her writing here.
Name: Sarah Beth Hensley
Self-described age group: 30-34
Residence: Washington, D.C.
Occupation: Journalist, Digital News Manager at WTOP News
Volunteer roles in the running world: Volunteer with Teens Run DC; Credit Union Cherry Blossom Ten Mile Run race committee member
Why you run: Simply put, running makes me happy. I love how refreshed and energized I feel after a run, I love seeing how hard I can push myself, I love how it focuses me and challenges me, I love the camaraderie I've found through the sport and I love learning about my region and other parts of the world by running through them.
When did you get started running: I started running in sixth grade. I joined the cross country team when I didn't make the soccer team, and I never looked back. I did track and cross county all through middle school and high school.
Have you taken a break from running: Yes. I had IT Band issues that sidelined me for about six weeks in the fall of 2016. It was excruciating for me to not be able to run.
Training shoe: New Balance (Zante) or Brooks (Ghost)
Coach or training group: I'm not a regular participant, but when I do work with training groups it has been with Potomac River Running.
The hardest race you've ever run: The Dopey Challenge races in Walt Disney World in January 2019. Not only was the training tough for January races, but the mental and physical strain of running four races in four consecutive days (5K, 10K, half marathon, marathon) was impressive. While it was one of the hardest running experiences I've had, I still was having a blast doing it!
Most adventurous decision you've made with your running: This past summer I ran for 40 straight days when I did a run streak from Memorial Day to Fourth of July. It was challenging and something that tested me every day.
Running mentors: Honestly, those who are new to running constantly inspire me and make me want to keep going. I think that's why I cherish my time running with teens through Teens Run DC — they are constantly breaking down barriers, pushing themselves and having fun doing it. It makes me enjoy running all that much more.
My favorite place to run in the D.C. area is: The National Mall. Sometimes it's the most infuriating place to run in the whole region, but early in the morning it provides some of the best views and is close enough to my house to crank out a few easy miles with plenty of distractions.
Favorite local trail: Mount Vernon Trail/Roosevelt Island
My best race was: The Parkway Classic earlier this year. It was a gorgeous day, I got my 10-mile distance PR and felt amazing almost the entire race.
Favorite local race: Marine Corps Marathon and Cherry Blossom Ten Mile
Ideal post-run meal: Pizza
Favorite flavor of gel, gu, etc: Birthday Cake-flavor Gu. It tastes like Funfetti icing. I love it so much, I have an entire case of it.
Pet peeve: When people walk any more than two people wide on a race course or on the sidewalk.
Goals: To improve my marathon PR of 3:47. But overall, I want to continue having fun in a sport that makes me immensely happy — whether that's trying new races, taking on new feats or mentoring younger runners.
Your advice for a new runner: Keep going. It's easy to give up when you're hurting or tired or not interested. But make the time and get out there! Also, sign up for a race — I find that once I pay the money and book the day, I won't back down on training.
Favorite running book: While it may not be a book, RunWashington is my favorite source for informative and inspiring running stories.
Song in your head during a run: Something by Beyonce or Taylor Swift.
Have you dealt with a major injury: Not a major one, but the IT Band issues I've had in the past have had a lasting impact. My physical therapist would be happy to know I still do my stretches constantly to avoid any recurrence.
Running quote: "The hill is your friend" — it's something my high school cross country coach, Dan Baker used to say to the team when we ran hills, and it still makes me laugh and smile thinking about his laid-back coaching style and any effort to make running hills more palatable.
Why is the D.C. area a great place to be a runner: It's got an amazing running culture, well-run races, loads of speciality-running stores and safe, well-maintained trails. But I really fall in love with D.C. most when I'm out running early mornings on frigid January days or oppressively humid summer days and see dozens of other people out running, too. If you're in D.C. running, you're not alone. You're part of this community of runners who are going through this same misery and joy as you — even when it's too cold to feel your face.
Recent Stories

Both 5K and 1 mile courses are USATF certified. The 5K course has some moderate hills. The 1 mile course is flat making this a perfect PR course. We are really looking to get a broader participation base.
Funds go