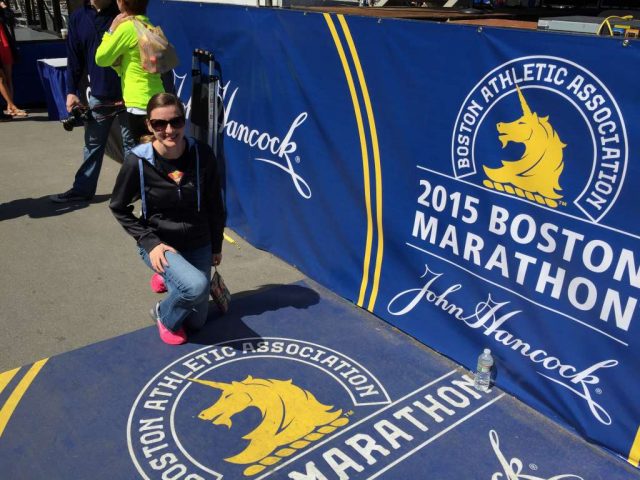 Name: Julie Hartenbach
Self-described age group: 31 years old
Residence: Alexandria
Occupation: Program Analyst
Why you run: This reason changes as my life changes.  Years ago I ran for competition, then I ran for fitness.  Now, with a toddler at home, I run for sanity.  It's a moment in the day where I can step away and just breathe for a few minutes, even if I'm running with the stroller, it's my time.
When did you get started running:  My mom is a high school track coach and I grew up around a track or cross country course.  I started running competitively with the Philadelphia CYO when I was 5 years old.
Have you taken a break from running:  Since I started running so young, I got burned out running in college during freshman year.  It became too much of a job for me and I forgot the reason that I loved running.  Throughout college I didn't run as much, a few miles here or there to keep somewhat of a fitness level, but nothing earth shattering.  After graduating, I found my reason to run again and decided to train for the Pittsburgh Marathon, my first full.  Since then the only break I've really taken is the few weeks after giving birth (I ran until I was 35 weeks pregnant.  I was that girl!)
Training shoe: Usually anything Nike works well for me.
Coach or training group: Self coached (for now) and because of my crazy schedule I'm a lone runner usually.
The hardest race you've ever run:  Rock & Roll Las Vegas Marathon in 2015.  It rained for about 20 minutes around mile 10, which brought cold 30 mph wind (gusts up to 50 mph).  The course was not spectator friendly so we were just out there with our own thoughts a lot.  In the 25th mile, the wind was so strong I literally took steps backwards.  Guys passing allowed me to tuck in behind them for a few strides.  On top of all that, the Gatorade mid run didn't sit well in my stomach and I was so sick at the finish – but I checked the box for Nevada on my state list!
Most adventurous decision you've made with your running: I'm pretty safe when it comes to my running decisions so I would say running the Dopey Challenge at Disney in 2014 was my most adventurous.  I had never run races back to back, so why not do four races, doubling in distance each day!
Running mentors: My running mentor is my brother, Tim.  He has great knowledge of getting stronger, better stretches and different ways to approach workouts. He is always pushing me to set my goals higher, be stronger, faster and better all around.
My favorite place to run in the D.C. area is:  Along the National Mall.  A great place for some recovery miles, awesome sights and amazing people watching!
Favorite local trail:  Mount Vernon Trail – I love all the combinations of runs you can get from that trail; from Old Town to Crystal City, pop into Arlington or D.C., over the bridge to Georgetown.  I use it like a runner's interstate for D.C.
My best race was: Soldier Marathon in 2017. I went into that race so confident I was going to PR and walked away with the overall female win!  To run on Fort Benning, which holds a lot of memories for my family, to have my favorite people in my support group, and to hug my son at the end just made for an amazing day!
Favorite local race: Marine Corps Marathon
Ideal post-run meal: Post-long run I normally try to keep it simple with a shake and a sandwich.  Post-race though, I'm all about a burger!
Favorite flavor of gel, gu, etc:  Huma gel Berry Pomegranate
Pet peeve: When people honk as they drive by.  What a way to spike that heart rate!
Goals: I have a big dream of running sub-3 in the marathon, but for right now I plan to continue my goal of a half or more in every state and staying healthy!
Your advice for a new runner:  Don't compare yourself to others.  You're not at the same point in the journey.  Just keep moving forward.
Favorite running book:  The Terrible and Wonderful Reasons Why I Run Long Distances by Matthew Inman.  Not the deep, motivational book some might want, but he makes you laugh and lets you feel normal (you're not the only one who thinks strange thoughts when running!)
Song in your head during a run: These days it's usually a kid's song from a show or a toy.  Every now and then a Taylor Swift or a recent country song will creep in.
Have you dealt with a major injury: In Spring 2015, I ran Little Rock Marathon in March and turned around to run Boston in April.  A week before Little Rock my knee started bothering me.  I slapped a brace on and ran anyway.  Later my physical therapist determined it wasn't my knee, but rather I strained my hamstring.  I was so determined to cross that line on Boylston, so with some KT Tape, riding the bike in the weeks leading up to the race, and some strengthening exercises I was given the go ahead to run.  After Boston, I took a short time off to let it heal up.  Other than that I've been blessed staying pretty healthy.  I try to keep in tune with my body and nip anything in the bud.
Running quote: "With a good heart and a strong mind, you can do it."  – Eliud Kipchoge  This man is a legend!! What a simple reminder that anything is within your reach, just keep working.
Why is the D.C. area a great place to be a runner:   There are so many amazing runners in this area for inspiration!  I recently got into the Instagram world which has allowed me to connect with many locals who have such a passion for running.  It's a great community to be a part of.
Recent Stories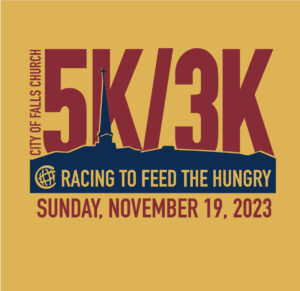 The out and back Falls Church City 5K/3K course is mostly flat on the W&OD Trail starting and finishing at 103 Columbia Street. Overall male and female winners earn free shoes and medals are awarded to all categories. Great family