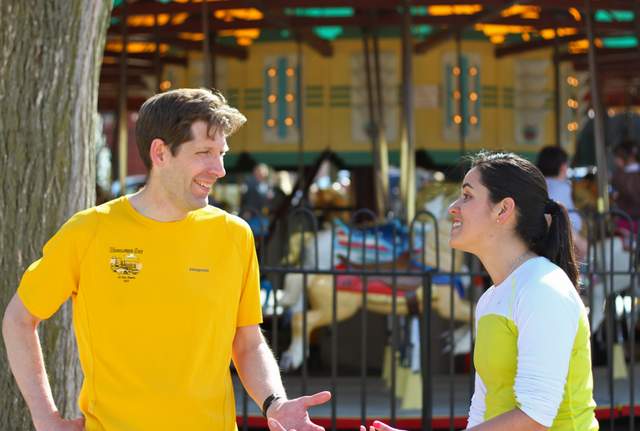 Finding that extra bit of motivation to conquer long runs during marathon training can be a struggle. It's easy to find yourself running the same routes repeatedly, or seeing the same sights and people nearly every weekend.
Cristina Lopez found herself in this exact situation, but desperation bred inspiration and a run she won't soon forget.
"I was doing Mt. Vernon Trail for all of my long runs," Lopez said, who was training for her second marathon, the Rock 'n' Roll USA Marathon. "After a while, I knew every bend in that trail. I really needed something to keep me motivated."
She came up with a goal to help keep her motivated: the "triple tax code" — hitting three different tax codes (Virginia, Maryland and the District of Columbia) in one run.
Starting from Ballston, in Arlington, she made her way across the Arlington Memorial Bridge and ran north up the Rock Creek Trail. Once she hit the Maryland border, she turned around and headed back to Virginia via Connecticut Avenue.
"It was the kind of run that you pick the streets that feel good to you," Lopez said. "It was liberating to not have a planned route and to take the roads that felt right at the moment."
Along the way of running through three different tax codes, Lopez also happened to find three different strangers to talk to (and run with).
"It was one of those weird days where we had a spurt of good weather in this miserable winter, " Lopez said.  "So the other runners I encountered were in a good mood–and wanted to talk to strangers."
Lopez's trio run eventually helped in claiming a 27-minute marathon PR just a few weeks later.
Punching it
Nearly every Tuesday evening, the D.C. Front Runners meet for group runs at 23rd and P Street, Northwest. Warren Snaider, an active participant of the group for more than 20 years, usually finds himself with back of the pack. But Snaider remembers one run in particular that this wasn't the case. In fact, he clearly remembers an out-of-character run.
Warren and his running partner made their way toward the Capitol by way of Rock Creek Parkway. Once they reached the east front of the Capitol, they ran into two other guys in the group. And without one word spoken to his running partner, they had a mutual agreement.
"There was this overload on testosterone," Snaider said. "And individually, we knew we had to come ahead of the other runners–even though, in my case, they were better runners. So we just started running a little faster and a little faster, and they were keeping up with us. We came storming the ramp along the parkway toward P Street–and we're hauling ass–sail across the bridge and the two of us did finish ahead of them."
Despite the hundreds of different runners at various levels making up the group, Snaider said that night was an exception.
"We tell people that the [DC Front Runners] is a very uncompetitive," Snaider said. "You can be a very fast runner or a very slow runner. We don't care. And it's true, we don't' care. But that one night, I don't know what happened. Something took control of us."
Snowballing
Less than a week after the Boston Marathon bombings, Baylee Crone helped the D.C. Capital Striders organize a running tour of the monuments. The group told runners to wear their race shirts and paper bibs that read, "Run for Boston."
Once word got out about the group run, more and more people started to spread the word through several social media outlets.
"When I went to sleep the night before, 20 or 30 told us they'd be there," Crone said. "But when I woke up the next morning, there were close to 70 people there."
Starting at the Smithsonian Metro Station, the group made its way to the Washington Monument, the World War II Memorial and the Lincoln Memorial.
With more than 70 runners in race shirts and their paper bids, Crone knew the run would always stick out to her.
"It was a good reminder why you should run out in a group," she said. "It's a healing process. There's a catharsis connection that reminds you the good things about humanity."
Frosty Frolic
After training with the Capitol Hill Running Club for a number of years, a group that gets taken over in June by the Marines in preparation for the Marine Corps Marathon, training in single-digit temperatures during the polar-vortex is bound to happen.
Even though the Capitol Hill Running Club actually cancelled their group on the coldest day of the year, Charles Rosseaux was one among a few other members to show up at the normally schedule time to knock out some miles, despite the temperature.
"Col. Ray Celeste, said to us in an email, 'just because it's cancelled, doesn't mean we can't go,'" Rosseaux recalled.
Rosseaux said he and a few other members of the group showed up to run. They ran on the Mall, hitting some pretty heavy wind. He wore three layers on everything to keep warm.
"Total 'idiot runner' thing to do," Rosseaux said.
But the polar-vortex run doesn't actually top his best running story, a five-hour run in Snowmageddon.
"In my 'wisdom,' I decided to check out Haines Point," Rosseaux said. "It wasn't plowed but I decided to keep going anyway. It wasn't my brightest idea."
After Rosseaux hit Iwo Jima, he went up to Georgetown and tried to follow as many snowplows as he could find. He thought, "please let me keep following you."
"The snow plow drivers didn't seem too impressed," Rosseaux said.
Lending a shoulder
Tris Kruger may have expected to step outside of his aerobic comfort zone when he stepped out of his house at 5 a.m. for a six-mile run but not his own personal comfort zone.
As he headed out for a run, Kruger passed a deer struggling between a wall and tree. When he made his way back, the same deer was still struggling. Kruger was compelled to do something.
"I picked the deer up from its hind legs, Kruger said. "I put its legs on my shoulders and after a couple of tries, I pushed him back over the wall. It took everything I had."
 Finding friends everywhere
While Mark Ramsey of Reston was on vacation in Crested Butte, Colo. last August, he took advantage of the break from the Washington, D.C. humidity and set out for a 12-mile run along the 'Oh By Joyful' trail.
The weather was "cool 50's" at 8 a.m. when he left from the trailhead at 9,000 feet. Turning around at mile six just over 10,600 feet, Ramsey said he not only ran into some prairie dogs chirping at him but also passed a hiker with a llama.
"We said hello quickly and I continued on," Ramsey said. "A couple miles later I passed three other hikers with two llamas hiking down the mountain."
According to Ramsey, they asked him if he'd seen another hiker with a llama.  Ramsey said yes and described the lone hiker. When he found out they were all hiking together, he discovered the group broke apart after one llama got injured. The lone hiker went down the mountain to take the llama back to their farm a few valleys away.
"We said goodbye and I continued up the mountain on my run," Ramsey said. "One of the women mentioned how she used to love running on trails like this.  All the hikers were 70-plus and clearly fit, but I didn't think much more of her comment about running."
On his way down the mountain with a Camelback half full and one to two gels left, Ramsey then passed all four hikers and their llamas going back up the mountain to their camping spot on the opposite ridge where he'd run.  They chatted again and as he was about to depart, the lone hiker from earlier said to Ramsey that was in 'esteemed' running company: each of the three other hikers were talented runners in their prime.
After Ramsey mentioned he was training for the Marine Corps, two of the hikers started talking about how much fun and inspirational the race was.  In fact, one of the hikers actually ran the race before around 2:40:00 and the other had maintained the record for Pikes Peak (not the one in Rockville, Md.). Ramsey said the hikers were in their 70's.
"The run back down the mountain was incredible," he said. "I remember looking at the watch on the way down and seeing sub-8-minute pace at times on the downhill. Considering the altitude, I was surprised."
This originally appeared in the May/June 2014 RunWashington.
Recent Stories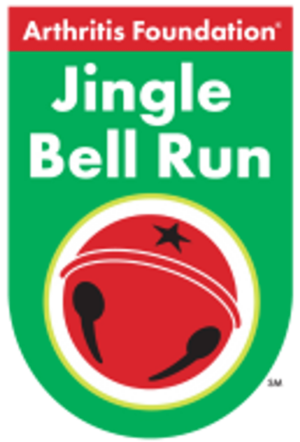 Be part of the original festive race for charity and signature Arthritis Foundation holiday event! Wear your favorite holiday attire and together, we'll jingle all the way to a cure! Register as an individual or bring a team of friends,