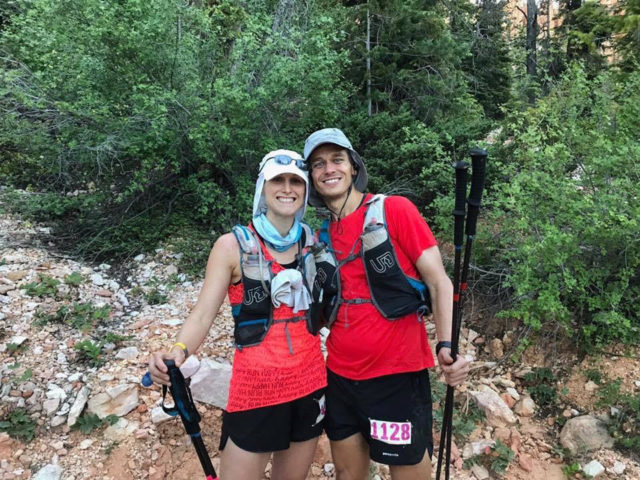 ---
Update: Of the 14 local-ish Western States entrants, 13 finished, led by Jared Byrd's 22:09:10.
---
Last year, my sister, Sarah Mercer-Bowyer, graduated from veterinary school in Southern California. She then accepted an internship at an equine medical center in Northern California. This required Sarah and her husband, Greg, to move.
I have a feeling, though, that Sarah didn't have to twist Greg's arm.
Their new home is in Auburn. It's a town of 13,000, founded by gold miners, located approximately 35 miles from Sacramento, and it's a great place for them to live.
Western States Endurance Run
June 23, 2018
Auburn, Calif.
Who (local-ish) ran? 
Margaret Campbell, 45, Rockville
29:26:17
Heather Ficke, 29, Cockeysville
29:51:21
Casey Fisher, 35, Abingdon
28:55:35
Jim Treece, 49, Frederick
28:52:49
Jared Byrd, 34, California
22:09:10
Sara Davidson, 34, California
25:25:42
Peter Diak, 39, Gaithersburg
23:21:12
Kyle Northrop, 24, Alexandria
29:27:50
Brad Hinton, 42, Berryville
26:40:13
Christopher Moore, 32, Broadlands
23:13:11
Daniel Sheehan, 49, Sterling
29:47:40
Nick Wathen, 39, Fairfax
29:39:21
Trevor Baine, 36, D.C.
23:26:55
James Whiteside, 46, D.C.
DNS/DNF
It's close to the equine medical center, so Sarah doesn't have far to commute for work. And for Greg, an ultrarunner, Auburn just happens to be the Endurance Capital of the World. Auburn is home to none other than the Placer High School track where the world's first 100-miler, the Western States Endurance Run, will culminate on Sunday (the race starts Saturday at 8 a.m. EST).
Western States is limited to 369 participants, and there are two ways to get in. You can finish in the top two at a highly competitive "golden ticket" race to earn a guaranteed entry. Or you can complete a qualifying race and earn a ticket into the lottery.
Here's where it gets interesting. When a runner qualifies for the first time, they get one ticket. Let's say they don't get chosen. If they qualify again the next year, they'll get two tickets. The next year, they'll get four, and so on. Each year you qualify you get twice as many tickets to enter into the lottery. If any year you don't apply, though – sorry, that sets you back to zero.
Greg recently earned his first ticket, and I visited Auburn for the first time in early June. Every day Greg and I would run the local trails, and as I ran up and down the mountains with him, or crossed the Western States course's famous No Hands Bridge, I began to wonder … Who from our local running scene might be racing this weekend? Turns out, 14 local-ish runners will line up Saturday morning in Squaw Valley, all for the first time, ready to tackle a trail race that climbs more than 18,000 feet and descends 23,000 feet.
This includes a couple, Sara Davidson, 35, and Jared Byrd, 34, who met in 2014 through mutual runner friends. Sara and Jared live in that other California, the one in Southern Maryland, though Sara previously lived in D.C. This weekend they'll be met at aid stations by numerous family members traveling out to support them. Jared has been trying to get into Western States for a decade, and is particularly excited for his son to see him race for the first time.
Sara and Jared qualified for Western States at Utah's Bryce Canyon Ultras 100 Miler, in June 2017, and are experienced ultrarunners. Even though Sara missed some training time in March to have surgery for a broken wrist (she also PRed in a road marathon that month), they're both optimistic about earning buckles for a sub-30 hour finish. Jared just hopes that his buckle will be silver, earned by going sub 24-hours, instead of bronze.
I connected with them on the phone Tuesday night while they were packing for the trip. This conversation has been edited for clarity.
How did you meet?
Jared: We have a group of friends – Virginia Happy Trails Running Club members – who get together and run most Saturdays all over the Shenandoah area and around the D.C. area. It started off with us going to the common group run, but then we'd always find ourselves together. We had a similar pace. We ended up running together and having good conversations. Eventually we decided perhaps we should meet outside of the trail and hang out a little bit more.
Sara: Yeah, that's about right. Jared is much faster now, but three or four years ago when we started running together, we were pretty similar.
Running makes for such easy conversation. What was it like hanging out in a non-trail environment?  
Jared: It's a totally different environment, but at the same time we already knew each other so well from running. We already had discussed so many things on the trail that we wouldn't have gotten to talk about in normal, everyday life. We were already intimately familiar with each other and where we stood on a lot of things. She paced me through the North Face 50 miler in D.C. six months before we started actually dating. We'd already seen each other go through low spots and high spots and knew how to deal with each other in those situations.
So you both train together, but are you racing together currently?
Sara: Not for this race. At this point we're pretty different pace wise. We usually talk about it ahead of time and we're pretty clear if we're going to run the race together or if we're going to run our own races. For this one, we're definitely going to run our own race and then when we go to the 200 in October, we're going to run that together.
Wait, did you just say a 200 miler?
Sara: 200, yeah. We've done two, 200 milers.
Jared: We did the Bigfoot 200 in 2016. Last year, we did the Tahoe 200, and this year we're going to do the Moab 240. So, we've done the previous two together and we'll do this one together. But we normally pick one or two 100s a year where we actually go out and try to race it. When that happens, we won't run it together. But occasionally, like the last time we ran 100, I had a bad day and was lucky enough to be able to decide that I might as well spend it with Sara. I sat down at the aid station and watched half of the Alabama football game. Then when Sara came in, I jumped in and we finished that night together.
What were some special considerations for training for Western States?
Jared: It's supposed to be 102 degrees on Saturday. We've been running in rain jackets for the last two months to do some heat training. We also have an altitude tent that we have in our spare bedroom.
Sara: And we did kind of go all in on this and hire a coach.
Jared: I had hit a wall with my training. We figured if we were going to go to the big one this year, then let's get a coach and really focus. I think both of us are pretty confident seeing that we're in really good shape going into this race.
What are some of the specific ways that he changed your training, Jared?
Jared: I'm a mileage junky. I like to go out and just rack up miles, so I was putting in 70-, 75-, 65-mile weeks, but I was doing it kind of at one pace. He had me doing a lot more tempo and fartlek-style runs. My slow run is now slower than what I was doing, but my fast is considerably faster than what I was doing.
What do you guys carry out on the course and what's your fueling strategy?
Sara: Western States has enough aid stations that we don't have to carry a ton of water. We're just going to carry two 500ml bottles. We've gotten used to eating more real food. But since this will be a quicker race, and because it's going to be so hot, we're eating a lot of honey chews and things like that that are easily digestible.
What's the toughest moment you've both encountered in a race?
Sara: [To Jared] What's yours?
Jared: I'll say Sara's. I don't know what mine was. Sara's was during the Bigfoot 200. We had reached the very long section of the trail that was kind of a trench instead of a trail. And it was very disheartening, and it was not runnable, and it was straight uphill and downhill. And at about mile 90…
Sara: I quit.
Jared: Yeah, Sara was done. We made it to an aid station and we did the smart thing, which is, any time you want to quit, get some calories in you. We ate and we went to sleep, and Sarah woke up and told me that she had made peace with it: that she was good with stopping. So, I said, go back to sleep. … Then she woke up and decided she was going to make it to the next aid station. But we reassessed when we got there, and, sure enough, she rebounded. We had a great second 110 miles.
I noticed that, Jared, you had four tickets for Western; Sara had two. Jared, that means you've qualified and applied three years straight, and Sara, you've done so twice, right?
Sara: I think so.
Jared: Yes.
So, Jared, after you didn't get in that first time, did you have to convince Sara to apply with you the second time?  
Jared: When I started dating Sara, she didn't really have a desire to run States. I just applied for her so she started building up tickets, whereas I had had this in my head for a decade.
Sara: What Jared's not mentioning is he actually got pulled twice in this year's lottery. 
Jared: They had to throw one of mine out. So, I didn't get pulled for all these years. This year, I got pulled twice, and then Sara got pulled later.
Sara: We have a running buddy who's a mathematician who did the rough calculations on the probability of both of us getting pulled, and it was something like .00001%.
What if only one of you had gotten picked?
Jared: If only one of us had gotten pulled, one of us would have gotten a free 40-mile tour [athletes can use pacers starting at mile 62].
Sara: I was a little disappointed that I don't get to pace him, because now I have to run the race myself. That's exactly what Jared told me.
Recent Stories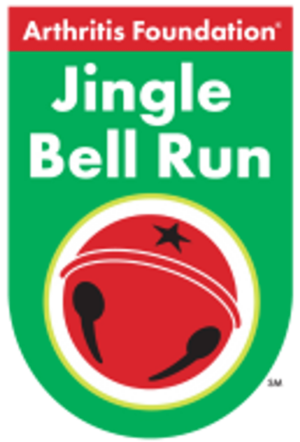 Be part of the original festive race for charity and signature Arthritis Foundation holiday event! Wear your favorite holiday attire and together, we'll jingle all the way to a cure! Register as an individual or bring a team of friends,