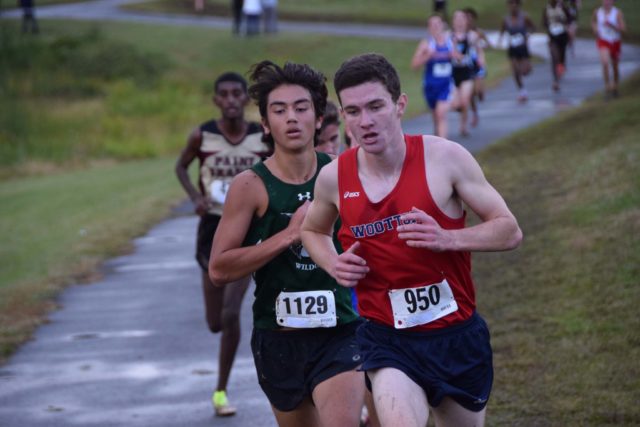 John Riker, who recently graduated from T.S. Wootton High School, started writing for RunWashington in 2018 and is now a student at Northwestern University. He recently wrote about the new power line trail in Montgomery County. Read more of his writing here.
Name: John Riker
Self-described age group: 18-34
Residence: Northwestern University
Occupation: Student/Journalist
Volunteer roles in the running world: None
Why you run: I run because I enjoy it and hope to use my talents to make a positive impact on others.
When did you get started running: Seventh grade, to condition for basketball tryouts
Have you taken a break from running:  Not yet!
Training shoe: Brooks
Coach or training group: Northwestern Club Running
The hardest race you've ever run: Nike Cross Southeast Regionals 2018, because of the muddy, chilly conditions and the talented competition.
Most adventurous decision you've made with your running: Long runs in rural Romania
Running mentors: High School coaches Kellie Redmond, Jacob Buxton, and Matthew Davis
My favorite place to run in the D.C. area is:  Bohrer Park/Gaithersburg High School
Favorite local trail: C&O Canal
My best race was: The 3200-meter run at the 2019 Maryland State Track and Field Championships. The race was my best performance physically and mentally, and it ended my high school career on a high note.
Favorite local race: Devil Run at Cougar Relays, both as a competitor and spectator
Ideal post-run meal: Italian Ice, as a reward
Favorite flavor of gel, gu, etc: None
Pet peeve: Wet socks
Goals: To keep enjoying running and meet more people!
Your advice for a new runner: Go for it. Always put yourself in a position to compete to reach your goal, whether that's place, time, or strategy. Even if you fail, you'll have done it the right way.
Favorite running book: Running for My Life by Lopez Lomong
Song in your head during a run: Oh We Rollin by Wootton XC
Have you dealt with a major injury: No, thankfully
Running quote: "You can run up the hill, but the team takes you up the mountain." -Peyton Eppard
Why is the D.C. area a great place to be a runner: I love D.C.'s combination of beautiful running paths and areas and the passionate running community.