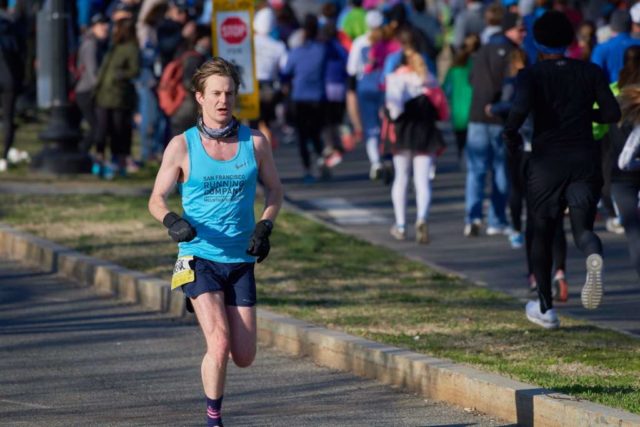 Name: Laurance Frierson
Self-described age group: 35
Residence: Adams Morgan
Occupation: Attorney; moonlight artist
Why you run: Hot days when you're mashing footsteps smooth enough to tickle trees; nights when you are small with the fireflies; and pack running when breathing becomes a language.

When did you get started running: Our fourth grade teacher started us with laps around the recess field. That laughing, lung-burning, fall over your feet feeling has never gotten old.
Have you taken a break from running: A few short breaks here and there, but I've been lucky to always stay in touch with my running. Note to self, I need to log some miles with the white-haired wizards on the Potomac and ask them how they do it.
Training shoe: Hoka Tracer 2
Coach or training group: I ran my first marathon in 2017 and had the unfair advantage of thousands (THOUSANDS!) of miles of combined experience from the 15th&P Saturdays and Pacers running communities.  We're big on names, and the training "cultch" includes wonderful oysters from 15th&P, the Friday Un je ne sais Quoi Bakery Croissant Crew, Wilderness Wednesdays, Fletcher's Fearsome Five, Capital Clawers, and the Power Trot Funky Bunch.  Coach Joe Halm was the type of high school teacher and XC coach that they name races for (Joe Halm Memorial Alexandria City Cross Country Championships); and see Shawn Fenty at Fleet Feet Adams Morgan for your Sunday church of the road needs.
The hardest race you've ever run: The 2017 Army Ten-Miler was comically humid.
Most adventurous decision you've made with your running: I was travelling for work and decided to run the Les Boucles Ardennaises trail half marathon in southern Belgium on a Saturday morning.  The best-laid plans ended up going something like: take a train to a train, train to another train, train to a bus, bus to foot, arrive at the start line an hour+ late, ask race director's 10-year old kid to translate whether or not you can still join the race, bandit (with permission!) a semi-marked trail course through the Ardennes Forest, and slam sausages and Chimay at the finish line. 100% recommend.
Running mentors: Talk to friends, talk to strangers, talk to animals, talk to plants.
My favorite place to run in the D.C. area is: Rock Creek Park to the backside of Dumbarton Oaks, Glover-Archbold, down to the river.
Favorite local trail: Dumbarton Oaks in the spring, big head Ted Roosevelt Island in the summer, RCP in the fall, and Soapstone to Glover-Archbold in the winter with 3 inches of snow.
My best race was: Perfect conditions at this year's Cherry Blossom Ten Miler.
Favorite local race: Chasing doods on Rock Creek's Western Ridge/No Name Trail loop.
Ideal post-run meal: Grabbing breakfast with the 15th&P crew on Saturday mornings.
Favorite flavor of gel, gu, etc: Sea salt chocolate Gu
Pet peeve: Headphones in crowds.
Goals: Healthy training cycle to Chicago this year; Boston in 2019!
Your advice for a new runner: Run slow and take more steps.
Song in your head during a run: Loop the first 10 seconds of Goodie Mob's "Cell Therapy."
Have you dealt with a major injury: Plenty of dings, but luckily no donks.  Still holding out for the hand-cranked human pasta machine to cure the world's flexibility problems.
Running quote: "Start out in front, and improve your position from there."
Why is the D.C. area a great place to be a runner: Trails, people, and seasons.  We are incredibly rich with off-road VA/DC/MD urban trails and trees.
Recent Stories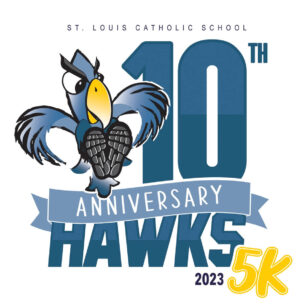 2023 will be the 10 year anniversary of the St. Louis Hawks 5K and Fun Run for Health & Wellness. The USATF certified course runs through the historic Hollin Hills neighborhood in Alexandria, VA.
The Hawks 5K goal, in conjunction