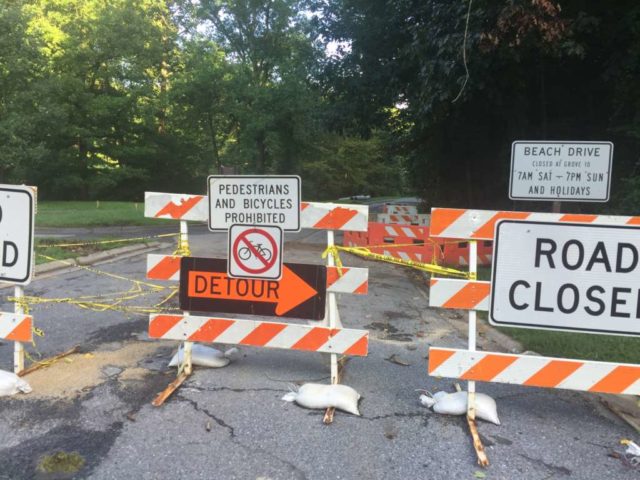 Right when the meaty part of Fall marathon training starts, D.C.'s primary long run route continues to be a challenge. "The Big Loop," the popular 20-mile route carrying runner around the Capital Crescent and Georgetown Branch trails to Rock Creek Park's Beach Drive is still compromised, though in new ways.
The Georgetown Branch Trail remains closed during construction of the Purple Line. The Beach Drive rebuilding project has moved north, closing most of the 2.7 miles between the Maryland state line and Joyce Road. And now the Zoo loop, the roughly half-mile trail circumnavigating the Beach Drive tunnel, is apparently in danger of falling into the creek following heavy rains and erosion, so pedestrians and cyclists are forced to share a five-foot-wide sidewalk, feet from automobile traffic.
RunWashington offers a few alternative 20-mile runs, along with alterations in case you want to run to the loops but not go too far. None of them are out-and-backs, because face it, anyone can do that.
The Almost-Big Loop
It's about as close as you can get. It retains the Capital Crescent Trail up to Bethesda, but detours are necessary between Wisconsin Avenue and Joyce Road, and given the traffic trying to navigate the zoo loop tunnel, should probably be taken between the Klingle Valley Trail and Shoreham Drive. That detour adds a significant hill either way, though the northbound route, up Cathedral Avenue is a little milder than the Klingle Valley Trail.

That said, this route has everything, and do it enough and you'll be ready for the rigors of the marathon.

Park at Peirce Mill, in Georgetown, Bethesda.

McArthur-Towpath

The best chance for a straightforward 20 miles comes from MacArthur Boulevard, between Georgetown and Cabin John, and the C&O Canal Towpath. A bike lane runs parallel to MacArthur, though faster moving cyclists tend to stay on the road. The best opportunities to drop down to the canal are near Backyard Road (for the 20+ mile loop), or 79th Street in Cabin John (for a 14.5 mile loop).

Water fountains are available at Fletchers Boat House, the trail between the Towpath and McArthur near the Marsden Bridge and Glen Echo Park. There are also several gas stations and convenience stores along McArthur.
Park at any number of lots along the canal or MacArthur Boulevard.
Anacostia- Bladensburg
The northern addition to the Anacostia Riverwalk Trail, between Benning Road and Bladensburg, opened in 2016, and the path is great. It's become one of my go-to routes from near Union Station. I like the rolling hills on Bladensburg Road and Colmar Manor Park. The winding path near Kenilworth Aquatic Gardens can make it hard to see cyclists coming, but so far it isn't a high-speed corridor. The loop runs a little short, but a loop of the Anacostia Skating Pavilion at the start and end of the loop makes it close to an even 20 miles.
Arlington Triangle Plus
Some stretches of the Custis Trail may be temporarily closed for resurfacing.
Reston to Old Town
A transit-accessible route. Starting at the Wiehle Road Metro station, take the W&OD Trail to the Four Mile Run Trail and turn on to the Mount Vernon Trail. You're spending a while running in a single direction, but it's a long gradual downhill after mile six. You'll pass through several commercial areas if you need to stop, including a 7-Eleven in Falls Church right off of the trail.
Dual Ferries
10 miles, just double it
A mostly-natural surface loop in rural Montgomery County that gives you five miles of the C&O Canal Towpath Trail, starting at Edward's ferry and running to White's Ferry, then come back on River Road.  It's a delight. There's very little traffic on River Road, and the loop lends itself to running it twice. Try getting one loop under your belt and then pushing the pace the second time around. Be sure to catch the right turn on River Road after it passes Fairbanks. Don't trust that someone won't throw a water bottle away if you leave it sitting out at Edward's Ferry. By the time you reach River Road's intersection with Falls Road on your way home, you'll have an appetite for Potomac Pizza or Vie Da France.
Park at Edward's Ferry or White's Ferry.
Recent Stories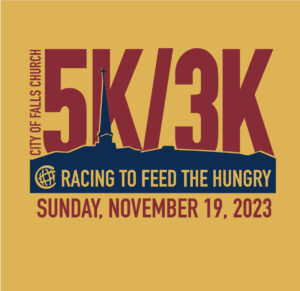 The out and back Falls Church City 5K/3K course is mostly flat on the W&OD Trail starting and finishing at 103 Columbia Street. Overall male and female winners earn free shoes and medals are awarded to all categories. Great family