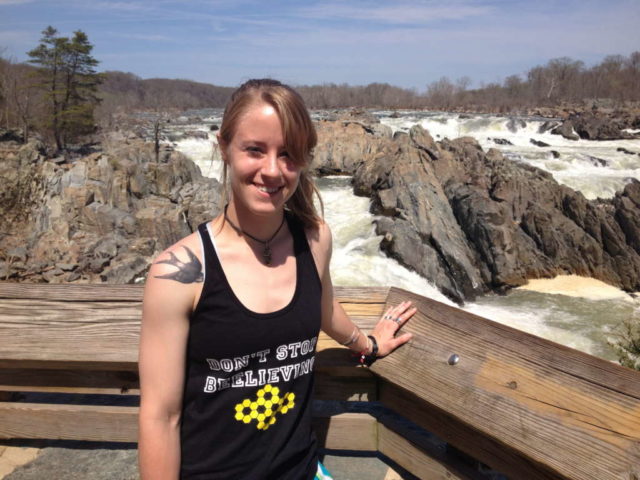 Name: Allison Guindon
Self-described age group:  20-29
Residence: D.C.
Occupation: Office Manager at a small non-profit
Why you run: The ability to travel, or cover distance by foot has had a big appeal to me for as long as I've been a runner. There is such satisfaction in looking back after a long run and seeing how many miles I covered. Coming from a track event (pole vault) where I measured my workouts in meters, and my approach on a jump in feet, there is still something fantastic and mind boggling about running 13 or 26 miles. Running has also been a spectacular social vehicle, most of my friends in D.C. are people that I know through running somehow!
When did you get started running: In high school I was a soccer player, and in college (with the exception of one season on the cross country team) I was a pole vaulter, so while I ran to stay in shape for those, it was not the primary focus and often took the form of sprint drills rather than high mileage. After graduation from undergrad, I was getting restless and looking for a new challenge, when a friend talked me into running the Rock 'n' Roll D.C. Half Marathon.  I have been running pretty consistently ever since.
Have you taken a break from running:  Never more than a few weeks to rest and recover after a difficult race season.
Training shoe: Brooks Adrenaline – it has been my go-to shoe for the last nine years
Coach or training group: I have been running with Summit to Soul's Hill Runners for nearly two years, and this Spring started going to Pacers Navy Yard run club once a week.
The hardest race you've ever run: The hardest race I've ever run was definitely my first marathon, the Yuengling Shamrock Marathon in Virginia Beach two years ago. It was pouring rain -and then sleet- with the temperature in the high 30s. I was soaked to the bone and miserable by mile 13 (at which point the course doubled back on itself and the marathoners heading out on their second 13 miles passed both the finish line and all of the ecstatic half marathoners kicking for the finish) and my hands were too numb to open my second power bar. Mile 17 was the "dark place" that everyone talks about, but I had never experiences before. Luckily, I was adopted by a wonderful older runner who started chatting with me, convinced me not to take too many walk breaks, or for too long, and just generally gave me something else to focus on (he'd been running this race for years, so told me all kinds of trivia). We ended up running the last 8 or so miles together, and finishing side by side.
My favorite place to run in the D.C. area is: The C&O Canal Towpath. I love how quiet and pretty it is as you get farther away from the city. The softer surface is also a welcomed change from all of the concrete in downtown DC.
My best race was: My best race was this Spring, ironically also at the Yuengling Shamrock in Virginia Beach, the half marathon this time. I had come off a marathon and half marathon the two weekends previously, so my expectations were fairly low. I checked my average pace around the three-mile mark and realized I was going much faster than expected. I tried to ease back on the pace a bit, however, when I checked again after mile six and was not only still running close to a minute under my expected pace and felt good, I went for it. I was able to maintain for the final six miles, and ended up crushing a PR I hadn't come close to in four years.
Favorite local race: Pacers' Chrystal City Twilighter in July is one of my favorites. I love the glow sticks that are given out with the race bibs, all of the fun light up apparel that runners bring with them, and Chrystal City's festive light fixtures around the park where the race starts/ends. It always feels kind of like a party.
Ideal post-run meal: Pho -my roommate and I would order it after most of my frigid long runs this past Winter.
Favorite flavor of gel, gu, etc: Tailwind's Raspberry Buzz drink mix
Goals: Someday, I would like to run an ultra. In the more immediate future, I want to keep chipping away at my 1/2 and marathon PRs, and try to become more of a morning runner.
Favorite running book: Pretty Good for a Girl – Leslie Heywood
Song in your head during a run: At the moment, most of the Hamilton sound track is bouncing around my head during runs.
Have you dealt with a major injury: Luckily, I haven't had to deal with anything more major than a grouchy IT band.
Running quote: Not so much a quote…my pole vault coach used to recite the poem "To an Athlete Dying Young" by A.E. Housman. That has stuck with me over the years.
Why is the D.C. area a great place to be a runner: D.C. is such a great place to be a runner because you are in good company! There are so many runners, and so many miles of trails, paths, and roads to run on.
Recent Stories

Both 5K and 1 mile courses are USATF certified. The 5K course has some moderate hills. The 1 mile course is flat making this a perfect PR course. We are really looking to get a broader participation base.
Funds go