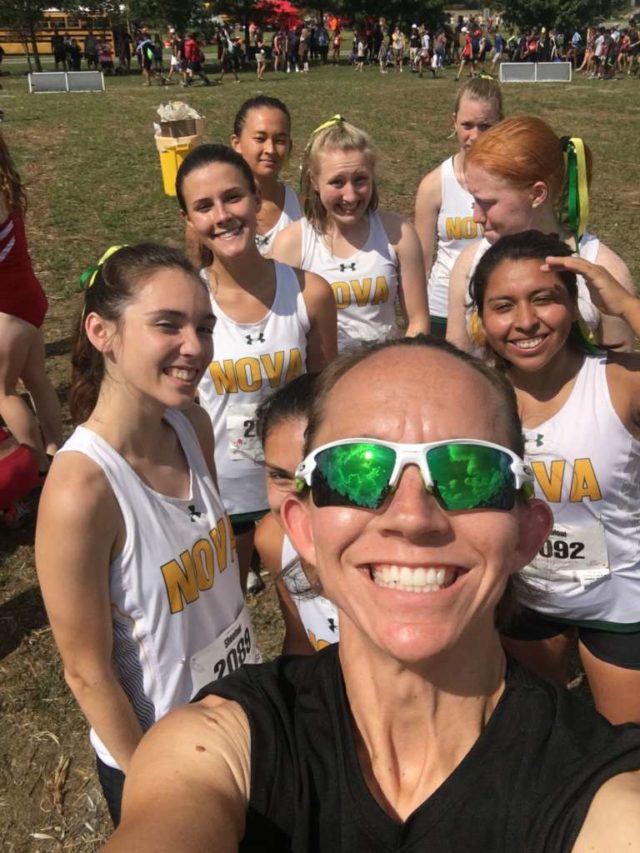 Starting a team from scratch is not easy, but for one local runner, it is a challenge worth doing.
Nicole Mancini may have had a short tenure as a cross country athlete, only competing for two years in college before switching over to marathon running, but her love for the sport is as strong as ever. Originally from Michigan, Mancini moved to northern Virginia in 2006 to work at Brentsville District High School in Nokesville.
With her running background, Mancini was an assistant for Rob Dulin for several years. But everything changed when Patriot High School opened nearby in 2011. Staff at Brentsville split between the two schools, and many coaches chose to go over to Gainesville Middle School rather than go through starting a new athletic program from the ground up at Patriot.
After a brief time at Gainesville, Mancini eventually took a professor job at the Manassas campus of Northern Virginia Community College. At the time, there was no cross country program there. To Mancini, that seemed somehow wrong.
The idea of starting a program there came quickly. "[I] sat next to the athletic director and asked about [a cross country program]. He said, 'Would you be willing to start it?' and I said, 'Sure!'. So I guess that was my job interview," Mancini said.
Creating a new program is difficult anywhere, but especially so at an institution not known for its athletics. And unlike the highly successful high school running programs in the region, NOVA was not known for its running programs. Contending with these challenges proved difficult for Mancini, but it was a daunting task she was willing to undertake.
"There isn't a community college in the area that had cross country," Mancini said. "Cross country is huge in northern Virginia. I figured there would be a need for it." And so, she got to work.
Out of NOVA's five campuses, starting a program at the Manassas campus seemed like the perfect place to host this new team, with its central location and proximity to the scenic battlefield park. "Obviously the Manassas campus would be a perfect location," Mancini said. "Most NOVA athletic teams have a home campus anyway."
It only made it easier that Mancini was already working on that campus anyway.
Relying on her past experience as an assistant high-school coach, doing lots of research, and driven by her desire to bring this important sport to the community college level in the Northern Virginia region, Mancini worked tirelessly to get this program off the ground.
At last in 2013, Mancini's undertaking came to fruition with NOVA's first cross country team.
"We started with five girls that season and many were not even runners. Some just wanted to get into shape.  It grew from there," Mancini said.
Though she wanted to have both a boys' and girls' team, Mancini found that she was only able to offer a team for girls. That still remains the case today. She hopes that NOVA will one day have a boys' team too, but at the moment, that is out of her control. "We have a lot of boys interested, but unfortunately Title IX is hurting the boy's team," she said, referring to the law prohibiting unequal budgeting for men's and women's athletic programs.
Getting the word out about the program proved to be another problem. "Unfortunately, most people don't figure out that NOVA has athletics until their sophomore year of college," Mancini said. She tried to put the word out on websites like MileStat, sent out flyers and letters, and tried to target girls who were not yet committed to college. Though despite her efforts, she said, "It has just been really hard to get the word out and get interest in the program."
Additionally, NOVA does not offer scholarships, making recruiting especially difficult.
"Our hope is that we can have scholarships coming in the next few years. Right now there are no scholarships. The girls just run because they love the sport. They compete against folks getting full-ride scholarships and the girls see that, so it's a challenge."
"I'm hoping that this [story] can garner some interest for NOVA athletics," she said.
Even with her small team, coaching the girls also proved easier said than done. There were a few struggles getting her team started, the first of which was finding meets. Having never coached at a college level before, Mancini had to figure things out on the fly.
"It was kind of on me to figure out where we can take the girls. I wanted to take them were they would see competition. [During the] first couple of years, we traveled to a lot of various meets. We would say, 'This is a good course and this is a good competition for us,' or 'This is way out of our league.'"
Mancini enjoys travelling with the girls and getting to know them. They have had meets all over the east coast and as far out as parts of Iowa. Mancini and the team have grown so close that they nicknamed her "Mama Mancini".
"[I have] become their second mom. I don't just coach them. I help them transition to college."
Despite the struggles along the way, Mancini is optimistic about the future and anticipates that NOVA's success will only continue. Having recently completed the Boston Marathon for the second time, Mancini knows how to work for her goals and achieve success.
As a community college, a substantial portion of NOVA's students attend as a transition point before a traditional four-year college. Most of the students have not had exposure to cross country or athletics at a collegiate level. For that reason, many of Mancini's athletes joined the cross country team as a means of getting in shape for other sports, but Mancini said that of those girls, two-thirds of them have now prioritized cross country over their old sports.
"If they weren't doing this before, they've become runners and they really love it."
In a short time, Mancini's team has found great success. The girls have won the NJCAA Division 1 Regional Championships four years in a row. "I've been really lucky. I've got some exceptional girls and they were not cross country runners in high school."
During her third season, Mancini was even named the USTFCCCA Junior College Atlantic Region Coach of the Year, an award Mancini credits to her team and fellow coaches. "Between the amazing athletes we've had and my assistant coach, I don't take credit for the Coach of the Year at all. They have come out and they're the reason I'm Coach of the Year."
What impact she makes has to come fast, because most junior college students are in and out in two years, giving Mancini a tighter developmental schedule than most college coaches.
Mancini said she loves the experience and the exposure to a variety of girls with different backgrounds from the rural areas of Loudoun County to the "city girls born and raised in Alexandria."
This Fall's team features four local runners and one from Nevada, who transferred from a school that did not offer cross country, which means the NOVA name is getting out there.
NOVA cross country has come a long way in a short time and as Mancini sees it, the success can only go up from here. "The target gets bigger every year and we have this standard to uphold."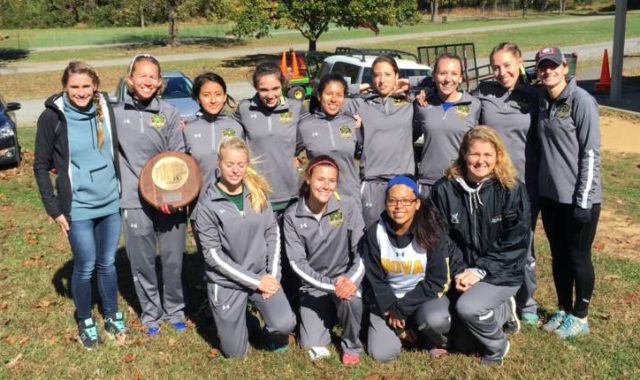 Recent Stories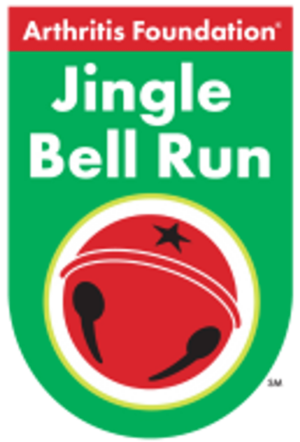 Be part of the original festive race for charity and signature Arthritis Foundation holiday event! Wear your favorite holiday attire and together, we'll jingle all the way to a cure! Register as an individual or bring a team of friends,