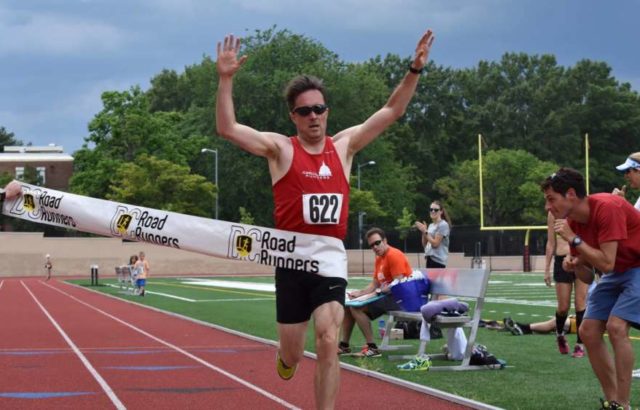 Name:  Chris Carney
Self-described age group: Masters (first race in my new 45-49 age group, this weekend)
Residence:  Falls Church
Occupation:  Attorney for the federal government
Volunteer roles in the running world:  Have volunteered at various races, including the MCM beer tent.
Why you run:  I run for many reasons.  When I go out for an easy run by myself and can just take in the scenery, to borrow from Lin-Manuel Miranda, I look around and realize how lucky we are to be alive right now.  I run: because it clears my mind from life's stresses; for the camaraderie of my running buddies; to stay in shape; because it's good for my heart and overall health; and, to challenge myself.
When did you get started running:  My dad was a runner, and first got me interested in the sport.  He was my biggest running supporter and when I run now it helps me keep his memory alive.  I got hooked after winning a mile race on Fire Island as an almost 10 year old.  I ran 12 seasons of cross-country, winter track, and spring track in high school, and continued running cross-country and track in college.
Have you taken a break from running:  Yes–a fairly substantial break from the level of training I did in high school/college and continue to do now.  After college, where I had a string of injuries and was slower as a senior than I had been in high school, I took a long break from more serious training (speed workouts, long runs).  I continued to run, and even race (including marathons), but never with a real training plan or coaching. I did of lot other things during that interregnum, including get married and becoming a dad, so it was time well spent.  However, it wasn't until I found Capital Area Runners and Coach George Buckheit in 2010 that I resumed the type of raining I hadn't done for 15 years at that point.  CAR has really given me a second running life, and I actually look forward to waking up at 5 am or so, for the Tuesday and Friday morning track workouts.  N.B.:  Charlie Ban won a local 5k that I ran in 2010.  His subsequent blog post about that race inspired me to look for a local running group to join, so I give him some credit for helping restart my running career. (Editor's note: Chris was the first person I interviewed while working for RunWashington, when it was the Washington Running Report, in July 2012.)
Training shoe:  Hoka Clifton (2, 3, 4 ….)
Coach or training group:  George Buckheit, Capital Area Runners
The hardest race you've ever run:  Boston Marathon 2018.  It was cold, there was a driving rain, and there was a sustained and gusting headwind for 26.2 miles–so yes, it was a pretty awesome experience.
Most adventurous decision you've made with your running:  My college track team went to Venezuela to train during Spring Break, which was adventurous and a great experience, though competing in an official beer mile last year was probably my most adventurous running experience (crazier than I expected)
Running mentors:  My coaches, including: high school coach, Art Rostel (N.J. High School Hall of Fame Coach), college coaches, Jim Butler (running legend/competed at Rutgers), William Wuyke (two time Olympian, NCAA indoor champ at Alabama), and current coach George Buckheit (Bucknell All-American).
My favorite place to run in the D.C. area is: I love running in Rock Creek Park and being able to run through the National Zoo.
Favorite local trail:  W&OD Trail
My best race was:  1991 Central Jersey State Sectional Meet (1600 m); more recently, the 2016 Philadelphia Marathon, a few months after losing my dad, I was inspired to run my marathon PR in some pretty tough conditions.
Favorite local race:  Marine Corps Marathon
Ideal post-run meal:  Coffee
Favorite flavor of gel, gu, etc:  Honey Stinger (all different flavors)
Pet peeve:  Cyclists that cut in front right after passing, especially when I used to run with a stroller.
Goals:  2:59:59 marathon, currently number one on the bucket list.
Your advice for a new runner:  If you run, you are a runner.  Don't be intimidated or think you're not good enough.  You are.  No matter how fast someone is, there is always someone faster.  Also, give it a chance, it gets easier and more enjoyable.  Even people that have run for years will feel uncomfortable running, if they've taken time off.  It takes at least a month before you get to the point where an easy run will feel enjoyable rather than a chore.
Favorite running book:  Running with the Buffaloes, by Chris Lear.
Song in your head during a run:  I've always got a different song in my head (or coming out of my mouth) during a run, but Springsteen's "Racing in the Street," is always the last song I listen to before a race.
Have you dealt with a major injury:  Yes, many.  Plantar Fasciitis is probably my least favorite though.
Running quote:  "Tramps like us, baby we were born to run." – The Boss
Why is the D.C. area a great place to be a runner:  We are spoiled as runners here.  There are so many beautiful places to run, in the woods, on the trails, along the river, and past some of the greatest monuments in the world.  On top of that, there is a robust running community and opportunities for people of all abilities to participate.
Recent Stories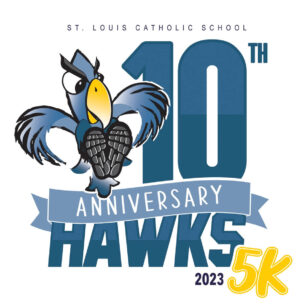 2023 will be the 10 year anniversary of the St. Louis Hawks 5K and Fun Run for Health & Wellness. The USATF certified course runs through the historic Hollin Hills neighborhood in Alexandria, VA.
The Hawks 5K goal, in conjunction