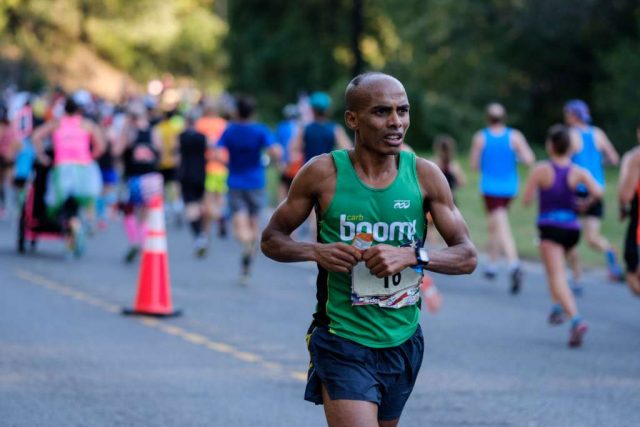 Desta Beriso Morkama was in a hurry. After winning the Marine Corps Marathon last October, Morkama quickly packed up his belongings, accepted his trophy and rode his bike home, where he made himself a quick meal and jumped into bed for a 30-minute power nap.
A few hours later, he would be reporting to his first shift at the local 7-Eleven convenience store. The celebration would have to wait.
"Before I work, I just push myself, 'Desta, go, go, go, go work,'" Morkama said. "I push my mind that I have to work."
This hectic, around-the-clock routine is nothing the 32-year-old Arlington resident can't handle. Since arriving in the United States from Ethiopia on Sept. 12, 2016, Morkama has established himself as one of the best road runners in the Washington area. He finished the 2017 season as RunWashington's top-ranked runner. In addition to the Marine Corps Marathon, he also won the Lower Potomac River Marathon, the Abebe Bikila Day Marathon, and May's Potomac River Run Marathon.
Morkama came to America to pursue running opportunities but also to escape persecution as a member of the Oromo ethnic group. According to the international non-governmental organization Human Rights Watch, Ethiopian security forces killed more than 500 people during protests in the Oromia and Amhara regions between November 2015 and October 2016. Morkama said his cousin was killed two months after he arrived in the United States.
The reality back home is why Morkama cherishes each moment of his new life in America. He applied for asylum in December of 2016 and is currently in the adjudication process.
"Virginia, I feel like, is my home," Morkama said from the living room of his Arlington house. "I'm so excited. D.C. is home too. I feel like right now I forgot my country [Ethiopia]. Virginia is a welcoming place, so friendly. I'm just so excited."
Morkama arrived that September day at Washington Dulles International Airport with the clothes on his back, running shoes on his feet and $300 in his pocket. He had a poor grasp of English — it was his first time in America — and had no idea where he was supposed to stay.
The only person who knew he was coming was Jay Jacob Wind, a local race director and runner who had invited Morkama to come run at his races.
Over the years, Wind estimates he has invited hundreds of Ethiopian runners, and believes that around 40 to 50 have actually made it to the Washington area.
When the two finally met, they shook hands and exchanged pleasantries. Wind asked Morkama about his personal bests. Morkama rattled off times that included a personal record of 2:13:48, which he ran at Poland's Debno Marathon in 2013. Running gave the men, a 68-year-old American and a 30-something Ethiopian, a way to speak the same language.
Five days after setting foot in America, Morkama won the Clarendon Day 10K in 30:59 to earn his first American check of $200. A month later, he finished second at the Marine Corps Marathon in 2:24:29.
"I have a very structured week," Wind said, "where we do track training on Monday and Wednesday at 7 p.m., Pacers running group in Clarendon Tuesday and Thursday at 7 p.m., worship services every Friday evening and typically on the weekend I do one or two races. Very quickly, [Morkama] adapted to that program."
Through Wind's friend, Karla McDuffie, Morkama had a place to stay, and for the first eight months, Wind paid for Morkama's rent.
Since receiving his work permit in the summer of 2017, Morkama has paid for his own rent and groceries. He takes English classes at the Arlington Mill Community Center four days a week.
On Fridays and Saturdays, Morkama works the overnight shift at 7-Eleven from 11 p.m. until 7 a.m. On Mondays and Tuesdays, he's there from 3 p.m. until 11 p.m.
Somewhere in between, he finds time to run approximately 90 to 100 miles a week.
"It's easy for me now," Morkama said. "I work. I run. I train."
Over the summer, he also helped coach Kerstin Fagerstrom, a 15-year-old sophomore at Trinity School at Meadow View in Falls Church. Under Morkama's guidance, Gaterstrom ran her best season of cross country.
Morkama met Kerstin and her mother, Cathie, at a Potomac Valley Track Club practice, and immediately impressed them with his dedication. He never once missed a practice and expected the same from his student.
"I was really impressed that he was able to work that hard and set his goals to get them," Kerstin said.
Growing up in the farmlands of the Arsi Zone in Ethiopia, Morkama ran everywhere with his large family. Haile Gebrselassie, one of the most accomplished runners in the history of the sport, also hails from the same area.
Morkama's talent was identified early on and he dropped out of high school in ninth grade to focus on his running career. He trained, despite his mother's concerns, and kept racing. There were places that he would fear running into a government official, but he had no choice, Morkama told himself. He had to keep running.
"My mom told me many times, don't go in the forest, because [she feared for] me," Morkama said, "but I [needed to run]."
For a while, he bounced around Europe, running in places like Caen, France, where he placed first at the 2011 Liberté Marathon (2:15:54) and Riga, Latvia, where he ran a 2:14:32 at the 2014 Nordea Riga Marathon.
The allure of the American marathons pulled at him. He just didn't imagine that he would eventually be running, and winning, one of them. The Marine Corps Marathon may not offer prize money, but it gave Morkama something else — the recognition that comes with winning a big-city marathon. Last year, he overcame a two-minute deficit, and a nearly half-mile gap, to win the title in 2:25:14.
"Right now, I'm a little bit famous," Morakama said while laughing. "When I win Marine Corps, it was so nice. It's my favorite right now."
This spring, he plans on running the Cherry Blossom Ten Miler in April, followed by the Boston Marathon. Wind will work with Morkama to come up with a race plan for the rest of the year. One thing, however, is certain: he intends to defend his Marine Corps title.
On the desk in his bedroom sits a plaque with his Marine Corps Marathon medal flanked by two photos of him running. In one, Morkama is mid-stride, staring ahead with intense focus; in the other, he's raising both arms triumphantly in the air as he crosses the finish line.
Morkama, whose first name means happiness in Oromo, smiles at the memories he's made in his short time in the U.S. There has been plenty to celebrate, and even more to be grateful about.
"I don't have any family here," he said, "but the American people are my family."
Recent Stories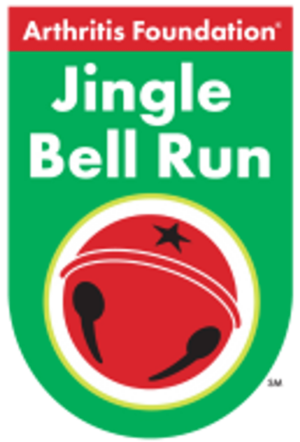 Be part of the original festive race for charity and signature Arthritis Foundation holiday event! Wear your favorite holiday attire and together, we'll jingle all the way to a cure! Register as an individual or bring a team of friends,