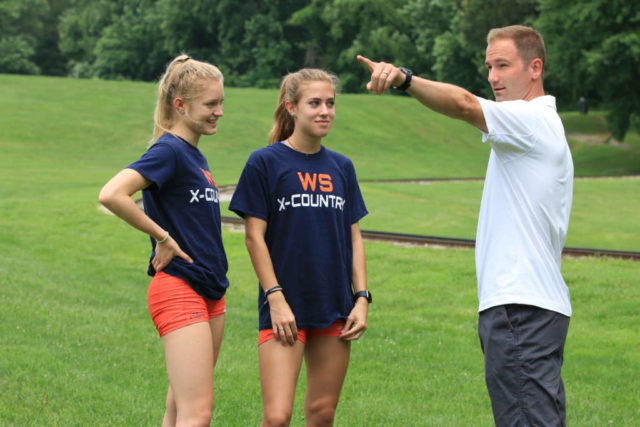 Chris Pellegrini has spent almost half of his life coaching at West Springfield High School.
After he graduated from the Fairfax County school, he returned to his alma mater to serve as an assistant coach to the cross country program he cherished.
Now, 17 years later, Pellegrini leads three sports, coaches more than 200 high school students and maintains a nearly year-round sports schedule. On top of that, Pellegrini is leading a girls' cross country team that could be in contention to win a state title. Perhaps the boys, too.
The 35-year-old admits that the "everyday grind" of both running and coaching appealed to him — although he wouldn't describe himself as a stellar runner. But that desire to seek a challenge led him to approach then-cross country coach Vic Kelbaugh in 2001. As a first-year student at nearby George Mason University, Pellegrini figured he could assist the boys' team and see how this coaching thing really worked.
"I still don't know why he would say yes to an 18 year old, especially not one of his best runners," Pellegrini said. "I wanted to prove to him that I wasn't there to hang out with my friends; I wanted to be here and I wanted to help out in any way that I could."
That passion for the job blossomed. He took on coaching the distance runners in the school's track and field programs. By 2006, he was the head coach for both the boys' and girls' cross country teams; later, he became the head coach for both track and field teams.
Add in his time as the head coach of the indoor track program and Pellegrini is looking at a pretty full plate. But he wouldn't have it any other way.
"I like routine, and I like building, and to me this is a never-ending building process," said Pellegrini, whose time either running or coaching at West Springfield High School has encompassed 50 total seasons, or about 20 years.
"I don't know what that feels like to not have that 3 to 5 time slot filled," he said of his typical practice time.
Pellegrini has been an instructional assistant in the school's special education department for more than a decade as well.
And while predictability is nice, Pellegrini is looking ahead at a different kind of fall season. Although he is reluctant to talk too much about it, his girls' cross country team could take home a state title in 2018. It would be the first state championship in his coaching career.
In the 2017 state meet, the girls' team finished third, behind Oakton and Lake Braddock — a school just a few miles from West Springfield's campus.
"[Lake Braddock] is the New York Yankees of the cross county scene in this area," he said. "Any time you think you're as good as them, you're probably about to win a state champ. Because that's the caliber they are."
Pellegrini said the young team is "battle-tested" and versatile — featuring both cross county chops and track speed. But with its sights set on Lake Braddock, the team will need to stay healthy and focused, he said.
Sarah Coleman, a West Springfield senior on the cross country team, said Pellegrini's guidance and the team's chemistry point towards a strong season.
"He makes it a great environment for everybody," Coleman said. "… He sometimes has more faith in you than even you do."
Pellegrini's ambitions are bigger than him. Part of what drives him to want to win a state championship is to make his mentor, Kelbaugh, proud.
"He is a tremendous coach — I probably learned about everything from him," Pellegrini said of Kelbaugh, who coached the boys' cross country team to a state championship during his 34 years at the helm.
Kelbaugh agrees that a successful season is in Pellegrini's future.
"He needs some state championships that I think are coming his way," said Kelbaugh, who coached alongside Pellegrini for seven years. "And I think he has set himself up to get that. He stays in there season after season and creates an atmosphere that is so helpful to the kids and can build a great program."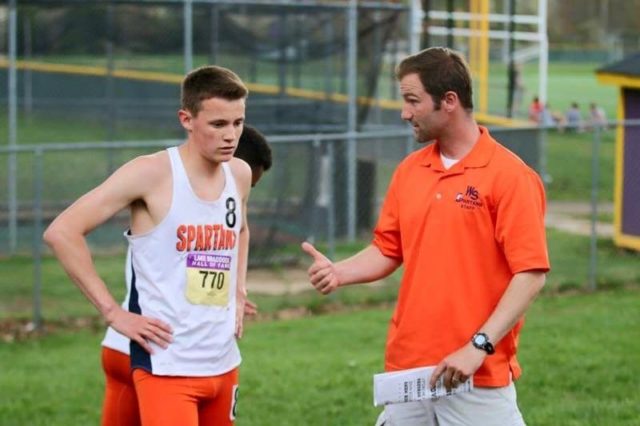 What it takes to be a good coach
Pellegrini has coached thousands of student athletes, and with each one of them, he tries to foster a love of the the sport. He wants his athletes to leave high school with fond memories and a passion for running; if they move on to compete in college, he wants to them to have room to grow.
He enjoys seeing the athletes develop over the years — something he likens to starting and finishing a project.
"Whether the athlete is slower or gifted, I like to see their progress from beginning to end," he said. "Like if an athlete isn't in the program for four years or leaves early, I feel cheated if I don't get to go from the beginning to end of it."
It all requires balance, too, he added. There has to be harmony between progress and not overdoing it: "You can get great performances from your athletes, but you don't have to run them into the ground to get it."
When Andrew Lackey started running in 2012, he said he was one of the slowest boys on the team — but Pellegrini pushed him over his four-year running career. He graduated as a top competitor on his cross country and track teams.
"He was very patient with me; he is very patient with all of his athletes," said 19-year-old Lackey, who went on to run cross country during his freshman year at the University of North Carolina at Charlotte. "He has the potential to turn anyone in the program into a really good runner."
Training high school students can have its own nuances, but Pellegrini said at the end of the day, it's all about strengthening the coach-athlete bond.
"Some coaches are technically brilliant but can't achieve success because their interactions with kids aren't good enough," he said. "If you can establish a relationship with athletes and they know you believe in them and you're going to give them everything you've got, then they will give you everything they've got in return."
Pellegrini dwells on some of his own experiences as a runner to help him be a better coach. As a high schooler, he enjoyed the challenge of running, but often found pre-race nerves got the best of him and hindered his performances. Now "relax" is one of his more common ideas he communicates to his athletes.
"He wants us to work on our mindset in competition. Even after races, even if you have a bad race, he allows you time to get over it," said Coleman, who runs track under Pellegrini as well. "He always says, 'Keep your head up, you're not done yet.'"
Pellegrini's enthusiasm has inspired her beyond the course or track: she wants to be a coach some day.
"I want to make runners feel the way that he does — that you can do anything you put your mind to in the sport," Coleman said, adding she hopes to one day coach cross country at the college level.
Could a future as a West Springfield coach be on the horizon?
"If the opportunity comes up, I wouldn't mind," she said.
"I'm never off the clock"
At West Springfield, track season ends June 15 and cross country practices begin on July 30. That leaves Pellegrini a month and a half when coaching is not on the calendar. But that doesn't mean the work is done.
"I'm never off the clock; I never stop thinking about it," he said, adding that's the case particularly heading into a fall season loaded with expectations.
He's grateful for his patient wife of six years, who knows that his work is never done and that texts, phone calls and emails from athletes or parents happen year round.
During his less busy weeks in the summer, Pellegrini logs some miles of his own. It's an attempt to try to keep up with his own athletes at the beginning of the season.
"If I can't show them I can work hard to reach a goal, I'm afraid I would lose some of my credibility," he said.
That's part of what has allowed him to be so reliable, Kelbaugh said. People know Pellegrini is committed to the school and the athletes — no matter the time of year.
"I think that's a big asset for any program to have someone who is that stable," he said. "No, you would never anticipate that someone would latch on that completely. People come and they go. He didn't come or go."
So what's in Pellegrini's future? Are more decades leading the teams a possibility?
"The more I look at it, it becomes harder and harder to think that I'll actually leave," he said.
At one point he wanted to be an assistant coach at the collegiate level, but now he recognizes the challenges and rewards that come with being a high school coach — and that's enough to entice him to stay.
"This is a never-ending building process," he said, repeating his mantra. "And I don't think it's ever going to stop."
More immediately, he has the cross country post-season to focus on. His girls won the Third Battle Invitational Oct. 13, demonstrating a depth West Spring has never seen — five runners under 19 minutes. The boys also have a shot at a 6A state title, with three underclassmen finishing in the top 15 to finis second to 4A powerhouse Loudoun Valley.