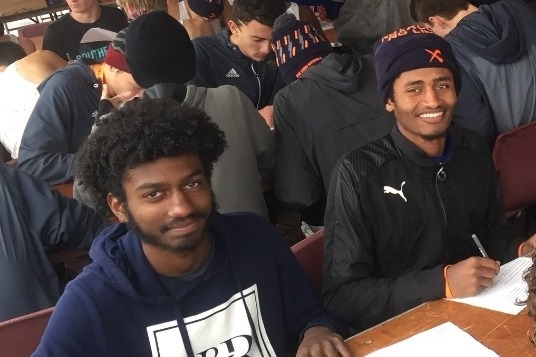 D.C.-area runners dominated the Nike Cross Southeast meet, putting four runners in the top eight and 15 in the top 50. Loudoun Valley easily qualified for the national meet that "Purcellville" won last year, with Sam Affolder and Jacob Hunter finishing second and third in 15:14. Right behind Hunter, Eldad Mulugeta finished fourth in 15:15 and his Northwood teammate Obsaa Feda finished eighth in 15:20. The course at WakeMed Park in Raleigh, N.C. was extremely muddy after days of rain, with more rain throughout the races.
Nike Cross Regionals
Foot Locker Regionals
Nov. 24, 2018
Other top-50 finishers included Bishop O'Connell senior Max Greczyn in 11th in 15:29, four more Loudoun Valley runners in senior Connor Wells in 16th (15:37), junior Kellen Hasle in 17th (15:38), junior Carlos Shultz in 22nd (15:42) and senior Jacob Windle in 24th (15:44) with Washington Latin junior Luke Tewalt finishing 23rd in 15:42. West Springfield junior Sam Pritchard was 40th in 15:57, Loudoun Valley juniors Mateo Barreto and Kevin Carlson finished 45th and 46th in 15:59 (Barreto ran unattached) and West Springfield junior Chris Weeks was 48th in 16:01.
Two Loudoun Valley girls came close to qualifying as individuals – sophomore Ricky Fetterolf in eighth (18:05) and junior Elise Abbe in ninth (18:19). Rock Ridge freshman Ava Gordon finished 15th in 18:31, West Springfield junior Amy Herrema was 30th in 18:56, Washington Latin sophomore Zoe Edleman was 32nd in 18:59.
Loudoun Valley's boys scored 52 points to beat Florida's Bolles with 117. They'll race Saturday, Dec. 1. Northwood was the top local Maryland team in 13th with 327 (trailing 12th place West Springfield  by six points), and Gonzaga was the top D.C. team in 24th, with 569 points. The Loudoun Valley girls were sixth, scoring 217 points.
At the Foot Locker South regional on a drier McAlpine Park course in Charlotte, N.C., George Marshall senior Natalie Bardach led local finishers in 18th place in 17:52, with Annandale sophomore Julia Ghiselli 27th in 18:14. Broad Run junior Ellie Desmond, 31st in 18:17, Woodbridge senior Laura Webb, 47th in 18:35, and John Champe junior Bethany Graham, 50th in 18:37 rounded out the top 50. Herndon junior Colin McCauley's 81st place finish in 16:18 led Northern Virginia finishers, though DCXC Invitational senior race winner Daniel O'Brien, a junior at the Virginia Episcopal School, qualified for the national meet, finishing third in 15:07.
Maryland and D.C. runners competed at Van Courtlandt Park in New York City for the Foot Locker Northeast meet. Poolesville senior Nandini Satsangi led local Maryland finishers in 49th place in 19:40 and Sophia Hanway, a sophomore at D.C.'s National Cathedral School, finished 65th in 19:55. Bullis junior Nicholas Karayanis led local Maryland finishers in 40th place, running 16:29, and St. Albans sophomore Damien Hackett was D.C.'s top finisher in a tie for 53rd place, running 16:41.
Recent Stories

Both 5K and 1 mile courses are USATF certified. The 5K course has some moderate hills. The 1 mile course is flat making this a perfect PR course. We are really looking to get a broader participation base.
Funds go