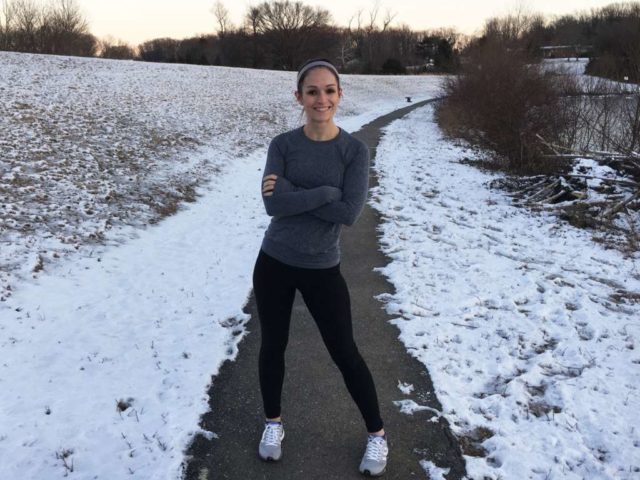 Name: Leah Williams
Self-described age group: mid 30's
Residence: Olney, Md. by way of College Park
Occupation: Genetic counselor
Why you run: Running is my time. If I'm running with friends, it's my time to socialize and be challenged by a group of people who "get me." If I'm running solo, it's my time to get whatever I need that day – sometimes I relish the quiet, sometimes I need speed to get out some negative energy, and sometimes I just want to zone out and listen to a great podcast. Either way, it's my time to dedicate to myself which is otherwise hard to find in my daily life.
When did you get started running: In college. I have a hard time sitting still, and was looking for something to challenge me and get some of my energy out. I never considered myself a runner and thought I was just terrible at it, which was the perfect motivation to see if I could actually do it.
Have you taken a break from running:  Only when mandated by an injury or just after having each of my children. But I was right back out there as soon as I could be.
Training shoe: Adidas Adizero Boston
Coach or training group: Most recently I trained with RunFartherandFaster and am currently considering a private coach!
The hardest race you've ever run: This past Baltimore 10-miler tops the list. It was hot and hilly and pretty miserable! And my body did not want to cooperate.
Most adventurous decision you've made with your running: One time I cashed in my beer ticket BEFORE the race…it was an adventure for sure (and a stomachache)!
Running mentors: my sisters Hannah and Callie, they are both super fast and great running role models
My favorite place to run in the D.C. area is:  The Paint Branch Trail and circling Lake Artemesia in College Park/Greenbelt. There's something about being back at home with memories of childhood that brings on all the runner feels.
Favorite local trail:  The Capital Crescent Trail
My best race was: The 2012 Cherry Blossom Ten Miler. I had just come off a disastrous half marathon performance about two weeks before, and was questioning my dedication and abilities in the sport. But along those 10 miles I found that amazing, high-flying feeling that runners know. It reaffirmed my love of running, and was the turning point in my racing – I have since cut off another 17 minutes off of my time on that course, but that moment was the turning point.
Favorite local race: Cherry Blossom Ten Miler
Ideal post-run meal: a big slice of birthday cake and a beer
Favorite flavor of gel, gu, etc: Honey Stinger Pink Lemonade Chews
Pet peeve: groups of runners who block the entire width of a course so you can't pass!
Goals: Short term, I'd love a 5k PR in the next few months. Longer term, I'd like to find a way to contribute at a greater level to the local running community.
Your advice for a new runner:  Your success as a runner is directly related to how hard you work, it's in the uncomfortable paces and distances where changes happen. If you don't challenge yourself, you will never get any better.
Favorite running book: Do my favorite Instagram accounts count?
Song in your head during a run: The Climb (Miley Cyrus)
Have you dealt with a major injury: I've known way too many boots and crutches over the years.
Running quote: "Run the mile you're in"
Why is the D.C. area a great place to be a runner:  The DC area has the greatest community of runners, and it is such a beautiful place to run!
Recent Stories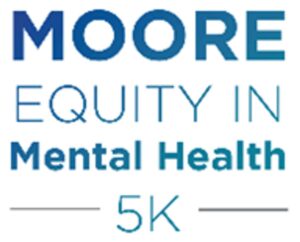 About APA's MOORE Equity in Mental Health 5k
The APA's Division of Diversity and Health Equity invites you to join us in combating mental health inequities facing young people of color and in honoring mental health advocate Bebe Moore Campbell.