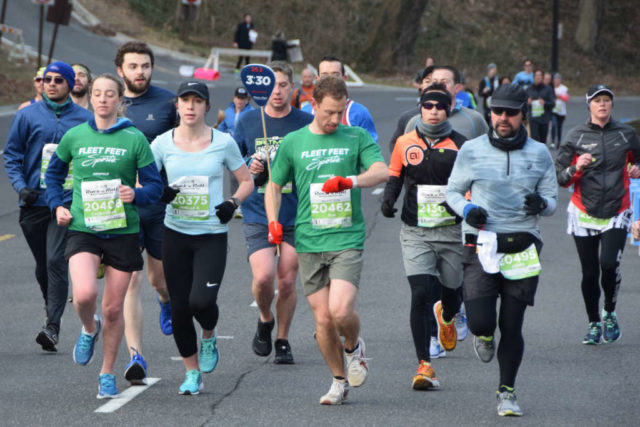 A lot can go wrong with race pacing. Going out too fast could lead to an almost-certain wall-hitting, crash-and-burn scenario. Going out too slow could lead to a goal finish time slipping out of grasp. Pacing correctly can seem like a perfect science — and luckily there are some runners who work to master it and lead others to reach their goals.
Many pace group leaders around the region work hard to put other runners' needs before their own and see that participants are set up for success.
"We have a chance to help someone achieve a goal — really, how precious is that, right?" said Lara Mish, a pace group leader who has worked at races around the region for the last seven years. Mish will lead a pace group at the Rock 'n' Roll Half Marathon in Washington, D.C., this month.
A pace group is a collection of runners who run a race together with the objective of finishing at a certain time. The group is guided by an experienced runner — a pace group leader — who tracks their pace and keeps them on track to finish the race at their goal time. There is most often no-cost associated with participating in these groups and pace group leaders are rewarded with free race participation.
Mish, an Annapolis resident, has been a pace group leader for Rock 'n' Roll D.C. races for the last five years, and has paced both the marathon and half marathon. At this year's Rock 'n' Roll D.C. race she'll be leading the pace group for the half marathon runners aiming for a 2:45 finish.
For Mish, leading a pace group is a no-brainer — it goes hand-in-hand with her career as a running coach, she said.
"I wanted people to realize their potential. Letting runners know 'hey we got this, we can do this,'" she said. "I try to be a positive person in an athlete's life."
Ken Trombatore has been a pace group leader for Montgomery County's Parks Half Marathon for the last six years. Additionally, the Olney, Md. resident coordinates all pace group leaders for that race.
"If you're running with me, I'm going to keep you on target and I'm going to keep you on pace and try to get you the best race possible," Trombatore said.
What it takes to be a good pace group leader
Many runners find pace groups helpful and encouraging. However, a quick Google search will yield blog posts and race reviews lambasting leaders for bad pacing or careless guidance.
Being a pace group leader isn't as easy as it looks, Mish said.
Selfish pace group leaders can be found on occasion, she said, adding that it takes a selfless person to be a good pace leader because "when you pace, you have have to give it all to your group."
"Let your ego and your own personal goals go in order to help make dreams come true for your runners," she said.
Marcus Fitts is running with the Gold's Gym pacing groups at the Credit Union Cherry Blossom Ten Miler in April. This year will be his first time pacing the event, but as an experienced pacer for group runs and triathlons, he said the best ones recognize the sacrifices participants have made to try to reach their goals.
"I think the most rewarding part is making the pace to get the person who invested money and time and effort to get from start to finish and when they've held on and you help them reach their PR goal," said Fitts, a Hyattsville resident.
Trombatore said being a pace group leader means you check your own racing philosophies before you get to the starting line, and you temper anxious runners who may want to jet out at the start of the race.
"Sometimes there are newer runners and they are excited and amped up — so those first couple miles, you really have to break down your pace to … the right pace," he said. "You don't want to go out full throttle in the beginning."
"You do more cheerleading than coaching, I would say," he added.
Good pace group leaders not only lead the appropriate pace, but they also explain to runners how they're running the race and their pacing strategy, Trombatore said. For example, pace group leaders may not worry so much about the pace from mile-to-mile, but rather if they are hitting the goal pace at major milestones, such as mile 5 or mile 10.
"[You are] keeping them informed about what you're doing as a pacer and I think that makes them feel more confident that you know what you're doing as well," Trombatore said.
Participants often criticize pace group leaders for not running the same pace for all of the miles in the race, Mish said. Too often she said she hears murmurings of "I think we took that last mile too fast" among the gaggle of runners around her.
"As pacers, we know the course. We know where there is a steep climb and we try to even things out and make sure they finish on time," she said. "Try not to second guess your pacers — we want you to succeed as much as you do."
Good pace group leaders are consistent. Trombatore said he recruits pace group leaders who can hit the goal time, which is usually several minutes slower than their normal race pace, no matter the conditions: wind, rain, snow or extreme heat.
And when the finish line approaches, pace group leaders should let the group split up — encouraging those who are struggling while pushing those who can kick it in.
"In last mile, kick them in the butt, tell them to go go go, and get with that last group of people and encourage them all the way in," Trombatore said.
Pacing perks
Pace group leaders have a lot of responsibility, and it can be stressful. But there are still major benefits to volunteering for the role.
Chief among them is the free racing. Pace group leaders get to run races for free — and that can help save money for leaders like Mish, who serves as a leader for two races a year.
"Yes, we get free race entry, but absolute joy of helping others is really the payment," Mish said.
For her, it's a chance to get exposure to many runners of varying skills and backgrounds. It's a chance for her to grow her client pool and make friends. She still keeps in touch with some runner's who've been in her pace groups.
Pace groups are a source of camaraderie and conversation, too. Runners meet other runner, encourage one another and offer congratulations at the end, Mish said. That kind of positive atmosphere during the race helps the "miles melt away," she said.
"It's nice to see a sense of community, unity, accomplishment and achievement," Fitts said. He said he values the recognition and responsibility associated with being pace group leader, too.
"It's like a badge of honor. I'm the guy that's supposed to get you from start to finish and you're relying on me to get you there and be your watch."
Worst-case scenario
So what happens if a pace group leader is having an off day? What if cramps kick in or an injury pops up? What if that pace is not longer feasible?
While it's never happened to Mish, she had a close call once.
"My twin sister (and I) — we paced the five-hour group [for the marathon] and she twisted her ankle around mile 10 so she hobbled a bit … so I just ventured on by myself [with the group.]"
That's part of the reason there are at least two pacers per group. If both pace group leaders back out of the race or aren't able to lead that pace any longer, runners can peel off leaderless.
If that happens, Trombatore instructs his pace group leaders to take off their pacer shirt and let the runners go on without them. Under those circumstances, a runner in that cluster may take over and lead to the best of their ability.
Pace group leaders occasionally have to come out of the race for the safety of others, Trombatore added. They are the "eyes and ears for medical," he said and may have to help a runner having a medical emergency.
"The safety of a runner is more important than the goals of others," Trombatore said. "If you choose good pacers and put them at a pace that is extremely comfortable for them there shouldn't be an issue and it should be pretty comfortable — it's like a long run for them."
There are instances when pace group leaders can maintain the pace, but the group cannot. Trombatore recalled a time when he led a pace group for a particularly humid marathon in Detroit. At one point he turned around to find he lost the entire group, yet trucked along in case anyone wanted to join.
Fitts said it's that feeling of leaving others behind that can make being a pace group leader difficult.
"The worst part is losing people —  especially when people have expressed their goals and they want to maintain pace. One rule for pacers is to never look back. Always keep moving forward. Always make sure you're keeping pace. If people can't keep up, all you see is the emotion on people's face," he said. "There's a fear of responsibility and the trust that people put in you to help them reach their goals."
Should you consider a pace group?
For those thinking about participating in a pace group during their next race, the experts have some tips to consider.
Runners should set a goal before toeing the line and calculate how that means they need to adjust their pace. A realistic goal is crucial, too, Mish said.
Fitts recommends reaching for a more challenging pace and falling back if the going gets tough.
Let it go and have fun, Mish also recommends. Using pace group leaders can take some of the stress out of racing, she added.
"Just follow us — don't put pressure on yourself. You're going to finish and we will try to get you there at the time you're setting. We aren't going to stress you out, we are there to relieve stress."
Still, Trombatore says not to let your guard down and give your pace group leader your full confidence.
"Trust the pacer but don't trust them too much," he said. "Run your own race. Use the pacer if you can, but ultimately it's up to the individual runner. Be thankful if your pacer gets you there on time and say thank you  … it's a tough job."
Recent Stories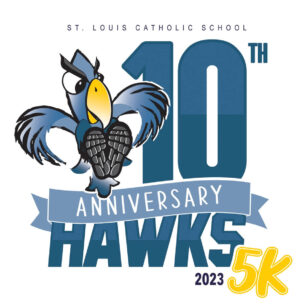 2023 will be the 10 year anniversary of the St. Louis Hawks 5K and Fun Run for Health & Wellness. The USATF certified course runs through the historic Hollin Hills neighborhood in Alexandria, VA.
The Hawks 5K goal, in conjunction