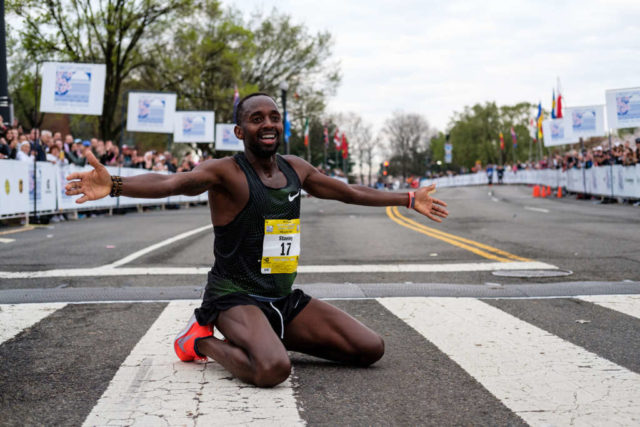 Credit Union Cherry Blossom Ten Mile
April 7, 2018 – Washington, D.C
Stanley Kebenei could pick from a few comeback stories on his way to setting the American record at the Credit Union Cherry Blossom Ten Mile. A year ago, he was sitting at home nursing an Achilles tendon injury that left him in despair. A week ago, he had just run a miserable race for the world cross country championships. But none of that mattered when he crossed the line Sunday in 46:00, breaking Greg Myer's 1983 record of 46:13, also run at Cherry Blossom.
"It's a dream come true," Kebenei said. "You should never lose hope."
Note: Five days later. race officials announced that due to a misplaced set of cones marking the course, the race distance was 9.96 miles and ineligible for records.
He put his 35th place finish in Aarhus, Denmark behind him when he flew to Washington, D.C. and spent the intervening week training in Maryland. He's a Kenyan-born American citizen who ran at the University of Arkansas and trains in Colorado Springs with the American Distance Project.
"I just didn't even think about (world cross country)," he said. "It was one race, and this was another. I had my eye on the American record."
He told Elite Athlete Coordinator Bill Orr as much the morning of the race, then went out to back up the shot that he had called.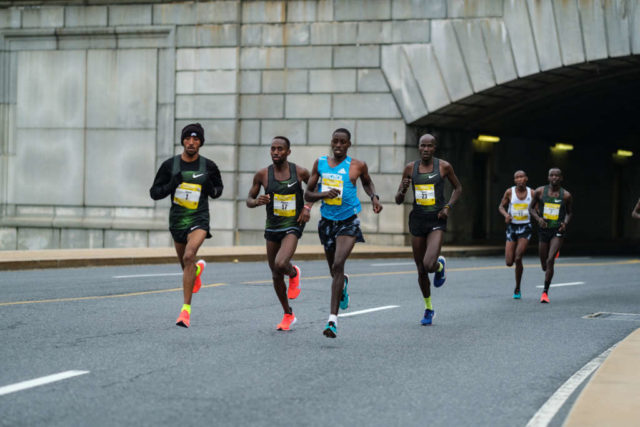 Kebenei, 29, felt sluggish early on, but by the third mile, the lead pack began throwing in surges, which Kebenei felt comfortable covering. By mile eight, though, things had changed, and when  defending champion Jemal Yimer started pulling away, Kebenei, who won the 2017 race, had to decide between trying to top Yimer or focusing on his record attempt.
He backed off.
"If I had tried to run with them, I felt like I might have lost it in the last mile and slowed down too much," he said. "I focused on a mile at a time at the end, but wanted to be ready for the last hill."
Ethiopian Yimer, 22, edged Kenyan Josphat Tanui, 25, 45:36-35:38. Kenyan Edwin Kibichiy, 27, closed in 45:58, with Kebenei two seconds back with a 55-second margin behind him to cousin, 2014 and 2015 winner Stephen Sambu. Yimer said his main goal was to win, regardless of the time, but finishing so far under 46:00 pleased him.
Kebenei had spent a good portion of 2018 fretting about his Achilles tendon. It was why he didn't come back to defend his title.
"I was sitting in my house, feeling helpless and desperate," he said. "Some injuries give you hope, but a hurt Achilles' tendon makes your mind weak."
He didn't feel confident again until the Twin Cities 10 Mile in October, where he finished third.
American University alumnus Mark Leininger was 16th, 10th American, in 48:21 and Arlington's Clint McKelvey, 27, was 23rd in 49:45.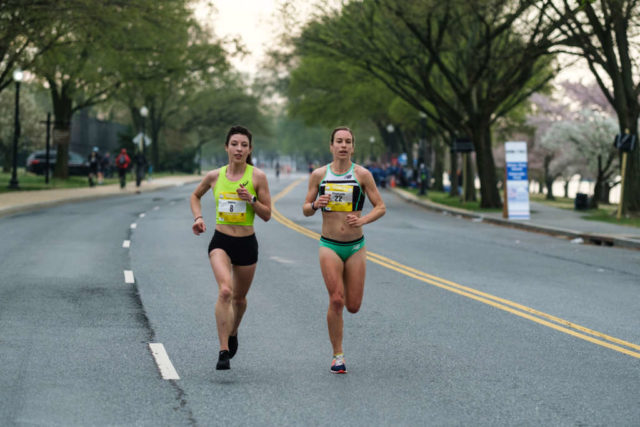 Emma Bates nearly made it a double American record day, missing Janet Bawcom's 52:12 from the 2014 Cherry Blossom race. That Bates ran 52:18 surprised her, given a rib-area muscle injury she suffered two weeks ago that has made breathing "excruciating."
"To know I could run that close to the American record despite this is really exciting," she said. Bates, 26, had run 1:11:13 for fourth place at the NYC Half Marathon in March a few days before she tried holding a plank while holding herself perpendicular to a vertical pole. On her third try, she tore some of her intercostal muscles, which run between the ribs.
Bates, a Boise State alumna who lives in Western Idaho, has not had it easy during the last few cold weeks, but race temperatures in the 50s helped loosen things up. She also got a boost from her sister and her sister's fiance, who cheered in the latter stages of the race, and from her relatively newfound fame after winning the U.S. marathon championships in December and signing a professional contract with Asics.
"I don't think people realize what it means to hear your name out there," she said.
Bates, 26 and Northport, Ala.'s Samantha Palmer, 27, took an early lead to help ensure a fast pace, but the field responded by the end of the first mile.
"They realized we were running a decent pace," Palmer said. "We weren't going that fast, but what good is flying across the country to run the first few miles slowly?"
Fairfax's Bethany Sachtleben, 27, caught Palmer in the last half mile to finish as second American in 53:40. Palmer was four seconds back. Both preferred the lack of the customary 180-degree turn at the north end of the course's path along Rock Creek Parkway. Construction near the Kennedy Center forced the race onto I-66 for the return trip south.
Kenyan Rosemary Wanjiru, 24, set a record for the fastest 10 miles on U.S. soil in a women's-only race, running 50:42, well below the 51:44 that Tebya Erkesso ran for the 2007 Cherry Blossom race. Ethiopian Gotytom Gebreslase, 24, was five seconds behind, with Kenyan Margaret Muriuki, 33, 51 seconds back.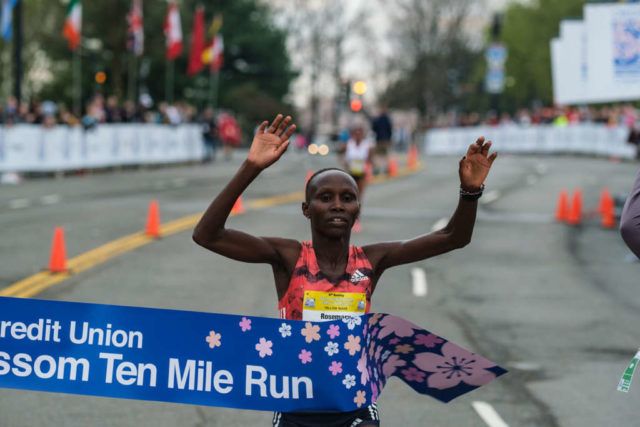 Recent Stories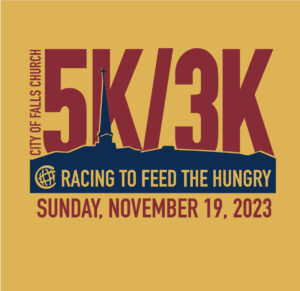 The out and back Falls Church City 5K/3K course is mostly flat on the W&OD Trail starting and finishing at 103 Columbia Street. Overall male and female winners earn free shoes and medals are awarded to all categories. Great family