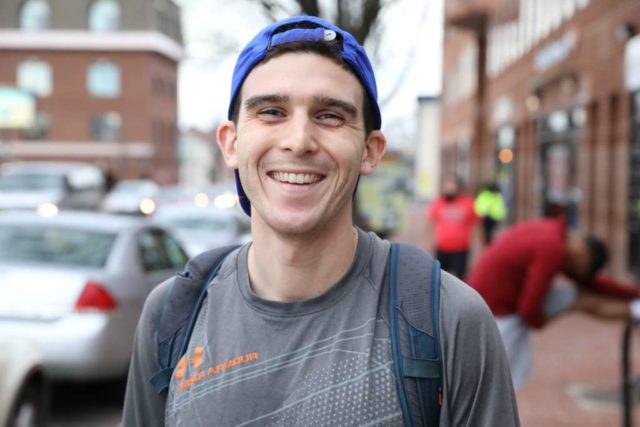 Name: Tyler Kameh
Self-described age group: 20 somethings
Residence: Falls Church
Occupation: Cardiac Technician (think EKG's and stress tests)
Volunteer roles in the running world: I am a volunteer/mentor with Teens Run D.C., an awesome D.C.-area non-profit that facilitates youth mentorship and healthy habits through running. I also try to volunteer at local races when I can. I hope to pace in local races to come.
Why you run: Wow loaded question, there are so many reasons. Sometimes I run to push myself and my limits. Sometimes I run to escape stimulation, life pressure, politics, etc. Other times I run to be social and make new connections. And yet other times I run to mentor and guide others. The health benefits of running are vast, which I probably the biggest reason I consistently run.
When did you get started running: I started running in late middle school as training for club soccer. I then got hooked on cross country when I entered high school.
Have you taken a break from running: Yes, I took a forced year-long break my senior year of high school as I dealt with a lingering stress fracture from overtraining.
Training shoe: My go-to (no pun intended) is the Brooks Adrenaline GTS. I also like using the Brooks Asteria for speedwork.
Coach or training group:  I write my own plans (studied exercise physiology in college) and I train most consistently with District Running Collective.
The hardest race you've ever run: Probably a tie between the Charlottesville Marathon (my first, 300 runners and poorly placed hills) and this past year's flooded out Parks Half Marathon.
Most adventurous decision you've made with your running: Diving down a slip 'n slide during the Bolder Boulder 10K in Colorado.
Running mentors: My next door neighbor growing up was a big runner and got me hooked on how to write and execute training plans. I was an assistant coach for a cross country season at Tandem Friends School in Charlottesville and the head coach, Jason Farr, is a stellar trail runner, mentor and friend. Anybody that can speak to your potential and really build you up, encouraging you to ferociously pursue that potential can be a great mentor.
My favorite place to run in the D.C. area is: From the Capitol Building to Hains Point via the National Mall.
Favorite local trail: The W&OD Trail and all the offshoots you can find from there.
My best race was: 2018 Richmond Marathon.
Favorite local race: Cherry Blossom Ten Mile.
Ideal post-run meal: Veggie pizza from Mellow Mushroom (our post-race tradition) with a Bold Rock hard cider
Favorite flavor of gel, gu, etc: Campfire s'mores Gu
Pet peeve: Besides traffic, seeing two people running together both with headphones in
Goals: Life: get married (date set for 06/15/2019), get into physician's assistant school, continue to find ways to impact others beyond myself.  Running: PR in every major race distance from the 5K to the marathon in the next calendar year
Your advice for a new runner: Set goals, do it with others, take a leap of faith and sign up for a race or join a new group. The best thing about running is that the vast majority of people aren't out there to win, but to improve themselves, so in that sense everyone can achieve their goals.
Favorite running book: Probably a tie between The Purple Runner by Paul Christman and Let Your Mind Run by Deena Kastor
Song in your head during a run: Lose Yourself by Eminem Ready for it? by Taylor Swift
Have you dealt with a major injury: The injury itself wasn't major, a stress fracture to my third metatarsal but the recovery and lessons were. I learned that overtraining isn't worth it. Taking an extra rest day is totally fine especially if you can save months of recovery. Throughout my year of recovery I realized how deep my love for running had become. The year also provided me time to explore other forms of exercise (swimming, cycling, strength training, yoga, etc.). Going through that injury has made me more aware of when my body needs rest and made me appreciate each and every pain-free step I can take.
Running quote: "To give anything less than your best is to sacrifice the gift." – Prefontaine
Why is the D.C. area a great place to be a runner: The D.C. area is loaded with runners and fantastic places to run. No matter your age, fitness level, life circumstances or anything else, you can find a running group that you can call home. Where else can you say that you ran past memorials to numerous presidents on one run? It's amazing to be able to regularly run among some of our most cherished national treasures. The mostly-mild weather and excess amounts of races available to run are just icing on the cake.
Recent Stories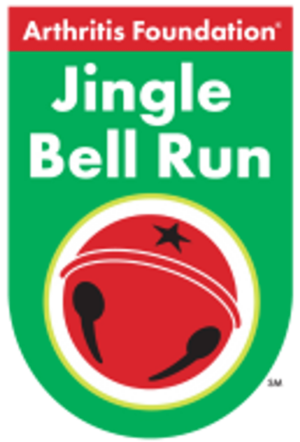 Be part of the original festive race for charity and signature Arthritis Foundation holiday event! Wear your favorite holiday attire and together, we'll jingle all the way to a cure! Register as an individual or bring a team of friends,