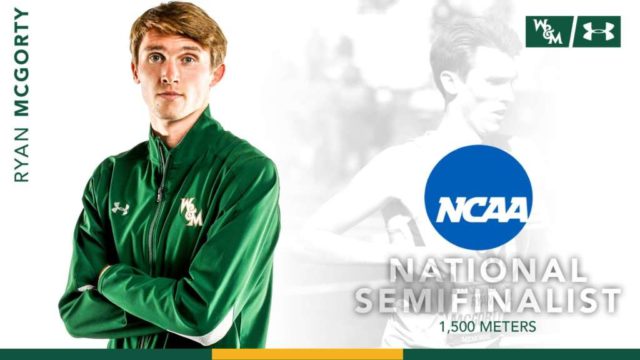 Several distance runners with local connections will compete in the  NCAA Track and Field Championships June 5-8 in Austin, Texas.
1,500 meters – Ryan McGorty – William and Mary / Chantilly High School
Rachel Pocratsky – Virginia Tech/ Our Lady of Good Counsel
Alexandra Lucki – Maryland
3,000 meter steeplechase – Fitsum Seyoum – Virginia Tech / Tuscarora High School
5,000 meters – Caroline Alcorta – Villanova/ West Springfield High School
Weini Kelati – New Mexico/ Heritage High School
Josette Norris – Georgetown
10,000 meters – Caroline Alcorta – Villanova/ West Springfield High School
Weini Kelati – New Mexico/ Heritage High School
In high school state meet action, Washington Latin's Luke Tewalt won the 800, 1600, 3200 and ran a leg of the winning 4×800 meter relay team at the DCSAA championships and Loudoun Valley's boys swept the top seven places in the Virginia 4A 3200 meters.
D.C.
800 meters
Fajr Kelly Roosevelt 2:10.55
Luke Tewalt Latin 1:57.45
1600
Zoe Edelman Latin 5:12.36
Luke Tewalt Latin 4:21.19
3200 meters
Zoe Edelman Latin 11:21.55
Luke Tewalt Latin 9:25.15
4×800
St. John's – 9:54.94 – Anna Cestari, Tara Anders, Naomi Nicholas, Alahna Sahhakhan
Washington Latin – 8:15.73 – Kaleb Mokonnen, Nicholas Geist, Oliver Spiva, Luke Tewalt
Maryland
3200 meters
4A Eldad Mulugeta Northwood 9:12.64
Virginia
1600 meters
4A Jacob Windle Loudoun Valley 4:18.70
5A Bethany Graham John Champe  4:50.06
6A Albert Velikonja Yorktown 4:21.13
3,200 meters
4A Carlos Shultz Loudoun Valley 9:19.94
5A Juan Moscoso Briar Woods 9:26.51
5A Bethany Graham John Champe 10:29.66
6A Sean Stuck West Springfield 9:18.27
6A Laura Webb Woodbridge 10:44.57
4×800
4A Loudoun Valley – 7:38.93 Sam Affolder, Luke Affolder, Mateo Baretto, Jacob Hunter
5A John Champe – 9:21.15- Mythri Madireddy, Marianne Jayaraj, Sayda Colemanm Bethany Graham
6A West Springfield – 7:49.70 – Matt O'Donnell, Sam Pritchard, Bryce Gaskins, Chris Weeks
6A South Lakes – 9:15.76 – Annika  Yu, Emily Lannen, Caitlyn Morris, Caitlyn Isabelle Gulgert
Recent Stories
Fairfax County Detectives have arrested and charged a 42-year-old Herndon man with crimes related to indecent exposures near the Washington and Old Dominion Trail in August, the department reported.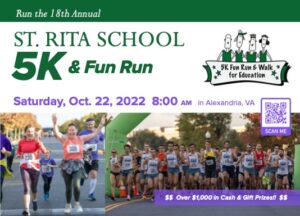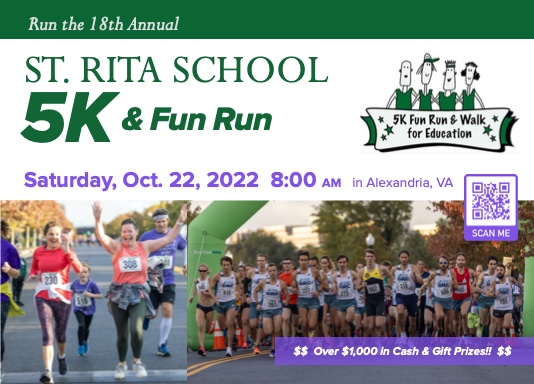 The 18th annual St. Rita 5K & Fun Run is a fall classic on treelined streets through beautiful Alexandria, Va.
Certified & chip-timed 5K follows a flat, fast, out-and-back course through Potomac Yard.
The morning festivities includes a live DJ,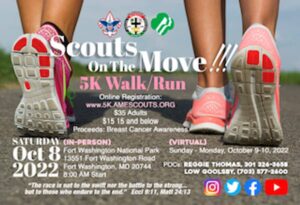 The Association of African Methodist Episcopal Scouts' (AAMES) 1st Annual 5K In-Person/Virtual Run-Walk Race
In-Person:
Saturday, October 8, 2022 at 8:00 A.M.
MARYLAND
Fort Washington National Park, 13551 Fort Washington Road, Fort Washington, Maryland 20744