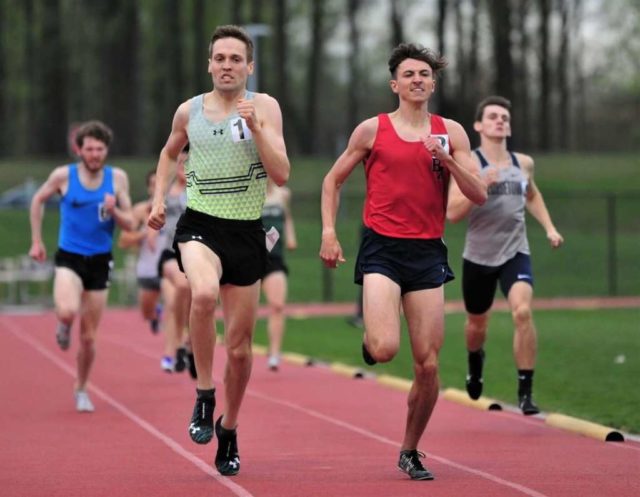 Even as the number of male American milers to hit that mark approaches 550, a sub-four-minute mile is still a middle distance runner's milestone, bolstered by the stark difference between 3:59.99 and 4:00.00. For the 65 years men have been running sub-four miles, nobody has done it in Washington, D.C.
With a loaded field, that may change July 13 at the D.C. Road Runners Track Championship, when the race's momentum, a national developmental effort and new track league converge at Dunbar High School. Eight men entered in the mile have broken 4:00, with Trevor Dunbar's 3:55.54 PR leading the way. A field of more than a dozen women will race the 1,500 meters, several chasing the world championships qualifying standard of 4:06.50. Elinor Purrier (4:02.34) and Shannon Osika (4:06.17) have met the standard, with four more runners within two seconds. Abbey D'Agostino Cooper, a 2016 Olympian at 5,000 meters, is a late entry. Georgetown alumna Katrina Coogan and Lake Braddock alumna Katy Kunc will race in the elite field.
Brian Danza has been directing the meet and recruiting runners for years and watched the men's mile times steadily drop over the last seven years down to 4:03 – in a deluge – from 4:16 in 2012. He feels like the meet has something to prove.
"New York and Oregon have a few big meets each year and D.C. doesn't," he said.
He saw no reason why the DCRR Track Championships could not be that meet for D.C.
And one in which open athletes can compete in open mile races, all free, before the main events start at 7:30 with elite 800 meter, mile and 3,000 meter steeplechase heats.
When Frank Gagliano coached at Georgetown, the Hoyas may have had the talent, but they weren't playing host to any meets at their track on top of a parking garage that would bring those performances. Plus, any conference championships would have run the 1,500 meters, anyway. This year, "Gags" will be bringing his NJ/NY Track Club to the DCRR meet, which will serve as the last race in the Eastern Track League circuit. 
"This is the first time you're having a lot of meets (like this)," he said. "We haven't been back in D.C., but it's great that they're having a meet down there were post-collegiate track and field can be watched."
The Eastern Track League, which includes NJ/NY, the District Track Club, Furman Elite, the Atlanta Track Club and the Nashville Track Club, has tried to change that, committing a collection of national-caliber runners to existing late-spring and summer meets that add to the meets' profiles. At the same time, the circuit is giving runners a series of tune-up races before the U.S. championships July 25-28, and a chance for a $2,500 payout for the series winner. District Track Club 800 meter runner Quamel Prince leads the men's standings and New Balance miler Elinor Purrier leads the woman.
Willy Fink came close to sub-4 in 2018.
Who's racing?
In addition to the Eastern Track League athletes, the meet coincides with the Road Runners' Club of America's RunPro Camp, which draws two dozen budding professional runners to Arlington for educational sessions on the industry. 
"We slowly built a list of fast runners and every couple years [we would] get those fast runners to bring their friends, which slowly snowballed into the fields getting competitive enough regardless of the fast runners bringing their friends," Danza explained.
That momentum only picked up when Tom Brumlik brought his athletes into the meet. Brumlik is the coach for the District Track Club.
"Tom helped because he has some truly exceptional track runners in the DTC. Tom's team brought our 800-meter times down to 1:46, which was unprecedented in D.C.'s history," said Danza.
Many of Brumlik's athletes have raced in this meet before, but his entire team is expected to run in this year's meet, with most racing the 800 meters.
In last year's rainy meet, DTC runner Edose Ibadin won the 800 meters and Maddie Kopp came in second for women. Brumlik believes that if the weather had been better in 2018, the four-minute mile would have been broken then. He both hopes and expects that this year will be different.
Though collegiate and professional meets contest the 1,500 meters, the mile remains an American athletic institution.
The idea of breaking the four-minute mile has been coveted over the years.
"Obviously, it starts way back from when Roger Bannister did it," Brumlik said. "It's become kind of a mystical number and ever since then, it's skyrocketed. It's still a large barrier, not quite as elite as it used to be, but still on a lot of people's bucket lists."
When asked if he expects someone to break the four-minute mile for the first time on D.C. soil, Gagliano is confident in his answer: "Oh yes definitely. No doubt about it."
"It's such a famous [distance] and famous time. How many people in the world have broken four minutes? Each male has a dream of running four minutes."
There is more to look forward to beyond the men's mile though. Brumlik says he expects many women to break two minutes in the 800 this year, and many men to break 1:50. "I think it should be overall a very fast day," he said.
Danza expects excellent times from this year's impressive lineup. "Judging by the people who have signed up right now, we should not have any trouble getting into the 3:55 or 3:56 range for the mile, but you can't tell until it's actual race day," said Danza. "1:45, or 1:46 for the men's 800 and easily 2:00 flat for the women's [800]."
Why has a four-minute mile taken so long?
Gagliano believes declining interest in the sport drives the lack of high-quality meets.
"I don't think the interest in track is there right now," he said. "There's road races like half marathons and so forth. But how many track meets are there?"
Brumlik things venue availability, not lacking popularity, drives the lack of D.C. meets.
"I think there is a ton of interest [in the sport]. This is one of the biggest running areas in the country and it can extend the track … Lack of tracks is the problem," he said. "A lot of them are booked. Getting a track for this is often the hardest issue."
On top of that, when a track is available, Brumlik says the process of coordinating with the track and going through the paperwork to get approved is difficult.
Danza, on the other hand, agrees with both sides, citing that lack of both interest and availability are major factors in hosting events in this area. 
"D.C. is not known as a city with a big history on track. Therefore, it's hard to raise money and get sponsors and that kind of thing," he said. "[Lack of tracks is] also a huge problem here. The universities don't have the tracks that other universities have. For example, Georgetown doesn't have a beautiful facility to do this kind of stuff, American University doesn't have a beautiful facility to do this kind of stuff."
"I think there is just a lack of interest [in track] for a bunch of years where other meets grew and nothing was here, so when things are left to stagnate, they don't magically materialize. You have to put people behind them to create them," Danza said.
In order to make track meets more attractive in the area, Danza says a few things need to happen. "First, I think people need to show up," he said. "One of the big things I've been doing in the last couple of weeks is just bugging everyone I know in the running community and saying, 'Come down to the meet. Even if you don't run, just watch the event.' Because the way you get sponsors to come to the event is to show that you have a ton of people at the track."
Danza says his long-term goal for this meet is to see it grow to the point where it is held on the National Mall. "It would cost about 100,000 dollars just to build the infrastructure for it," he said. "But three of the blocks of the Mall are big enough where you can raise a track on stilts."
Whether it ever becomes big enough to host on the mall or not, there's a good chance a little bit of D.C. sports history will be made July 13. 
Recent Stories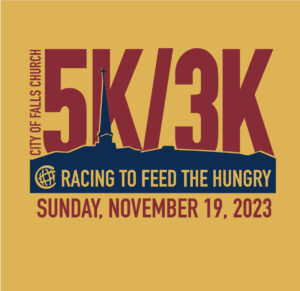 The out and back Falls Church City 5K/3K course is mostly flat on the W&OD Trail starting and finishing at 103 Columbia Street. Overall male and female winners earn free shoes and medals are awarded to all categories. Great family