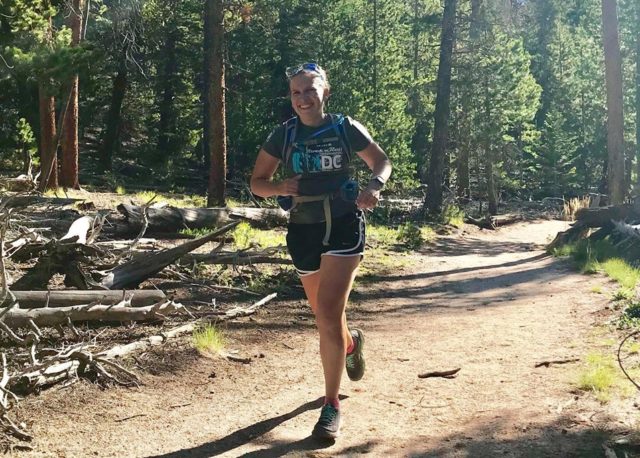 Name:  Laura Povlich
Self-described age group: 35-39
Residence: D.C.
Occupation: Program Director at NIH
Volunteer roles in the running world: Event Coordinator for my local triathlon club, District Multisport
Why you run: My motivation for running has changed throughout the years, but I'm currently motivated to get outside, see new and beautiful places, and spend some miles with running friends.
When did you get started running: I started running about 12 years ago to try to get into shape after undergrad. I spent most of my younger years dancing and running seemed like a logical hobby to pick up. My husband also started racing triathlons around that time and I was inspired by the variety of athletes that competed.
Have you taken a break from running:  I've had various minor injuries, mostly in the yearly years, that have required 1-2 months off, but nothing longer than that, fortunately. I like to mix-in cross-training now, which helps keep my training more consistent.
Training shoe: Hoka's have been my go-to brand for ~5 years, including the Mach, Torrent for trails, and most recently Carbon X.
Coach or training group: I worked with a coach, Jennie Hansen, to complete two Ironman races, and have run with Pacers on 14th St since 2014!
The hardest race you've ever run: Definitely the most challenging course I've run was the Mesquite Canyon 50K this past March, which included technical climbing and descending, a long sandy section and some climbing over boulders. It was humbling and fun once I let go of expectations.
Most adventurous decision you've made with your running: I've dedicated more time to trail running this year and the Mesquite Canyon 50K peaked my interest in mountain running. So just last week I attended a mountain running camp through Singletrack Explorers in Colorado. We ran/hiked to the top of two 12,000 foot mountains and experienced the beauty and difficulty of running at elevation! It was awesome. I also got married during a half marathon in Las Vegas – a different sort of adventure!
My favorite place to run in the D.C. area is:  Rock Creek Park (although Strava data likely indicates that my favorite place is the Lincoln loop on the Mall).
Favorite local trail:  It's short, but I love the Melvin C. Hazen trail (near Peirce Mill).
My best race was: Any race where I beat my friend and running rival, Mike Katz! But my best placement in a race came at the Rock 'n' Roll New Orleans 10K last year, where I won my age group for the first time.
Favorite local race: EX2 Adventures trail races and the GW Parkway Classic 10 Miler.
Ideal post-run meal: Ramen and beer
Favorite flavor of gel, gu, etc: Any flavor from Boom Nutrition
Pet peeve: This might not count as a pet peeve, but scooters on crowded sidewalks are very aggravating.
Goals: I'd like to get better at trail and mountain running – continuing to build aerobic fitness and strength for climbing. I haven't put a plan together for next year yet, but I'd like to go up in distance and train for a 50 mile trail race.
Your advice for a new runner:  Make sure you take your easy days at an easy pace and add intensity with targeted tempo/speed/track workouts.
Favorite running book: There's so many to choose from – I love reading about running! One of my favorites is Running with the Buffaloes by Chris Lear. Most recently, I enjoyed reading the Rise of the Ultra Runners by Adharanand Finn.
Song in your head during a run: Probably something from Disney or Broadway.
Have you dealt with a major injury: I haven't needed surgery or anything like that, but I did run through plantar fasciitis for about a year and a half, which was really mentally defeating. Thankfully, after incorporating trail running and strengthening my feet and ankles with a wobble board, the pain has gone away.
Running quote: I'm not great at remembering quotes, but I'm inspired by words that reinforce a positive, balanced attitude for running and life. I like following certain athletes on social media like Lauren Fleshman, Clare Gallagher, Sage Canaday and Mike Wardian.
Why is the D.C. area a great place to be a runner:  The D.C. area is great because of the variety of running routes (road, trail, mountains not too far away) and because of the people. The friends I've made through running and triathlon have become my family in D.C. It's also easy to find support and inspiration to do things that may seem absurd to some – long distance triathlons, ultra races, etc. D.C. runners are always up for new adventures!
Recent Stories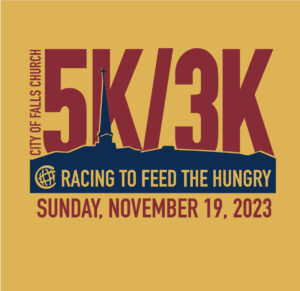 The out and back Falls Church City 5K/3K course is mostly flat on the W&OD Trail starting and finishing at 103 Columbia Street. Overall male and female winners earn free shoes and medals are awarded to all categories. Great family