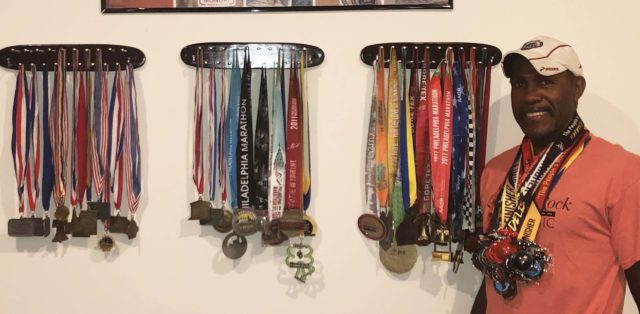 When Arthur Scott celebrates his 60th birthday on Oct. 7, he'll be gearing up to mark another milestone — his 25th consecutive Marine Corps Marathon.
The Washingtonian native, who now lives in Charlotte, has run every Marine Corps Marathon since 1995, despite vowing never to run a marathon, then to run only one, then to stop after his 20th… you get the idea.
"Like many things, it was not planned," Scott said.
The makings of Scott's impressive run streak started in 1993, when a colleague planned to run the Marine Corps Marathon, but only to mile 20. He asked Scott to join him at the 13th mile to help get him through the last leg of the run.
"I said, 'Sure, I'll be there,'" recalled Scott, who already had been running consecutive Cherry Blossom Ten Mile races since the mid-80s. "I ran with him to 20 and in the excitement of the race he said, 'I think I want to finish this.' So, I said, 'Well, if you've come this far and you want to try to finish it, I'll stick with you.'"
What Scott saw at the finish line, shook him to his core.
"I had never been to the finish line at a marathon, and it was the worst thing I've ever seen," Scott said. "I saw people getting sick. I saw one person faint. I saw people draped over other people. I saw toenails bleeding. I saw nipples bleeding. And I thought to myself 'This is crazy.'"
So, he swore never to run a marathon.
That was, until Oprah showed up in 1994.
"Oprah? Comes to Washington? To my city? And does something I've never done?" Scott remembered thinking. "She had to overcome a lot more than I did to run a marathon. If Oprah can do it in my city, then I have to!"
Scott registered for the 1995 Marine Corps Marathon, but not without setting some ground rules. He didn't want to get sick, he didn't want to lose toenails or have any part of his body bleed, he didn't want to be draped over anyone, and he wanted to run — not walk — the entire 26.2 miles.
"I have to do this the right way and I'm going to do it one time," he told himself.
The race came and went — without any lost toenails, bleeding, etc. — and Scott started to wonder if he could do it again, only better.
"That's what propelled me to marathon number two in 1996," he said.
And so the streak began.
It almost came to an end, however, after a motorcycle accident several years ago. Scott survived, but doctors were worried he wouldn't walk normally again — and running seemed out of the question. After he made some progress, he asked if he could try running.
"I told the doctor, 'This is what I do. I have the Marine Corps Marathon coming up and I've never missed one,'" Scott said. "It hurt to run. I had to go through a lot of physical therapy to come back, but I came back faster than any patient they had ever seen. I was so thankful to a higher power that allowed me to do that. That was a pretty momentous year."
Scott credits his lifetime dedication to fitness for why he's been able to keep the streak going for so long. The 2019 Marine Corps Marathon will be his 56th marathon overall — he's run the Philadelphia Marathon 23 times and completed Boston four times, among other races — and he's also an avid cyclist, often participating in century rides and even longer distances.
"A lot of people ask me how I do it," said Scott, who, like many recreational runners, has a busy career that's taken him all over the world. "I'm not an elite runner. I'm not a fast runner. I'm not a small runner. I'm 6'2″, about 185-190 pounds or so. I'm a pretty big guy. I'm a regular person. How does the regular person keep that kind of a continuity and keep running consistently for 25 years? It just became a part of me. Something that I do."
Scott also committed to the mantra "no excuses," but with a caveat. He's disciplined in his training — like the time he ran 20 miles on a treadmill on a cruise ship while vacationing in the Mediterranean — but rational. He doesn't run through injuries or other challenges.
"I don't stick so doggedly to that 'no excuses' that I'm stupid. I give myself a break. I'm not doing this for the money. I'm not doing this for the glory. I'm doing it for fitness and for my health. And if I'm doing it for my fitness and my health, why should I be so obsessed about it that I'm going to do something that will actually hurt my fitness and my health?"
Scott is looking forward to running his first marathon of his 60s, but it also could be his last. He's not sure yet.
"I don't know how long I'll keep doing this. I'm at that point I'm thinking, 'Well, yeah, 25 is a good number,'" he laughed. "Who knows what'll happen."
Recent Stories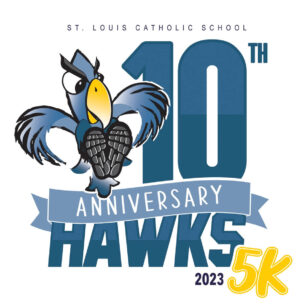 2023 will be the 10 year anniversary of the St. Louis Hawks 5K and Fun Run for Health & Wellness. The USATF certified course runs through the historic Hollin Hills neighborhood in Alexandria, VA.
The Hawks 5K goal, in conjunction