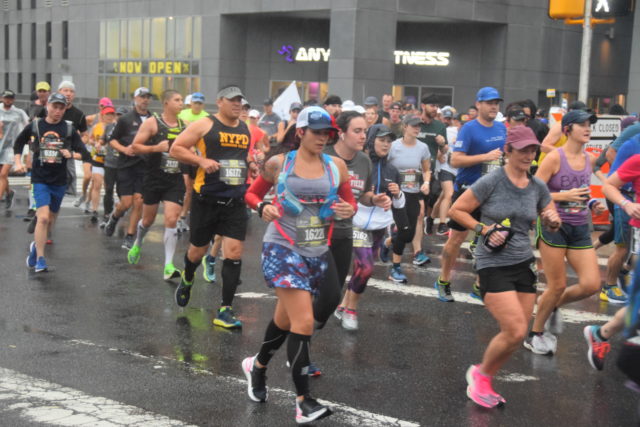 For some runners, completing the 44th Marine Corps Marathon is a grand achievement. For others it's "just a Sunday". There were thousands of different stories that involved crossing the finish line of the rainy 2019 Marine Corps Marathon, but here is just a small piece of the many stories that make up D.C.'s most prominent race.
Ben Nilsestuen, 37, of Brooklyn, ran the marathon in memory of his friend, James Brophy, who died in December in a Marine training accident. Nilsestuen was not alone in supporting the memory of Brophy. All of Brophy's college roommates, his old friends from high school, and his wife, were out to support the Marine's memory by running the marathon.
Nilsestuen is no stranger to marathon running. Though this is his first time running the Marine Corps Marathon, this was his 30th marathon overall. For him, he described running 26.2 miles as "just a Sunday." What made this race special wasn't the distance, but that it was the first time he ran to honor a friend.
"[The marathon] wasn't really about racing. It was for a different purpose," he says.
The timing made it all the more fitting. Brophy's birthday was Saturday (Oct. 26) and his wife's birthday was Sunday (Oct. 27).
"If he were here right now, he'd be making fun of us," Nilsestuen said with a smile. "He was a prankster and a joker. He had a really memorable laugh."
For Jeff Kessler, 41, of North Bethesda, it was all about the speed.
Like Nilsestuen, Kessler is no stranger to marathon running. This was his 17th marathon and his 9th Marine Corps Marathon. He recently ran the Lake Eire Marathon in September.
Kessler managed to make a new personal record today with a time of 3:03:53. He credits the rain for helping to keep him cool during the race, part of why he thinks he was able to set his new PR.
During his training runs, Kessler runs with the Montgomery County Road Runners, but ran by himself today in order to go at his own pace.
"I enjoyed it. [My] 9th Marine Corps Marathon is a story to tell people, 'I ran that year it down poured,'" he says with a smile.
Mark Muncey, 33, of Mount Pleasant, S.C., has no connection to the Marines or to D.C., but wanted to participate in the scenic and historic race. This was the second marathon for Muncey, but his first Marine Corps Marathon.
"It's a great inspirational, motivational, race," he says. "[The] most impressive thing was all the spectators that came out."
Unlike Kessler, Muncey found the rain to be more of a hindrance than a benefit. "[The] rain brought a lot of humidity … My shoes were soaked. [There were] four times running through practically a creek with water coming over the top of your shoes."
Muncey finished in the low 4-hour mark, but says that time was not important to him. Given the weather, he was just happy to finish.
Katie Bahran, 31, of Washington, D.C., has an impressive running resume. At only 31 years old, this was her 51st marathon.
Bahran only moved to D.C. in January. Coming from New Mexico, this was her first time running the Marine Corps Marathon. As her first impression of the race, she described it as "iconic" and particularly enjoyed seeing all the neighborhoods.
Due to the rain, Bahran expected that the course would be fairly empty of spectators. To her surprise, that was not the case. "I thought it would be a ghost town with bad weather, but D.C. showed up!" she says with a smile.
Unfortunately, Bahran says that this was not a good race for her. She did not feel her best. At one point on the National Mall, she even threw up while in front of a band of middle-schoolers. After collecting herself, he shouted to the kids, "running is fun!", hoping not to deter them from the sport.
Bahran says she did not mind the rain. In fact, when the sun came out around mile 23, that's when she started to feel particularly bad.
"Today was just not a good day for me. They can't all be the best day. I try to stay positive, but it gets hard when you hate everything," she says. She goes on to clarify, "It wasn't that it wasn't enjoyable, it's just hard."
The low 4-hour finisher says she finds value in races that don't go her way, as it helps her appreciate the races that do. "It's awesome because on the days when the stars align, [difficult races] make it all worth it."
Michael Given, 24, of Boston, ran the race with his sister. When his locally-based sister registered for the Marine Corps Marathon after receiving guaranteed entry at the 17.75K, Given thought it would be fun to put his own name in the lottery. When he got accepted, he was excited to run the iconic race with her.
Originally from Charlottesville, Given's family is comprised of runners. In fact, his parents recently completed a marathon in Las Vegas two or three weeks ago.
This was Given's second marathon, but first Marine Corps Marathon. His first marathon was two years ago in Connecticut.
When asked what he thought of the race, Given says, "really wet." Like Kessler, Given says the rain brought some positive elements to the event, namely how it cooled him down during the race. However, that was not to say that the rain was overall positive. Given says that while it may have helped to keep him cool, puddles were a big issue. "I've never run in a race like this before," he says. "[There were] 30 yards of Haines Point that had about eight inches of water, so I had to go on the grass."
Despite the puddles, Given says the most difficult portion of the race was around mile 21 on the 14th Street Bridge where powerful wind blew directly into his face.
For Jeff Koranda, 33, of Chicago, this was a bucket list marathon. Like Muncey, Koranda had no connection to the Marines or to D.C., but wanted to take part in this iconic event.
This was Koranda's 17th marathon and his first Marine Corps Marathon. The ultra-marathoner is currently on a spree of distance running events. He ran the Chicago Marathon two weekends ago and the Ragnar Bourbon Chase one weekend ago.
Koranda says the rain did not bother him, though the did find the wind to be brutal. In fact, he actually enjoyed the rain. "The rain felt good and it was fun. How often do you get to run in warm rain?"
Koranda ran in 2018's Boston Marathon, famously known as the year of powerful sideways cold rain. "That sucked," he said. "This was much more pleasant."
In addition to enjoying the rain, Koranda found moments of the race emotionally powerful, the Blue Mile on Hains Point, which features portraits of Marines, and the last section of the course which passes by the National Cemetery.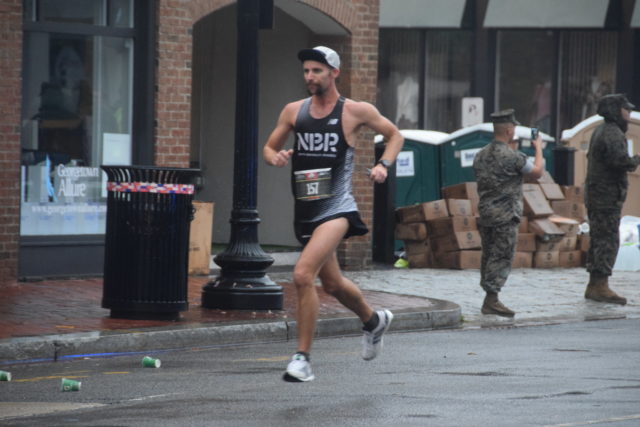 Recent Stories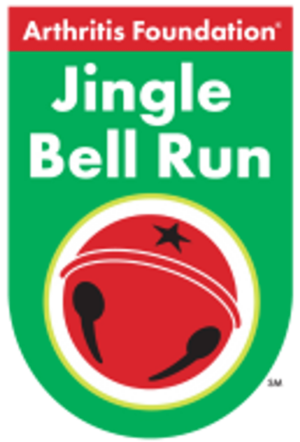 Be part of the original festive race for charity and signature Arthritis Foundation holiday event! Wear your favorite holiday attire and together, we'll jingle all the way to a cure! Register as an individual or bring a team of friends,