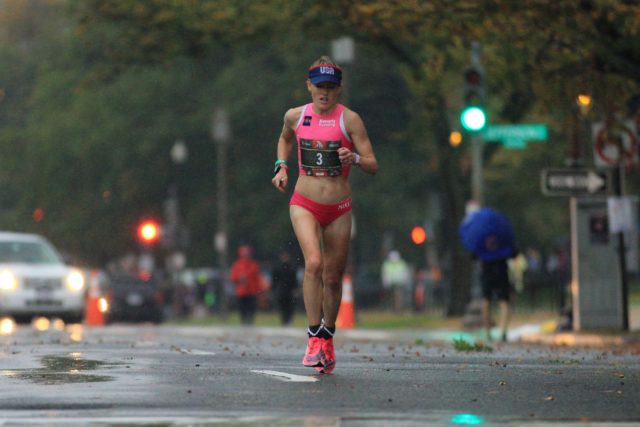 Brittany Charboneau tells her fair share of jokes, but she made a serious play for the Marine Corps Marathon record.
Aiming for 2:37:00, the Colorado-based comedian, actress and improv instructor took off after a few easy miles, grabbing the lead from 2015 and 2018 MCM winner Jenny Mendez and hitting the halfway mark at 1:18:05. Mendez eventually dropped out short of 20 miles.
The second half of the race was also not kind to Charambou, who ran 2:36:34 at the 2018 Los Angeles Marathon. She won Marine Corps, running 2:44:47, but given her goal, she wasn't happy.
"I just didn't feel great today," she said. I felt good all week. Everything went heavy. It was a mental battle from the beginning." 
Russian Olga Markova set the course record in 1990, then won the Boston Marathon in 1992, when she ran the world's best female marathon at 2:23:43, and 1993.
Charboneau, 31, chose the Marine Corps Marathon for its emphasis on amateur running. She ran under the Olympic A standard in 2018 after adjusting her goal for Los Angeles 10 days before. That earned her an elite invitation to the New York Marathon, which ended up being overwhelming for her, though she ran only a second slower than in LA. 
"It was my first World Major Marathon as an elite and it was so intimidating," she said. "I fell apart, went out too hard."
She planned on the London Marathon, but scratched with a back injury. That prompted her to overhaul her training with coach Jenni Nettik.
"You look at the pros on social media and what they do creeps into your habits," she said. "I restricted my social life, how I was eating, how I thought an elite runner does her workouts. Those women already exist. I need to be unique."
She wanted a race where she could just run, without expectations from anyone but herself, which, along with her interest in history, led her to Marine Corps. 
In addition boosting to a peak of 95 miles a week and adding a trail run once a week, which takes the emphasis off of her training pace, Nettik mandates creative time for Charboneau on her Monday off days, and assigns a theme each week to help liven up her training.
"It's been a game changer," Charboneau said. "I felt like I hadn't been having fun training, Since then, I've enjoyed every single run. It's helped my mental game in terms of how I view my workouts, and even regular runs. I do a lot of the same routes, so if I switch things up to run on a road with a name that fits my theme, that gives me something fresh in what's ordinarily a recovery day."
Race week for Marine Corps was "shark week," culminating in Sunday's race, scheduled between two World Series games for the Nationals. Yes, she worked "Baby Shark" into the theme. 
Another week's theme focused on Oprah, and that got more competitive.
I love Oprah, but my coach also said I should run two hours faster than she did.
That would have put Charboneau at 2:29:15, so while her half split had her under the MCM course record time, she was at a larger deficit for her ultimate time goal.
"I felt like I couldn't get any momentum going," she said. "I just felt like I was out of gas."
Her plans for the course betrayed her. 
"Some chunks were pretty quiet and I expected to take those times to regroup and settle down, but it was more challenging than I expected," she said. "I felt better toward the end, I finally got into a groove toward the end, but I didn't feel like I was in the zone. I felt badass with the marines out there, cheering, though."
Escaping the expectations from World Marathon Majors also drew runner-up Margarita Quintero, 29, to Marine Corps. 
"I thought it was good to take time for me, to enjoy the race," she said. A native of Guadalajara, Mexico, she set a two-minute PR running 2:48:22. She nearly frittered away her opportunity early on.
"I looked at my watch for the first kilometer and it was 3:30 (5:37 mile pace), so I slowed down, but you go with the wave of people, it's hard to hold back," she said. She slowed to close to 7:00 pace and then eased into a faster pace as the race went on. 
The weather appealed to her.
"I've never raced in the rain," she said. "It helped, because every time I've raced, it's been hot. I had a feeling that by training when it's hot, the race would have to be better."
She started off with a jacket, long sleeves and gloves, which she abandoned during mile 14.
"Since this is my first time with the rain, I didn't want to lose too much because I get cold so fast."
She does most of her training, around 80 miles a week, on a treadmill, which allows her to run whenever she feels best. An accountant by day, she had a homework assignment due for an online class after the race.
Selvi Rajagopal, 32, also scored a big PR, 22 minutes, over her Boston 2018 time. Her 2:50:42 placed her third. She was on pace to break 2:45, but digestive troubles deviled her halfway through the race. She found a restroom, but was not happy to be there. 
"That wasted what felt like five minutes," she said. "But I had to stop, I wasn't going to be able to go on the way I felt."
Fortunately, things improved after her stop, and she moved back up as the race went on.
Rajagopal last ran Marine Corps in 2007, when she on her age group as a freshman at George Washington University. Though her friends and coaches encouraged her to run when she was younger, the competitive aspect of the sport drove her away from cross country as a teenager in Sacramento. She lives in Columbia, Md. and works as a pediatrician and internist at Johns Hopkins
"It was fun to run ,but I didn't like the idea of competing. I quit because I didn't like the pressure," she said.
Now she welcomes the pressure from her coach,  2013 Marine Corps Marathon winner Kelly Calway.
"She kicks my ass with workouts," Rajagopal said. "That's what I want her to do – make me suffer during training so I can not feel bad in a race. And I felt strong at the end today."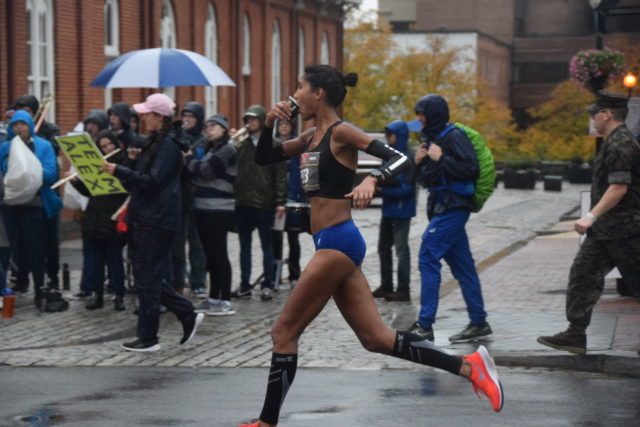 Recent Stories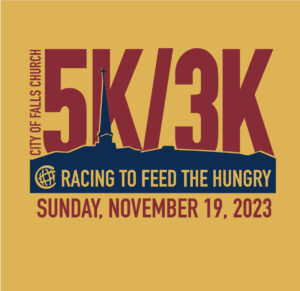 The out and back Falls Church City 5K/3K course is mostly flat on the W&OD Trail starting and finishing at 103 Columbia Street. Overall male and female winners earn free shoes and medals are awarded to all categories. Great family