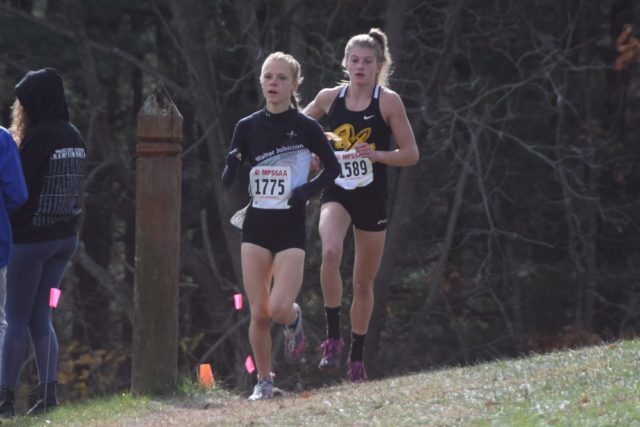 Buried back in 56th place last year, Walter Johnson's Jenna Goldberg knew her state meet performance wasn't what she felt was possible. But it wasn't as much because of her then-recently-diagnosed anemia. It was her confidence.
"I definitely felt stronger, significantly better, but I'm just in a much better place mentally," she said soon after winning the 2019 4A title in 17:50. "Every race this year gave me the opportunity to experiment with different racing styles and see how they worked. By the end, I proved that easing into the race was the best strategy for me."
MPSSAA Championships
Nov. 9, 2019
Hereford High School, Elkton, Md.
3 mile
1.Sam Keeny South River 15:34
5.Garrett Suhr Richard Montgomery 15:54
1.Severna Park 43
2.Northwood 130
1.Jenna Goldberg Walter Johnson 17:50

1.Howard 69
3.Walter Johnson 112
1.Anish Nanjappa River Hill 15:45
9.Tamrat Snyder Damascus 16:38
1.River Hill 70
15.Damascus 269
1.Oakley Olson Northern-Calvert 18:49
48.Emely Vela Damascus 21:25
1.Northern-Calvert 82
15.Damascus 380
1.Kyle Lund Oakdale 15:47
23.Sam Bodmer Poolesville 17:09
1.Erin Mcquitty Middletown 19:06
23.Mikayla Durr Poolesville 21:12
1.Liberty 44
7.Poolesville 176
1.Zane Chalker Williamsport 16:00
68.Brian Chebochok Central 20:05
1.Williamsport 49
14.Central 162
1.Daylie Younker Smithsburg 20:26
62.Samarie Brackett Gwynn Park High School 25:24
1.Northern Garrett 40
No local teams
That confidence helped her not worry when she got boxed in shortly after the gun went off at Hereford High School.
"Any other year, I would have been freaking out," she said. "It probably helped me because I couldn't go out too hard."
Once she did get going, she and Richard Montgomery junior Charlotte Turesson jumped ahead of the rest of the field. Throughout the first mile, Goldberg surged on downhills to test Turesson, who didn't respond as much as Goldberg expected.
"Going into 'the dip' the first time, I took it hard, into another gear," Goldberg said. "I slipped there two years ago and that was in the back of my head, but I knew I had a better chance if I made my moves on the way downhill because they uphills we're going to be very hard."
Coming out of the dip, she felt in control of the race. By two miles, she was comfortably ahead of Turesson, who finished second in 18:23.
Turesson was limping after the race and had to be helped through the handshake line during the awards by coach Davy Rogers. 
"I didn't feel it enough to stop during the race," she said of the outside of her left foot, which she said had been hurting for about a week. "I wasn't trying to ease off, but it might have contributed subconsciously to a little caution."
She improved by nearly a minute over the state finals time from 2018.
"I learned a lot this season about how I react when I'm pushed," she said. 
Walter Johnson junior Ella Gaul pushed herself, too. Though she came through two miles in fifth place, she ultimately slipped back to ninth. Though she didn't feel her foot, which is either developing a stress fracture or a tendon problem, she might have been a little rusty from a week on the stationary bike.
"I was just trying to hold myself together," she said. "It hurts now, but it was okay during the race. This has been coming for a while and a lot of girls stepped up big today."
Coach Tom Martin wanted to hold Gaul out, but she convinced him when the school's athletic trainer told him she could do one more race.
Sophomore Ellie Rogers (17th in 19:18), sophomore Isabelle Senfaute (41st in 20:37) and senior Katherine Weaver (54th in 20:50) combined with Goldberg and Gaul for 112 team points, two behind second place Severna Park. Howard won the girls' 4A race with 69 points.
Severna Park won the boys' 4A race again, but Northwood, despite graduating four of its scoring five, repeated as runners-up, scoring 130 points to Severna Park's 43.
While most of the runners finished farther back than most of their races this season would indicate, they managed to edge Montgomery Blair by 25 points.
"We didn't have our best day today, but for us to finish second anyway, that says a lot," coach Gio Reumante said. 
Lamine Fofana, 26th in 16:46, was the only repeat scorer from both state runner-up teams.
"These guys have been in the right track for the last two years and they've been motivated to get faster," Reumante said. "They were meeting at 5 a.m. in the summer to run, but it wasn't one guy organizing, they all wanted to do what it takes."
Henok Eshetu led the way for the Warriors in 13th, running 16:28. Timothy Boyce was three places and four seconds back, then Fofana, then Alayew Fantaw in 34th in 16:56 and Lamar Wilson in 45th in 17:08.
It was Wilson's third race of the season, after growing pains kept him from running.
"His muscles still haven't caught up to his bones," Reumante said. "The doctor told him if he could deal with the pain, he could run, but he had to shut it down. He wasn't far off of our top four, and him stepping up made the difference when the rest of the team had a bad day. We wouldn't be on the podium without him."
Richard Montgomery senior Garrett Suhr was the top local finisher in 4A, finishing fifth in 15:54.
"I was sitting on Sam (Keeny, of South River) and I felt like that was going really well until two miles," Suhr said. "Then two miles in, he threw in a little surge and I stayed with him. We hit a little hill going onto the baseball field and I never caught back up to him."
Then he hit the dip.
"I felt like I was walking," he said. "Maybe I was walking — I was that slow. My legs didn't work after that, and I just kept getting passed. I got passed by three people, it was terrible."
Keeny went on to win in 15:34.
Suhr fixed himself, albeit a little late. He and former teammate Mark Unger ran a 400 meter surge in Suhr's cooldown. "I ran 61 seconds," he said. "Our plan at the start was to run 70 but I just started moving."
So he has a little more confidence that his legs aren't out of whack ahead of the Nike Cross Southeast meet Nov. 30. Despite detesting cross country, Suhr is still hoping to make the national meet, even if it extends his nightmare.
Four seconds behind him, Springbrook senior Surafel Mengist finished sixth.
"I just wanted to stay up there in front," Mengist said. "My problem all season has been hanging back too long and then when I'm ready to race, it's too late. I was where I wanted to be at the mile, but I got gapped coming up the dip." 
He was pleased to break 16 minutes on the course, though he knew the bar he been raised int he year since that wall came down.
"Two or three years ago that time would have won," he said. Kenny's time was a course record.
A few spots back, Parkdale senior Jafar Hussen used the same strategy to be the first top-10 finisher from Prince George's County since Bowie's Joshua Wilkins finished seventh in 2013. Hussen, the Prince George's County champion the last two years, was eighth in 16:17.
He did it despite some amnesia when it came to the Hereford course, which had run the last two years. And last Sunday.
"I was feeling okay in the first mile, but I started feeling tight on the way down the dip, then I slowed down on the way back up the hill," he said. "Then we got into the woods and there were more hills, and I don't know how I didn't remember they were there. I was just here last weekend."
He chalked it up to the fog of racing, but it was clear he had fallen back to 15th.
"I just started running as fast as I could down the hills in the third mile," he said. "Then when we got back to the dip, it didn't bother me at all."
Tamrat Snyder, a Damascus senior, was the lone local top-10 finisher outside of the 4A division. He was ninth in 3A, running 16:38.
"It went out really fast," he said. "I felt good about where I was going down the dip, but then I cramped up a little bit, then my legs locked up going up the hill. I was in a good position but I couldn't move up where I wanted to."
Despite the end of the state meet, he felt positively about his season, which included a 15:30 three-mile at the Frank Keyser Invitational. 
"I realized that being mentally strong was just as important as talent and hard work and that not many people can do what we do," he said. "I succeeded by mentally repeating good, positive thoughts. If you keep repeating them, then you believe them."