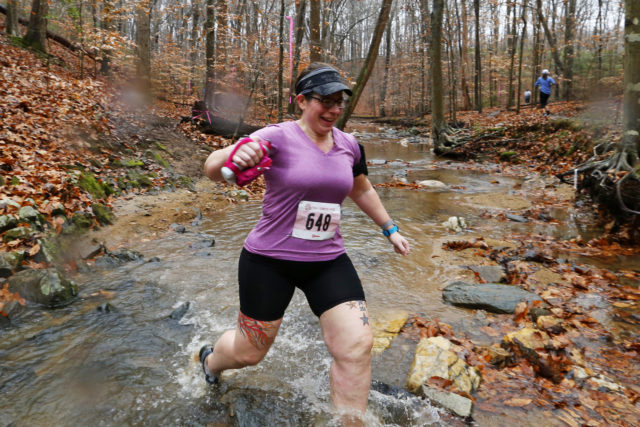 Name:  Julie Peasley
Self-described age group: 40-45
Residence: Springfield
Occupation: Medical Librarian
Volunteer roles in the running world: I have worked a lot of water stops over the years.  I also love to help with pop-up cheer stations. If you have run DC Rock'n'Roll in the past five years, you have likely seen me and my friends at the top of the Big Hill as you turn on to Calvert, handing out candy and ringing the cow bells. We will be at the Richmond Marathon in a few weeks, too, so if a devil throws some candy at you, it might be me!
Why you run:  I first did it for my health and sanity.  I was battling health issues and worked in a high-stress environment. I started walking every day at lunch and decided to see how far I could walk in 30 minutes, trying to pick up my pace.  I quickly moved on to the Couch 2 5K program and ran my first marathon a year after that.  I now run because I am part of an amazing running group and it feels like a rolling party when we are together.
When did you get started running: I first started running in March of 2012. I ran my first marathon in October 2013 and I am trying for the 50 mile distance for the second time this weekend at Stone Mill.
Have you taken a break from running:  I developed plantar fasciitis pretty badly in both feet after my first marathon.  Like many new runners, I ramped up way too quickly and paid the price.  I dabbled in triathlons for a bit, while cutting back on the running, but I quickly learned that I am a worse cyclist than runner so stopped before I ran anyone over!
Training shoe: I am a Saucony girl, since almost day 1. After my first 10K, I realized I needed actual running shoes and not just whatever was on sale on Amazon so I went to my local running store to be fitted.  That was first time I wore Sauconys and the first time I felt like a "real" runner.
Coach or training group: I am a co-chapter leader for Moms Run This Town Springfield, Va.  We have almost 2,000 members so it is very easy to find a running buddy at literally any time of day or night.
The hardest race you've ever run: The Seashore 50K last November is definitely in my top 5 "hardest races".  I was suffering from a pretty bad migraine before and during the race so it made fueling almost impossible.  It was also raining pretty steadily and I was running it solo.  Thankfully, my best running friend drove down with our kids to spectate so that gave me the mental boost I needed to finish.
Most adventurous decision you've made with your running:  Showing up to my first group run where I didn't know anyone.  As an introvert, that was one of my worst nightmares but, not only did I survive, I am now one of the chapter leaders of the group!
Running mentors:  I find a lot of inspiration and wisdom from the ladies in my running group.  We have everyone from "Boston Babes" to ladies working through the C25K program and I learn something from every single one of them.  Following the elites is fun for the glimpse in to their world but I prefer to draw my inspiration from women who are more like me and who I can see getting it done every single day.
My favorite place to run in the D.C. area is:  I really love running the monuments at sunrise.  You just can't beat those views!
Favorite local trail: Fountainhead Regional Park in Lorton, Va.  The trails keep you on your toes and I love running over bridges!
My best race was: My absolute favorite race is the Blue Ridge Marathon series in Roanoke, VA.  The whole town comes out to support it and, since many people cannot run up the mountains (there are three on the marathon course), it becomes quite the social event.  I have had the best conversations with people from around the world on that course.  Also, you cannot beat the views from the peaks – or the mimosas on the way down Mill Mountain!  I'll be back for my fifth time in 2020.
Favorite local race: My favorite local race series is the Backyard Burns put on by EX2 Adventures. They were my first introduction to trails but the courses can be quite challenging (hello, Hemlock!) so all skill levels can find something in this series.  As for a standalone race, I am a sucker for the Army Ten Miler.  I just can't quit it, even if this year's course changes weren't stellar.
Ideal post-run meal: It depends on the weather.  I have spent many miles this hot summer daydreaming about watermelon.
Favorite flavor of gel, gu, etc: I don't use gels.  I prefer whole foods.  Little packets of olives from Trader Joe's are a favorite when I need salt.  I also like applesauce pouches, Justin's almond butter pouches, and mini protein pancakes.
Pet peeve: Runners who dump their trash wherever.  You have a pocket or at least a waist band. Hang on to your garbage until you can dispose of it properly!
Goals: To have a good time.  I will never be anything more than middle of the pack so I am more about sharing the miles with good friends and taking silly pictures than trying to set PRs.
Your advice for a new runner: If you give a kid a high-five at a race, you will instantly improve your time by 5 seconds. That might not true but it will give you a lighter heart, and that counts for something.
Favorite running book: Run Like A Mother, by Dimity McDowell and Sarah Bowen Shea, really helped me find my confidence when I was starting out.
Song in your head during a run: I frequently have Taylor Swift on repeat in my head.  Don't judge me.
Have you dealt with a major injury: Thankfully, no.  I did run ATM with a broken little toe one year, but I don't think that counts.
Running quote: "Run when you can, walk if you have to, crawl if you must; just never give up."
Why is the D.C. area a great place to be a runner:  You can find it all here!  Monuments and trails, big races and smaller events.  We are very lucky to live in an area with such an active running community.
Recent Stories

Both 5K and 1 mile courses are USATF certified. The 5K course has some moderate hills. The 1 mile course is flat making this a perfect PR course. We are really looking to get a broader participation base.
Funds go