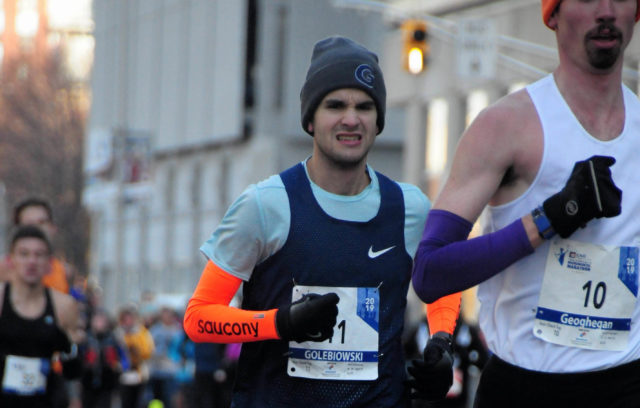 Maybe if he had gotten out of his own head earlier, all those races on the track would have been more fun for D.C.'s Nick Golebiowski. 
Or maybe the oval, or the grass for that matter, was never the place for him. Either way, at 24, he knows what it can take others years to figure out — he's a marathoner. If the love of the training hadn't been clear enough, he got objective feedback when he ran his first marathon in 2:18:39 two weeks ago at Indianapolis' Monumental Marathon, qualifying him for the Olympic Marathon Trials. 
Learning from the injuries and inconsistency that plagued his early years at Georgetown culminated in the mental breakthrough that he punctuated with a Big East championship in the 10,000 meters his senior year. He continued his career in grad school at the University of North Carolina, but immediately moved to the roads after he didn't make the first round of the NCAA Championships.
"Not making regionals opened up the possibilities of the roads," Golebiowski said. "If I had advanced, maybe I would have tried to run faster on the track."
Golebiowski had been planning to run a half marathon in the fall 2018, aiming for the 1:04 qualifying standard. He put that off because a redshirt cross country season gave him some eligibility he hadn't counted on, but his newfound understanding of how his body worked kept pushing him toward the pavement.
His early pursuit of the marathon contradicted conventional wisdom that youth is for speed and the marathon is always waiting. Brandon Bonsey, Golebiowski's coach while at Georgetown, disagrees with that thinking.
"Some people are (maybe) wasting their time on the track when it's not really their calling," he said. Golebiowski, he said, was made for off-track racing.
"Early on, we saw when we did a progression run on the towpath or long progression work, he looked very under control," he said. "I always figured the backed-off paces for long distances would be really good for him. It doesn't surprise me that he's having success at the marathon."
Golebiowski's fate was sealed within his first few days at Georgetown in 2014. 
"I took my shirt off and the guys all said, 'Wow, you're skinny. You're going to be a good 10k runner,'" he recounted. "At the time I thought, 'Nah, I'm a miler.'"
He handled himself better than the other freshmen in workouts and was thrown into the fire in his first months at school.
"I was adapting to the more structured types of threshold running really well," he said. "The combination of a speed-based high school background coupled with my higher mileage to handle those workouts right away."
Golebiowski came to Georgetown with a 4:15 1600 PR from Cathedral High School in St. Cloud, Minn., without any state titles of his own or national championship appearances. 
As a kid, his older hockey teammate ran cross country, and Cathedral's athletic department pitch struck his fancy.
"They described it as races through the woods, and that sounded pretty cool to me," he said. "I thought I was fast at sprinting, but I figured out pretty fast that wasn't what cross country was about."
Despite his sprinting acumen, Golebiowski didn't burn out in his first races. 
"I was really patient about pacing myself," he said. "I really respected the sport of distance running."
A sub-10-minute 3200 meter time in eighth grade let him know he was pretty good, and his early success made his hockey injury easier to handle during his sophomore year. He was playing on a varsity team that produced three Division I recruits, but faced a daunting 6-12 month recovery from labrum surgery as a sophomore. He stayed with the team as a statistician, but the ease with which he could run a 99-mile week in the summer was hard to ignore. 
Hockey was an afterthought: Golebiowski was now entirely a runner.
He saw a free poster of Meb Keflezighi winning the 2009 New York City Marathon at a sporting goods store and took it home, put it on his wall.
"I think that was the first time I started thinking about running beyond high school," he said. "I didn't watch the marathon, but it was a cool poster. I knew he was an American and it was big for him to win it."
He watched 2012 Olympic distance races on demand. 
"That was when I really started to pay attention to the sport on a world stage," he said. "Watching Galen Rupp, Mo Farah, David Rudisha, Cam Levens."
During the rest of his high school career, Golebiowski battled stress reactions in both feet and a bout with Lyme Disease, but he still managed to catch the attention of Georgetown's coaching staff, who won him over with the day-in, day-out lifestyle he'd be living on the Hilltop.
"I was just nerding out at Georgetown, sitting next to Ahmed Bile, Darren Fahy- I knew who these guys were," he said. "They didn't need to sell me on steakhouse dinners."
Before his senior year, he ran a 25:09 5-mile road race. 
"I beat my 5k PB in the middle of that, he said.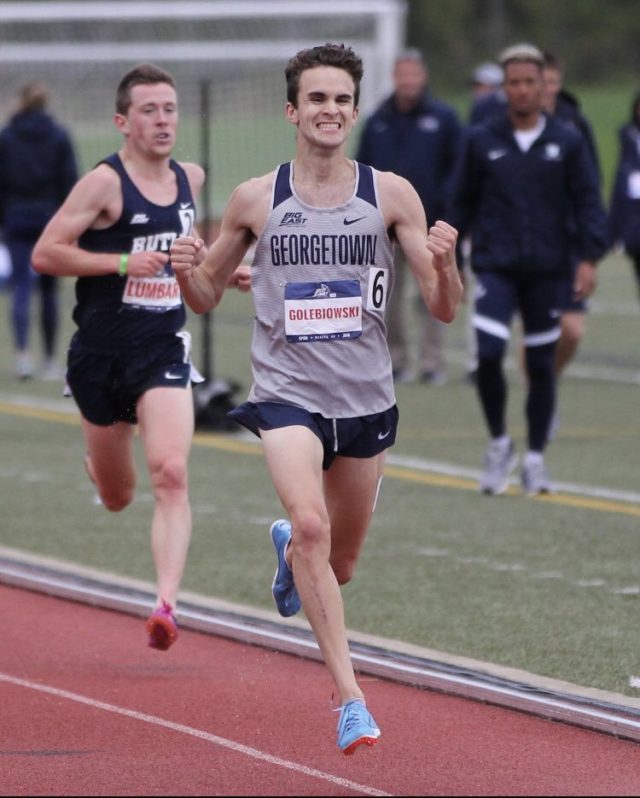 It was going to be a while before Golebiowski eclipsed that time. His first collegiate cross country race was a rude awakening.
"I was not prepared for the way it hurt," he said. "I wasn't the best high school cross country runner – I ran big positive split races in high school. In college they say the race starts at 5k, but once I broke my 5k PB, I knew it was a long way to the finish."
Things didn't get much better. While he got a better perspective running a pair of open races as a sophomore, his junior year was felled by a stress fracture in his fibula.
After that, with the help of some seniors on the team, he got his act together and stopped living like a regular college student.
"It was a real work hard play-hard situation," he said. "I knew deep down that if I really wanted to commit myself to the sport, I had to change."
Golebiowski saw some flickers of improvement, some progress on the track, breaking his five-year-old mile PR, and an improved mental outlook thanks to some slow-heat wins.
"Nick would overanalyze every single thing that went on in practice, every single thing that went on in the races," Bonsey said. "Once he really let go of all of that and really took the pressure off and was just running and not thinking about it too much, he ended up getting really good.
"Once he realized that, I'm actually good at this, I don't have to have some superhuman effort when I go run, if I run to my fitness level, I'm going to be able to compete well, I can run times that I can be excited about."
Golebiowski admitted he clashed at times with Bonsey's efforts to hold him back in practices, but saw the improvements those changes made when he showed up on the starting lines of races with a little more pep in his legs.
"I wasn't being honest in my efforts, I felt like I had to prove something," Golebiowski said. "I was trying to run mile repeats, going down to the 4:50s, but I couldn't break 25 for five miles, but I didn't want to show weakness. I didn't want to work out with some freshman or cut my reps short."
While his fibula issues in his right leg continued, perhaps unwisely, he kept running through them until the bone started healing itself.
"I ran some hundred-mile weeks on that thing," he said. "I thought it was a nerve issue, but I could run without limping and I admitted to myself that some days it was going to hurt."
He recovered faster than he expected and improved slightly in cross country his senior season, finally beating his PR from that road race in high school and finishing third at NCAA regionals for a team that didn't qualify for nationals, but gave him a chance to race alongside his cousin, Nick Wareham.
Things finally came together during Golebiowski's senior track season. He ran 29:59 for the 10,000 meters at the Stanford Invitational.
"That was probably the most painful race I had run up to that point," he said. "My theme throughout my college career was chipping away at my PBs, never really cutting big chunks of time off. I realized I'm pretty bad at chasing times. I'm a better racer, I need to feel like I'm doing something in a race rather than just sitting on a pack.
"I think too much – I'm an analytical guy. I was happy I recognized that."
He also recognized that getting 100 percent of his ability meant running at less than 100 percent of his capability.
"Maybe I don't have to be firing on all cylinders every workout," he said, a thought that continues to inform his training (if he isn't feeling good on a workout day, he jogs, instead).
He ran the 2018 Big East Championship 10k patiently, leading only accidentally when he ran too fast on a curve. Golebiowski held off until the last stretch, kicking in from 200 meters out and pumping his fists as he approached the finish line. He was ready to hang his career on that race.
"A lot of guys qualify for regionals, but people will see my name next to 2018 for the conference championships forever," he said. "I don't think I've ever been so singularly focused on a task as I was for that race."
He still backed into regionals, but it was just icing for him.
A year in graduate school at North Carolina saw continued improvements in his times and some sharpened mental touches to his racing, ideas that took root in the approach to the sport he developed at Georgetown.
"I really learned how to read my body at UNC," he said.
Assistant coach, and Winchester native, Bobby Lockhart told Golebiowski that he had a future on the roads. After Chapel Hill, he moved back to D.C., where he lives in Georgetown. He opened his road racing career by paying for the two-year guaranteed entry package for the Gerry Bjorklund Half Marathon in Duluth in June.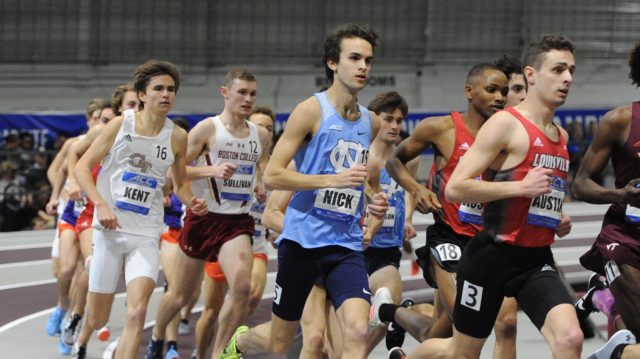 He just wanted to run under 1:09 to get water bottles at the California International Marathon.
With available lodging nonexistent in Duluth, he did something else that foretold his success on the roads.
"I slept four hours the night before the race, crashing on my buddy's couch," he said. "I was digging it, it was like the road runner guys in the 70s."
Running solo, he clocked 1:06:44, having originally shot just for under 1:09.
"I found a new love for running after that race," he said. "I really felt like I had a higher ceiling than on the track. It couldn't have been a better introduction to road racing."
Now it was time to live like a road runner full time.
Golebiowski went coachless, though he generally follows Tom "Tinman" Schwartz's training philosophy.
"The general approach of being consistent and building layers of fitness appealed to me," he said.
He focused on running consistent mileage and working out when he could, but gagueing his effort in the heat and humidity. He planned his schedule week-to-week, extrapolating what worked best for him
He no longer wears a GPS watch on his easy days, and though he considers a mile to be each seven-minute segment, he estimates he is closer to 7:30 most miles.
"One of the biggest luxuries of training alone is that nobody is pulling me along, speeding me up," he said. "My workouts are some of the most unimpressive workouts that I'd ever done in the last five years."
He didn't start his accounting job at Ernst & Young until September, giving him plenty of time to relax and run, hang out, drive his girlfriend to work, and let the miles build up- topping off at 127 miles a week – doubles every day – but not shying away from a day off.
"It was Once a Runner on Wisconsin Avenue," he said.
He started fitting in workouts, adjusting to 5:20-5:30 pace in the heat, and running 20 miles at 6:00 pace. After spending most of the summer exhausted, he dropped down to one workout and one long run per week.
"I can't work out on a high level on a week-to-week basis," he said. "That was the longest summer of my life."
Once he started working, he realized his lifestyle might not allow him to keep his peak mileage up for the December California International Marathon, so he switched his focus to Indianapolis. He faced two tough tests on the roads, both of which added to his confidence.
The Rock 'n' Roll Philadelphia Half Marathon was muggy and miserable, but Golebiowski still managed to take his time down to 1:06:09.
"I was still a 66-minute guy, but that validated everything I had done all summer;" he said. "I knew I made a big fitness jump and this was all paying off."
Two weeks later, he ran a rough Virginia 10 Miler in Lynchburg then peppered elite marathoner Fernando Cabada with questions, coming away with sage advice: "Don't get insecure. Do not push it these last few weeks. Be smart, show up to the line rested and don't get greedy and push your workouts."
His training did not include a long run at marathon pace.
"I've run a half marathon at 5:02 pace, I know if I have to I can run 16 at 5:18 pace," Golebiowski said, "If I do it, I'll already know I can do it; if I don't, I'll freak out, so I'm not going to do that."
Instead, he alternated 24-mile runs, hitting 5:52 and 5:42 paces, with an 18-miler in between at 5:39 – all alone, on the towpath, wearing trainers. He's a big fan of out-and-back runs.
He kept his midweek workouts short – 40-minute fartleks, the fastest one averaging 5:14 per mile, with three-minute segments of hard running broken up with one-minute recoveries..
Indianapolis itself was largely anticlimactic. Golebiowski started out slow, and didn't catch the 5:19 pace group until halfway.
"I just ran my own race," he said. "I had a few doubts early on, but as I got close, I got excited to the point where I caught the group and then felt like I was time trialing. I got kind of antsy."
One thing he didn't prepare for was drinking out of bottles, and he opened one so hard he tore the top off.
He felt twitches in his legs at 18, but as he came through 20 miles in 1:43:30, his confidence didn't waver.
"The pace wasn't slipping," he said. "My friend told me the way I had trained, I'd be able to "rig" from a long way out and feel okay with it."
And that's how it played out. Even uncomfortable, he didn't waver more than a few seconds over qualifying pace in the closing miles.
"It was a great sense of relief but also excitement that for once I trained for something so exclusively and the plan came to fruition," he said.
The pace group in the marathon was the most running he had done with other people his entire summer and fall.
"I don't like just running with a big group," he said. "I like doing things my own way."
Nine days after Indianapolis, he was antsy again, and doubled for the first time since the marathon. His buildup for the Trials figures to look a lot like what he has been doing. After enough trial and error, he has figured out what works.
"Even through his ups and downs he's been extremely dedicated as a student of the sport," Bonsey said. "For him to end up in Atlanta, it's a cool moment. You don't always get the results that validate all the hard work you've put in."
Recent Stories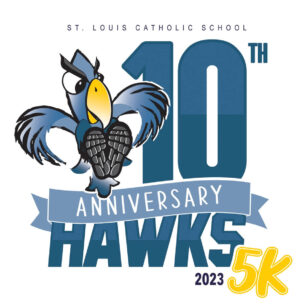 2023 will be the 10 year anniversary of the St. Louis Hawks 5K and Fun Run for Health & Wellness. The USATF certified course runs through the historic Hollin Hills neighborhood in Alexandria, VA.
The Hawks 5K goal, in conjunction