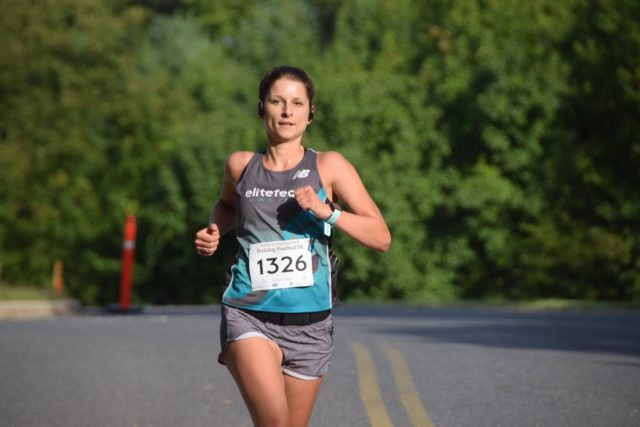 Name: Robyn Kenul
Self-described age group: I'm 32 years old
Residence: Reston
Occupation: Registered Dietitian
Why you run: I started running as a way to stay in shape, and I keep running because I enjoy working towards a goal. There are always limits to surpass and more PRs to set which makes running extremely rewarding.
When did you get started running: I dabbled with running back in 2013. My sister was a runner at the time and got me into it. I ran a few miles here and there and joined her at our local turkey trot race. I had the idea that running a marathon sounded much more cool so I decided to train for and run my first marathon back in 2015. That's where my love for distance running began.

Have you taken a break from running:  Yes, sadly after my first marathon in 2015, I didn't really run again for a whole year. People told me that a marathon is damaging to the body and I needed to take a whole month off. Well I did, and then life got in the way and I had a hard time getting back into the routine of it all. Knowing what I know now, I wouldn't have taken a month off but I was still learning. I ran my second marathon two years later in 2017 and I haven't taken a break since then.
Training shoe: I love my Altras Escalante. I have tried so many different shoes, but I like the zero drop and the wide toe box. AMAZING!
Coach or training group: In the middle of 2018 I was invited to join a running group called Elitefeats, back in Long Island where I used to live. I trained and raced with them for about a year until I moved to Reston this July. Now I run with the Reston Runners on Sunday for a 10 mile run. I also just started working with a running coach from Long Island named Boyd. He is working with me remotely and it has been eye opening so far. I am learning so much from him and I already see the improvements.
The hardest race you've ever run: This is a hard question because so many of the races I have done have been so hard, but I think the Shawangunk Ridge Trail 50 miler was the hardest. Mostly because the terrain was difficult and there were no aid stations so you had to carry all your food and some sort of water filtration system. The hardest part was getting lost during the last five miles in the pitch dark of the woods.  They had pink streamers hanging on trees for the last few miles and someone took them down. I was exhausted, and confused as to why I wasn't seeing any streamers. I finally emerged from the forest at 11:30pm. I had been running since 6am that same morning. I cried so much during those last few miles and I cried in the car the whole way home. I was emotionally and mentally destroyed.
Most adventurous decision you've made with your running: I guess my most adventurous decision was to start running ultras. I didn't know anyone who was doing them at the time, but I read Eat and Run by Scott Jurkek and I decided that I should try it out. I did my first ultra in New York called the Greenbelt 50k in May of 2018 and in the span of one year, I finished six ultras all together. Which leads me to one of the last questions listed: Have you ever dealt with injury? YUP!
Running mentors: My coachm Boyd, and many years ago my mentor was my sister, who got me started.
My favorite place to run in the D.C. area is:  I haven't really adventured out too much yet, but I love running around the northern side of Reston. It's just so beautiful here!
Favorite local trail:  W & OD. I haven't really explored unpaved trails as much, but I frequently run the W & OD mostly for convenience. It's paved, its super long, you don't really have to cross too many streets, and you can't really get lost. All wins in my book! Coming from Long Island, I feel very spoiled to have this awesome trail only a mile from my house.
My best race was: My best race was also my most recent race. The Richmond Marathon was awesome! The energy from the spectators and the fast course propelled me. I also started training with my coach five weeks prior, and in that short time I was able to shave off six minutes from my marathon PR in September. My husband joined me and ran the half marathon that day. It's the first race we have ever done together in the four years we have been together.
Favorite local race: Sadly I haven't really raced much since I moved here from Long Island. The best one would have to be the Richmond Marathon, but I am not sure if I can call it local.
Ideal post-run meal: Whole wheat bagel, toasted, topped with avocado mash and everything but the bagel seasoning. Yum!
Favorite flavor of gel, gu, etc: I don't really enjoy any of them, but the most tolerable and the one that I choose the most is Birthday cake.
Pet peeve: When my Garmin watch says 8 miles, but then I check my strava and it says 7.99.
Goals: My newest goal is to run a sub 3 hour marathon in Boston this April.
Your advice for a new runner: Since I am a distance runner I am always trying to get people to run longer distances. I always say to run as slow as you need to without walking. If you can't run and talk at the same time, then slow down. You have to run slow if you want to go fast is what I believe. Keep running easy until you have formed a good habit of running frequently and then start to challenge yourself.
Favorite running book: Can I put 3 down? Eat and Run by Scott Jurek, Let Your Mind Run by Deena Kastor and Born to Run by Christopher McDougall
Song in your head during a run: I don't think I have one.
Have you dealt with a major injury: Yes unfortunately I have dealt with a few. A broken left ankle, a broken second metatarsal of my left foot and IT band syndrome. None of these injuries kept me down for long. I was able to get back into running within a couple of months of each of these thankfully
Running quote: I don't stop when I'm tired, I stop when I'm done. -David Goggins
Why is the D.C. area a great place to be a runner:  You cannot beat the running paths where I live in Reston! It's so runner friendly here. It's also very hilly, which makes training hard, but race day much easier.
Recent Stories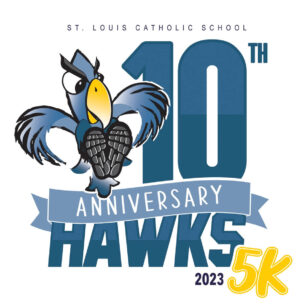 2023 will be the 10 year anniversary of the St. Louis Hawks 5K and Fun Run for Health & Wellness. The USATF certified course runs through the historic Hollin Hills neighborhood in Alexandria, VA.
The Hawks 5K goal, in conjunction