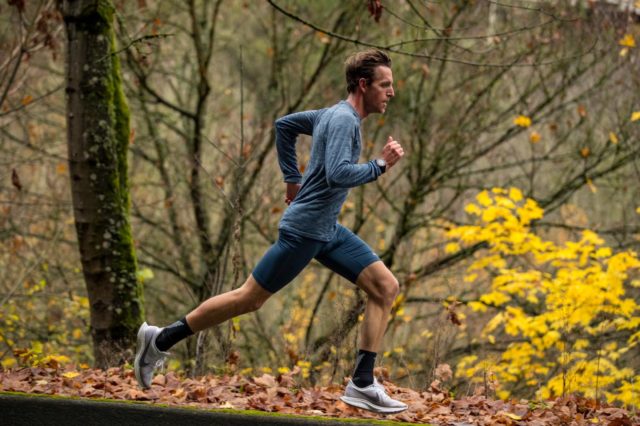 Andrew Bumbalough's marathon career began almost by accident. 
A professional runner for Nike since 2010, Bumbalough was training with the Bowerman Track Club in Portland, Ore. and focusing on chipping away at his 5K PR, aiming  to qualify for the Olympic and World Championship teams. But then one of his teammates was trying to make the 2012 Olympic marathon team, and he needed a pacer. 
So Bumbalough went to Houston to pace his friend, planning to run 10 miles. Except one of the other pacers had cramps and had to stop. Bumbalough, though, "felt amazing." 
"I was running a 5-minute pace, I felt strong, I kept clicking off the miles," said Bumbalough, 32, a 2010 Georgetown graduate. "I went all the way to 16 miles. I think my coach was impressed, but also a little irritated. That kind of planted a seed in the back of my mind that I could do a marathon at some point." 
Now Bumbalough is hoping to earn a spot on the 2020 men's marathon team when he competes in the Olympic Trials in Atlanta on Feb. 29. He finished as the fourth American in the 2019 Chicago Marathon, running a 2:10:56.
"That was a huge jump for me," Bumbalough said.
He was shooting for sub-2:11:30, the Olympic qualifying standard for men. Though he was thrilled about his time, he admitted he was a little disappointed with his fourth place finish.   
Had it been at the Trials, where the top three finishers will go to the Olympics, "I might have gone for it and risked a huge blow up," Bumbalough said. 
A native of Nashville, Bumbalough started running as a sixth grader at Brentwood Academy. He played soccer, and his coach suggested that he try out cross country, too. He ran a race and did a lot better than expected — and he stuck with the sport on into high school, where he set state records in both track and cross country. 
One of his Brentwood coaches, Marshall Smith, said Bumbalough's competitive streak was apparent immediately. 
"He hated to lose," Smith recalled. "He's without question the toughest boy I have ever coached, and I've been coaching for over 20 years." 
Smith said he's always been impressed by Bumbalough's attitude toward running, despite his competitiveness. 
"It's never been who he is — it's something that he does," Smith said. "Which is not to say he's not disappointed if things didn't work out. He's just always been so grounded."  
Georgetown wasn't even on Bumbalough's radar when college coaches first began reaching out to him. But Smith had run for Georgetown's coach, Patrick Henner, at James Madison University, and he helped connect the two.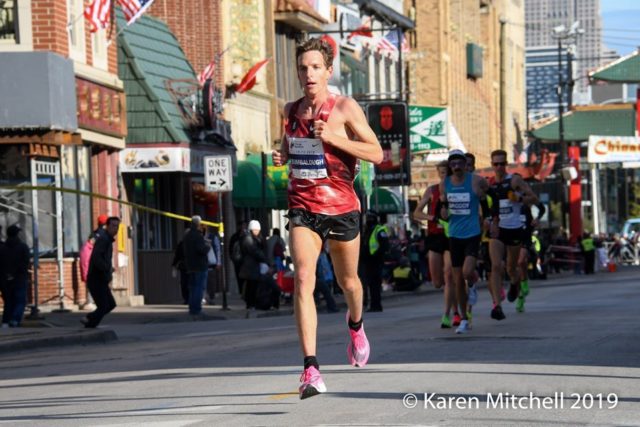 And when Bumbalough visited the school, he fell in love with it. 
Not only does Georgetown have a competitive running program, D.C. is a fantastic running city, he said. 
"I think D.C. is one of the best cities in terms of places to run," Bumbalough said. "You have the C&O Towpath, Rock Creek Park, Great Falls if you want to go out a little farther. It's this hidden gem of a city for running." 
At Georgetown, Bumbalough focused on the 1500 meters and the 5K, racking up several All-American honors. He graduated in 2009, then received fifth year eligibility and finished his master's degree in sports business management. When Nike offered him a contract after graduation, he moved to Oregon to train under Bowerman Track Club Coach Jerry Schumacher. 
Not only did Bumbalough have great range as a runner, Henner said, he also displayed the mental toughness necessary to compete at a high level. 
"He's very smart and cerebral," Henner said. 
Five years passed between Bumbalough's stint as a marathon pacer and his debut marathon. A sports hernia derailed his plans to run in the 2016 Olympic Trials. Following his surgery, Schumacher cleared his race calendar and Bumbalough focused on getting healthy again. Finally, in 2017, he ran the Tokyo Marathon, finishing in 2:13:58. Later that year, he ran the Chicago Marathon in 2:14:04. 
His 2:19:52 time at the 2018 Boston Marathon was a footnote to his fifth place finish in  torrential downpours and 30 mile-per-hour winds. 
"I went out slow and kind of waited it out, and I had no idea how far up I was," Bumbalough said. "Finishing fifth in a (World Marathon) Major is great." 
Smith said he wasn't surprised that Bumbalough successfully transitioned into marathons. 
"He's always had the ability to concentrate for long periods and has been able to dial in and really focus," Smith said. "I did feel like in due time, he could be a good marathoner." 
As he gears up for the Trials, Bumbalough said he will begin increasing his weekly mileage up north of  130 miles, with weekly long runs of up to 25 miles and one to two speed workouts a week. He'll also travel to Colorado for altitude training. 
The biggest challenge, he said, is the depth of the men's field competing in the Trials. American Galen Rupp, the defending Olympic Trials champion, is by far the favorite, he said, though there is a group of about 10 or 12 runners who are strong contenders. 
"I'd say it's pretty wide open," Bumbalough said. "So how do you have the day you need to have to finish in one of those top three spots?" 
Henner said Bumbalough has always excelled at racing rather than time trials, which will work in his favor in Atlanta. 
"The thing about the marathon is, you have to survive the training healthy," Henner said. "He definitely has a good shot, though he still has a lot of steps to take. He has to be able to manage his training really well. But I think if he is 100 percent healthy, I don't think there is anyone he can't run with and compete with."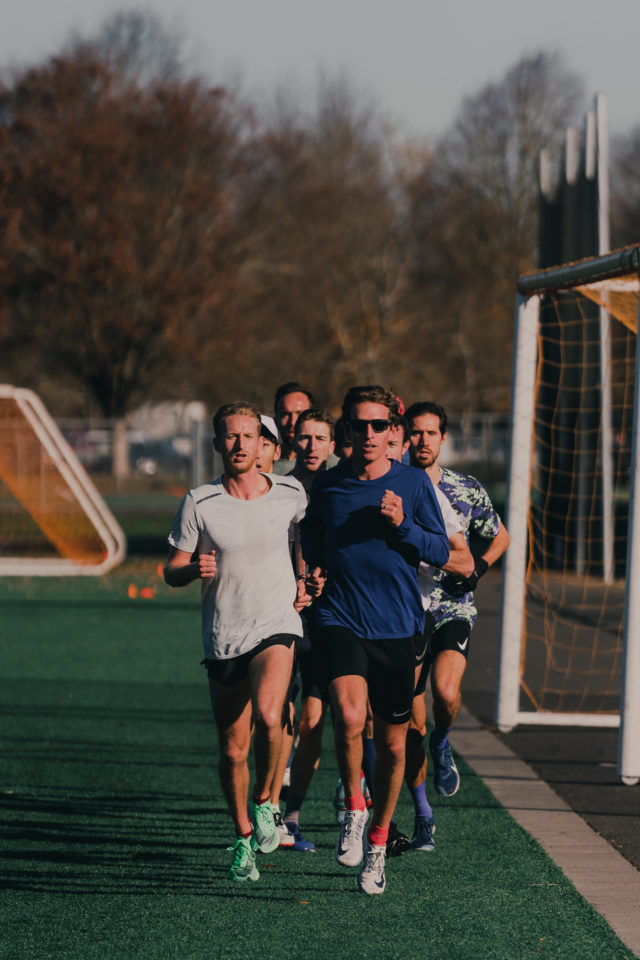 Recent Stories

Both 5K and 1 mile courses are USATF certified. The 5K course has some moderate hills. The 1 mile course is flat making this a perfect PR course. We are really looking to get a broader participation base.
Funds go