Shortly before Christmas, Columbia's Julia Roman-Duval made the decision she had been wrestling with for weeks:  Run in the U.S. Olympic Marathon Trials on Feb. 29 or roll the dice and attempt to make the French national team for the Half Marathon World Championships by running the Paris Half Marathon the day after?
As a dual U.S.-French citizen, it was a unique quandary for the 37-year-old astrophysicist and mother of three who is still comparably new to the world of competitive road racing.
It's a decision she didn't make lightly. Having recently set a two-minute PR at the Chicago Marathon in October, Roman-Duval easily met the U.S. Trials qualification standard with her 2:35:41.
"The timing really stunk," she said. "I was hoping I could do both, but if it weren't for the timing it would have been possible."
This wasn't Roman-Duval's first shot at the U.S. Trials. In 2016, she ran at the trials in Los Angeles finishing 50th overall with a time of 2:46:47. She nearly didn't make it into the race, due to her then-pending citizenship change.
"It was a really incredible experience that I would love to repeat," she said. "You have an entire country behind a few hundred runners that are the best in the U.S. But other than an incredible experience and a very fun week, nothing really tangible would have come out of it because I don't stand a chance to make the Olympic team in the U.S. The field is too deep and competitive–which is great! I probably could not make the top 20 at this point."
With this in mind, she had her decision.
"My tangible and achievable goal in Paris is to secure my selection on team France, representing the country where I was born and lived for the first 25 years of my life," she said. She's aiming to break 1:14. The world championships are in Gdynia, Poland March 29.
Roman-Duval sees this as an opportunity to take her modest running career at the professional level to the next step. 
"If I can make the national selection with France I think this is a different level than just running with an individual club," she explains.
At the same time, she acknowledges that her decision to qualify for the French National Team isn't a sure thing. 
"I was guaranteed to go to the U.S. Trials, but making the French team is a gamble," she said. "There are no guarantees, so I'm taking a risk. But, no risk–no reward, and I think running on the national team is a big reward that is worth the risk."
The French team selection is subjective.
"They look at the top one or two runners and they set the bar right below that and they say 'you go' and 'you go' and that's it," she said. "It's not very fair or transparent or democratic. I think it tells people, 'why should they bother' because they don't stand a chance. That's one of the main reasons why I think the sport is really struggling in France. It's one of the great things in the U.S. I think having the Olympic Trials is a wonderful thing!"
In fact, Roman-Duval is quite fond of weighing risks and problem solving, having a strong interest in both math and science at an early age. 
"Problem solving was in general something I was attracted to," she said. "If there was a problem to solve, I couldn't help it, I had to solve it."
That serves her well, professionally. Roman-Duval boasts a PhD in Astrophysics from Boston University and spends her days as a scientist at the Space Telescope Science Institute in Baltimore where she works to understand the processes that influence the formation of stars and the evolution of galaxies.
She thinks that the competitive running community in France has noticed her, and showing her face in France will help raise her profile in her native country. Not bad for a woman who came to running only a few short years ago.
In fact, Roman-Duval didn't begin running competitively until well after she had her third child in 2012.
Born in France, she moved at 10 and grew up with her parents and three siblings on Reunion Island, a French territory off the coast of Madagascar in the Indian Ocean more than 5,700 miles away from mainland France.
"I tried many sports growing up. I did a bit of soccer, I did karate and got my brown belt. I did climbing and I even tried ballet for two years because my mom was a ballet teacher, but I did not like it. Swimming was the thing that really stayed with me from the beginning and I did swim competitively for a year or two when I was 10 or 11 and then continued to swim every day after stopping competition. I just did it for pleasure. I really liked swimming."
Roman-Duval returned to France at 17, but admits to having a hard time readjusting. "I think all of us were a little lost and so there was a year hiatus where I really didn't know what to do with myself," she said. "I played handball with the PE class, but other than that, I didn't do much.
"In France, we don't have varsity sports so there's no real spirit of competition like there is here in the U.S., so that's something I didn't know."
It was only after moving to the U.S. to attend graduate school at the age of 24 that her affinity toward endurance sports became apparent and she began to compete.
"At that time, I was mostly biking and swimming. I wasn't running much. I did one or two 10K's easy a week and I didn't have much structure to my training, but I was pretty fit from biking and swimming and I was doing that about 2 to 3 hours per day in grad school," she said.
"I joined a triathlon team and got hooked on endurance sports. I became pretty competitive really quickly and without much training my times just dropped. Within a couple of years I went from racing my first half Ironman to ranking in the top ten at the Half Ironman distance and qualifying for the Half Ironman World Championships. So I realized then, that I had a lot of potential in endurance sports and I really liked them."
"I've always liked to challenge myself. I'm an inherently competitive person and I don't think I had found a good way to do that until I started doing endurance sports."
Roman-Duval competed in the triathlon for a little more than two years before she and her husband, Miguel, had the first of their three kids in 2009. 
"There were three years when I was pregnant a lot," she said. "But I still managed to exercise quite a bit. In fact, even on the days my kids were born I would do swimming or indoor cycling. During the first half of my pregnancy, I would run about six miles per week just to get some air, clear my mind and get some stress relief."
After having her kids she continued to swim and cycle indoors and tried to get back into triathlons but was "bored out of my mind" and didn't have anybody to train with.
It was about this time that another triathlete at the pool suggested she try to meet and run with "Bobby's Group" — a training group from the Howard County Striders who regularly meet on Tuesdays and Thursdays for track and threshold workouts.  She said they were friendly and supportive and to give them a try.
"So the week after, I showed up and ran for the first time. We did a track workout and I was only running one 10K a week at this point. I think we were doing mile repeats or a ladder workout and I was probably averaging 5:30 or 5:40 pace for all of those. They were like, 'OK, we need to do something with you.' 
The Striders' racing team captain invited her to join. 
"I quickly realized that I loved running more than anything else," she said. "This group could basically help me build a career in running because they were so supportive and had all this energy. That's where I made all of my friends that I know in Maryland today. Over time they planted the seed in my head that maybe in 18 months you can try for the U.S. Trials in 2016. That was a complete life changer for me!"
With more consistent training came more mileage, reaching 40 miles from a start at roughly 10 miles per week. By the end of the year, she was averaging 60 miles and took her marathon time to 2:48.
Today, Roman-Duval runs about 85 miles per week. Two other Striders women who have broken 2:45 in the marathon, in Caroline Bauer and Hannah Cocchiaro, help keep her company over long workouts.
"I now realize that volume is kind of key," she said. "My coach has told me that if you want to get to the next step you have to increase your mileage. I think the increase will lead to more PRs once I get used to the work. A two minute PR in Chicago was a good first step. I'm hoping I can get down to 2:33:00 in the next year or two."
She's planning to run the Berlin Marathon this fall.
Of course, behind every successful runner is a successful support system that makes it all possible. Roman-Duval credits her earth scientist husband, Miguel, and their three kids for helping with her success. Even her kids are enjoying a little new-found fame as a result of her running success. When Roman-Duval won the Baltimore Marathon in 2018, race officials let her kids hold the finish tape as she crossed the line. As a result they ended up being in the picture in the Baltimore Sun and several TV broadcasts. 
"It was very exciting for them! I think they realized that anything is possible if you put the work into it."
"My husband has always been supportive and I do try to minimize the impact of my crazy schedule by running early in the morning," she said. "I come back from my runs and he is nice enough that he gets the kids ready for breakfast, but then it's full speed ahead to get them ready for the day. Any time I have a race, my husband is always saying, 'Go, Go, Go!  Be Successful! We are all with you!' We share the workload really well. Obviously, with two careers in science and three kids, it's pretty heavy. We are a pretty good team."
Getting enough sleep is the biggest challenge for Roman-Duval. "I get six-and-a-half, maybe seven hours each night and it's not enough. I'm lucky to have kids who sleep very well. On Saturday afternoon — especially after the long runs, I let them watch a movie and for two hours they are really quiet and I get my nap. To be honest, I don't think I could survive without it!
Recent Stories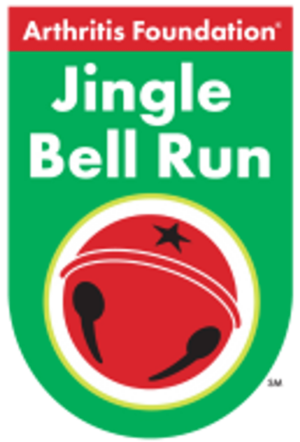 Be part of the original festive race for charity and signature Arthritis Foundation holiday event! Wear your favorite holiday attire and together, we'll jingle all the way to a cure! Register as an individual or bring a team of friends,