Kyle Stanton was showing us how it's done. His Strava posts that fall of 2017 revealed a true disciple of Renato Canova marathon training. It was a training log leaving little doubt that a breakthrough was coming.
Like his Nov. 12 post titled 20 Hard. 3 Weeks. Twenty hard, as in 20 miles at the natural surface Dual Ferries loop, solo, averaging 5:25. Three weeks, as in Stanton wouldn't have to wait much longer before achieving his goal at that year's California International Marathon. 
True to form, Stanton, then 26, ran 2:17:48, a sizable P.R., to finish 28th overall and qualify for the 2020 U.S. Olympic Marathon Trials.
Then, in July 2018, the lights went out. The title of Stanton's last Strava post — his last run — read like this: 
Stanton had been doing rehab work in an attempt to solve compartment syndrome. It's a difficult and confusing injury to address, Stanton said, in that it typically requires some combination of lots of time off in addition to a surgery followed by a long recovery. That night, Stanton ran from his house in Rockville to a nearby middle school to try some short intervals. "And I did two or three of them," he said, "walked back off the track, walked back in and never put the flats on again."
Stanton shared later in our phone call: "So someone asked me, 'How's your calf?' And I was like, 'What are you talking about?' I forgot that was why I initially stopped running." 
Stanton won't be on the starting line Feb. 29 in Atlanta. His qualifying marathon might end up being his last. 
So as Charlie Ban and I started sketching out this #TrialsFever series, I wondered how Stanton was processing all of this. What's it like to achieve a dream then see it only partly materialize? What's it like to go from 140 miles per week to zero, to just quit running cold turkey?
One thing I learned was that, while Stanton was only 26 when he qualified for the trials, marathoning was hardly new to him. Stanton ran his first marathon, Marine Corps, finishing in 3:05, as a teenager during his sophomore year cross country season at Hammond High School in Howard County. 
Running a marathon two days after the county meet then coming back a few days later to run regionals might sound a little nuts. For Stanton, it set him on the right path.
To prepare for a marathon, Stanton followed a Hal Higdon plan and upped his mileage to around 50 miles per week. He figures this was double the volume he would have been doing otherwise, and the change significantly improved his times both in cross country and track. Sure, running that marathon probably contributed to Stanton running out of gas at the cross country state meet. Yet it is also taught him a valuable lesson. 
"That's when I started understanding that I responded really well to mileage," he said. "If I didn't run that marathon or train for it, that sophomore year probably would've continued to be pretty mediocre." 
During his junior year, Stanton ran the Philadelphia Marathon and broke three hours, and his track times continued to drop. He wasn't quite fast enough to get recruited by Division I schools, though, and chose Villanova, which has a storied running program, for its academics. There, Stanton made a couple focused attempts to walk on but never received an invitation to join the team. Undeterred, he kept up his marathon progression while reading more advanced training books. 
"Every time I attacked a marathon," he said, "I just bumped the miles up and increased some of the marathon-specific type running." 
During college, Stanton advanced from 2:44 to 2:22. With each new P.R., a Trials qualifying time felt more possible and sharpened his purpose. 
Then his running journey hit a little turbulence. An accounting job brought him back to the D.C. area after his college graduation in 2013, but Stanton initially struggled to balance his heavy training load with professional life. A bad marathon led him to take a long break. Feeling more comfortable juggling work and running, he then refocused in 2015 and improved to 2:20 in Berlin. Then came another long break. Then came another period of focus that was undone by a stress fracture, his first serious injury, resetting him into the summer of 2017.  
He was used to needing at least three months to get into decent shape. Not this time. Maybe it was all the cross training he did recovering from the stress fracture, but by September, Stanton was at full training load and crushing his workouts, including a Canova special that called for two workouts in one day: 20K in the morning, 20K in the evening.
"I don't remember exactly what the splits were, but I think they were both around 5:20s. So I essentially ran a 2:19 marathon that day — just split the two workouts," he said. 
The downside was that Stanton didn't recover well. A week later he struggled at the Baltimore Half Marathon. "My workouts were falling apart," he said.
One night Stanton remembers telling his parents over dinner, "It's not going well. I don't think this is going to come together." 
The next day he went out and annihilated Dual Ferries. 
***
The California International Marathon was hosting the national championships, and Stanton, as an elite athlete, had to attend a lot of pre-race meetings that left him feeling "super-stressed." 
Race morning was a different story. 
"I remember waking up race morning and going, 'I'm not worried anymore. I'm not nervous. I'm not stressed. I know how to do this part.'" 
Stanton continued, "I think the first mile was my slowest of the race, and then I saw the pack. A couple miles in, three or four miles in, we all looked at each other. We were like, 'I guess this is the group, right?' and then we just went after it."
Around 22 miles — when things get real — Stanton felt confident. 
"I'm an accountant, so the whole time, whether it's training or racing, I'm just doing math in my head the entire run. So I knew exactly where we were and where we had to be, and we were way ahead of pace. I said, 'The only way I don't qualify here is if I blow up.' So I just stepped off the gas and cruised in the last three, four miles." 
I asked Stanton how he felt as he crossed the finish line. 
"That's the interesting thing," he said. "That last 5K, I really shut it down. That marathon was the easiest marathon I've ever run. I'm usually just totally exhausted at the end and can't walk, throwing up. No problem with this race. I crossed and felt fine.
"And the whole time you're training for the last six months, you're visualizing the race. And of course it's some super-romantic thing where with a mile to go you have to run the mile of your life to sneak in by a second or something. What ended up happening was totally different, where I was well ahead of the pace that I needed to run and there was none of that. It was just, cruise on in, cross the line. So it was a weird feeling crossing the line. It certainly wasn't what I was dreaming about for years and years.
"There was no drama to it. I felt a lot more relief than actual joy from doing it. So that, I guess, was a bit of a sign in my own head."
***
It was at this point that Stanton and I turned more directly to the matter at hand. 
"Were you pissed off," I asked, "after that last run you posted on Strava? How did you feel?"
Stanton responded, "I was still fully in love with running and I had trials on the radar. I still remember just sitting on the floor after that attempted workout, just shaking my head. So yeah, that really sucked."
"Do you think it's possible that the fire could return," I asked. "Are you open to the fire coming back or are you content with what you accomplished?"
"I'm only 28," he said, "so there's always the chance that things could change. Right now I don't foresee it, but to you or anyone else or even myself, I haven't closed the door totally. I'd be open to it if circumstances change."
At his best, Stanton was among the top 100 U.S. male marathoners. The 100th best football or basketball player is a professional athlete. The 100th best marathoner is a professional times two who wakes up at 5 a.m. and runs 12 miles, goes to work for 10 hours, runs 10 miles at night, collapses in bed and does it again the next day, every day, for months on end. 
And yes, it does wear on a person; Stanton doesn't miss having to run 15 miles on cold, dark, rainy nights. But if you really want to understand why Stanton's pretty darn content right now, well, here's why: His dream was different than how I defined it. His dream did materialize. It was just about the chase more than the glory. 
"My goal was to qualify for the Olympic Trials and I did that," he said. "My goal was never actually to run them. I guess that was always the assumption: that's what you do. I just wanted to qualify. So I think when I qualified and I checked off that lifetime goal, the fire waned a bit."
On Feb. 29, Stanton plans to watch the Trials and is open to the idea he might feel a tinge of regret. Meanwhile, other dreams, like travel, are sparking new flames.
"You can't go on a two-week vacation in the middle of a training block," he said. "So now I can do that. I was telling my cousin that I was retiring, he was like, "What are you going to do?" I was like, 'I'm going to do whatever I want.' It was a little liberating to an extent."
Recent Stories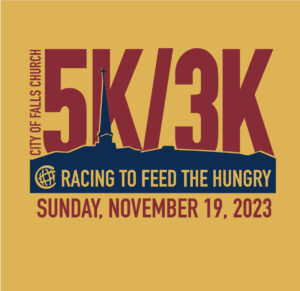 The out and back Falls Church City 5K/3K course is mostly flat on the W&OD Trail starting and finishing at 103 Columbia Street. Overall male and female winners earn free shoes and medals are awarded to all categories. Great family