Through the sheets of rain, Bonnie Keating embraced the challenges that the 2019 Marine Corps Marathon dished out.
The distance wasn't a problem, she could easily handle 26 miles, and she finished fifth among women. But while the sunny Southern California weather she has gotten used to over the last 13 years hasn't necessarily made her soft, she does realize she's missing a certain edge, something she wanted to regain before her second Olympic Marathon Trials.
"On one hand, you never have an excuse why you can't go out and train, but you also don't get things like really windy snow drifts to give you that grit," she said.
Keating moved to San Diego after three years at Frostburg State University that culminated in a 21st place finish at the NCAA Division III Cross Country Championships. That followed her time, as Bonnie Axman, playing soccer and running cross country at Robinson Secondary School in Virginia, forgoing soccer at the end of her senior year to run track.
She left Frostburg to follow her mother to California and tried to continue her running career at San Diego State, but the team's emphasis on middle distance running didn't match her skills.
"I'm basically the opposite of what they focused on," she said. 
Keating took a few years off of running until picking it up again for fun. When she started breaking three hours consistently in 2013, it got her thinking about setting goals, particularly the Olympic Marathon Trials.
"It was a good amount of time before I felt like I could be decent at the marathon," she said. "I wasn't one of those first-time success stories. I needed to chip away at my times a little more."
She combines her professional knowledge as a strength and conditioning coach for the Marine Corps with her experience running at Robinson and Frostburg State to synthesize her training regimen. Once she shored up her feet and hips, following some college injuries, she was able to capitalize on her tolerance for a high training volume. 
Her job, though, makes her schedule inconsistent, and aside from some occasional meetups with local runners, she does most of her training alone.
"It ended up being too stressful, having to reschedule on the fly when my schedule changed," she said. "Trying to run with a club, I felt like I was missing more runs than I could actually show up to."
She has been a constant presence on the Southern California scene for years, winning the O.C. Marathon three times, and her 2:44 at the Carlsbad Marathon in 2016 got her the standard for the Trials held a month later. 
Despite nearly a decade training in Southern California, Keating wasn't acclimated to the temperatures for a late-morning start in downtown Los Angeles, on a course that offered very little shade.
"I definitely went out too fast, ran with a bunch of people I had no business running with," she said. "By halfway, the adrenaline wore off and I was just trying to stay on my feet."
Keating finished 90th, almost a minute ahead of Anna Corrigan, a Lake Braddock alumna whom she had raced at the 2014 Rock 'n' Roll Marathon in San Diego. Corrigan won that race, with Keating second.
"If it wasn't for the crowds, I'm not sure I would have finished that race," Keating said. "It really became mind over matter."
She had enough to deal with on the mind side, as she saw diminishing returns from her racing in the next few years.
"Early on, when I was improving a lot, seeing my times drop was a reward," she said. "But when I went two years without setting a PR, things got pretty psychologically hard."

She ran 2:40:15 at the Chicago Marathon in 2018, and she was back to seeing improved results. When she came back east to run Marine Corps in 2019, she did it with an eye towards challenging herself. Some of the challenges came by accident.
"I started way in the back," she said. "The first few miles were just me fighting through crowds."
But she moved up, while trading her typical competitive marathon mindset for one that allowed her to take in the race and enjoy the experience. 
"I'm glad I wasn't racing to win, because I hadn't experienced a race like that, with that kind of rain," she said. "It was a hard training run, and it really got hard in the end, but I was able to keep going because I only had two miles to go when it was really bad. But now she knows she can run in conditions like that, if need be. 
"Even without that, though, I do enjoy the process," of training, she said. 
That includes adapting her training to makeup for San Diego's ideal conditions. After all, Des Linden might not have been as prepared for the 2018 Boston Marathon conditions had she not left her Chula Vista hometown for Michigan winters.
"In training, in order to simulate where other competitors are training, you have to be very specific on the intensity of your running so you're getting what other people are getting more naturally where they live," she said, whether it's humidity or altitude. 
That said, there is something to be said for muscle memory, to go along with actual memory.
"I don't miss running in the snow drifts, but i'm glad I did it." 
Recent Stories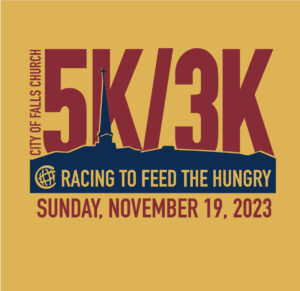 The out and back Falls Church City 5K/3K course is mostly flat on the W&OD Trail starting and finishing at 103 Columbia Street. Overall male and female winners earn free shoes and medals are awarded to all categories. Great family