Name: Bobby Huang
Self-described age group: I am smack dab in the middle of the 20-29 age group
Residence: Silver Spring, Md.
Occupation: Scientific Software Developer at NASA
Volunteer Roles in the Running World: I once coached a Pacers 14th Street track workout with Lauren Bartels because everyone else was too busy
Why you run: Because one day I won't be able to run and it would be a shame if I didn't take advantage of it now
When did you start running: I joined my high school's track team freshmen year as a sprinter. I was the slowest runner on the team when I started!
Have you ever taken a break from running: I decided not to run in college which I regret to this day
Training shoe: Always ASICS, currently using the Glideride model for both racing and training.
Coach or training group: I run with the 14th Street Pacers running club multiple times a week
The hardest race you've ever run: My first marathon, Philadelphia 2018, ended with me in the medical tent due to exhaustion. I don't remember much because I was blacking out toward the end but I suspect that was my hardest race.
Most adventurous decision you've ever made with running: Joining a running club that wasn't attached to a school! Turns out sweating with strangers is fun
Running mentors: Dare I name drop Charlie Ban?
Favorite place to run in the DC area: Literally anywhere with friends and good company!
Favorite local trail: Ok I lied in my last answer – I don't like trails
My best race was: The Philadelphia 2018 Marathon in spite of the aforementioned blackout
Favorite local race: I'm partial to the Veteran's Day 10k at Hains Point, or really any race around Hains Point
Ideal Post-Run meal: I tend not to eat immediately after races – instead I fall asleep as soon as I feel like I'm in a safe location to do so
Favorite flavor of gel, gu, etc: Orange!
Pet Peeve: People who try to talk to me during a race
Goals: I was seconds away from running a BQ at my first marathon so I'd like to get that monkey off my back
Your advice for a new runner: Getting injured is part of running so try not to take it too hard when it happens
Favorite running book: Not one for running books but I very much enjoyed the running documentary The Long Green Line
Song in your head during a run: Silver Soul by Beach House
Have you dealt with a major injury: I have had multiple stress fractures as well as a debilitating foot strain, all of which have resulted in months of unwanted recovery time
Running quote: "I don't start races, I finish them"
Why is D.C. a great place to be a runner: People make the place and D.C. has some awfully swell people
Recent Stories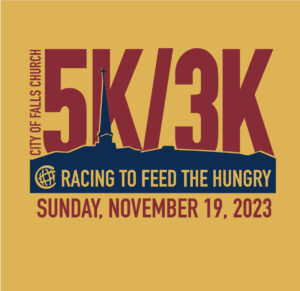 The out and back Falls Church City 5K/3K course is mostly flat on the W&OD Trail starting and finishing at 103 Columbia Street. Overall male and female winners earn free shoes and medals are awarded to all categories. Great family