Diego Zarate was in Albuquerque for a job interview. 
He was hoping that, as one of 16 men who qualified for the mile at the NCAA Division I Indoor Track and Field Championships, he could make something good happen and bolster his chances at signing a professional contract this spring after graduating from Virginia Tech, a few years after winning the Maryland 4A title in the 1,600 meters while a junior at Northwest. But he never got his chance to show what he could do in the mile and 1,500 meters after both the indoor and outdoor championships were cancelled in response to the coronavirus pandemic. Preliminary rounds were due to start a day later. 
"It was a shock," Zarate said. "Everyone was there to be the best they could be. I'm wondering 'could I have won? Could I have been an All-American?'
"I want to run professionally, but it's going to be difficult figuring everything out," Zarate said. "The way the seasons ended for a lot of sports, it's going to be messy." 
Down in Greensboro, N.C., Quince Orchard alumnus Liam Walsh was preparing for his first NCAA Division III track championships, where he too was racing the mile. While he won't be trying to go pro, the Carnegie Mellon senior was having the best track season of his life, having just set a PR in the mile a few days before. While he understood why the meet was cancelled, he wondered if doing once all of the athletes already arrived at the meet had accomplished much.
"The days before the meet, we were all practicing in there at the same time, it was the same conditions as you'd get in the meet," he said. "I don't know how different it was than having the meet a day later, everyone was already exposed to each other."
Zarate was one of four former D.C.-area high school distance runners at the Division I championships, and Walsh was among three local distance runners in the Division III championship.  Heritage alumna Weini Kelati, a junior at New Mexico, qualified in the 3,000 meters and 5,000 meters. Chantilly alumnus Brandon McGorty was on Stanford's distance medley relay team. In Division III, South Lakes alumna Monica Lannen, now a senior at Christopher Newport University, qualified in the mile and Thomas Jefferson alumna Abigail Shoemaker, a junior at the University of Chicago, qualified in the 5,000 meters.
The NCAA is offering an extra season of eligibility to spring athletes, though the details haven't been finalized. Zarate said staying for a sixth year would take some deliberation. 
"There would be a lot of things to consider — will I have indoor and outdoor next year, would I be able to keep my scholarship," he said. "And I'd have to figure out what to study."
Zarate will be graduating with majors in criminology, psychology and sociology as it is.
Walsh will be back at Carnegie Mellon to finish his master's degree, but cruelly enough, he will finish in the fall semester, so he'd be unable to use his remaining eligibility.  
Though the Tech coaches tried to keep the team — the largest the school had sent to the championships — focused, it was hard to keep out news like the cancellation of the NBA season. 
"We were doing everything we would the days before a championship meet, but once we heard spectators wouldn't be allowed in the building, we started getting worried," he said.
His teammate, Westfield alumna Sara Freix, was out to lunch with her parents when she started getting the news, little by little, putting her 3,000 meter race in doubt.
"First different conferences were pulling out, then the meet was cancelled," she said. "Then outdoor was cancelled."
She had planned to graduate in the spring, but now she is thinking of pursuing a master's degree if she gets more indoor eligibility.
What mattered was a hike the Hokies took with their coaching staff before leaving New Mexico, and the unity the team felt as the left to go back to Blacksburg and figure out what to do next.
"It was so weird to be there in such a beautiful place and realize how serious things were if entire seasons were being cancelled," she said. 
Suzanne Dannheim didn't make the NCAA indoor meet, but her improvement curve had her on the way to contending in the spring. A senior at George Washington, she won the 3,000 meter/5,000 meter double at the Atlantic 10 Indoor Championships two weeks ago and qualified for the NCAA Cross Country Championships last fall. 
She has less flexibility with her plans because she is eager to start her career in finance once she graduates. But she's not entirely downtrodden about the turns the season has taken. 
"My coach likes to say that chaos creates opportunity," she said. "We might be losing outdoors, but with classes moving online, we can do them anywhere, so we're thinking about going to train at altitude for a while."
With any luck, some semblance of an outdoor season will remain and she will have a chance to try for the Olympic Trials standard in the 3,000 meter steeplechase.
Coach Terry Weir has helped keep her moored through the uncertainty. That said, the Penn Relays were cancelled March 16,
"I'm still working as hard as I would be if we had the bulk of outdoors," she said. "He couldn't be doing a better job of keeping us excited and optimistic. He's done a great job of keeping me from thinking it's all over."
Dannheim made steady progress at GW, starting her career in 52nd place at the Atlantic 10 championships her freshman year and finishing as runner up in 2019, leading the Colonials to their best team finish, also second place. She credited Weir's coaching with building a successful team
"There's a lot to be said for being able to, as a male head coach, being able to support a group of young women facing challenges related to coming to college" she said. "We were becoming independent, we had a lot of new goals, expectations and priorities. He managed all of that and maintained a health balanced environment for those women. He absolutely knocks it out of the park."
As Dannheim improved, she started putting more of an emphasis on running, while still leading finance clubs and the student-athlete government organization. 
"I refocused my life the last two years," she said. "I'd lift an extra day each week, I went vegan, I left no stone unturned."
In the face of losing what could be his last collegiate season, Zarate tries to compare it to events with more precedent.
"When you get injured or have a bad race, you can't spent too much time being worried, because they'll eat you up," he said. "You have to look at this the same way. And something like this shouldn't take away from the season you've had–  a lot of these athletes had the seasons of their lives making it to this meet. This one meet shouldn't define all their hard work."
While he hopes to run professionally and Dannheim hopes to make the Olympic Trials, Freix, if not back for graduate school, sees herself figuring out how competitive running will fit into her life when the competition level changes. Walsh will transition to longer races, with an eye on Pittsburgh's Great Race 10k in the fall.
"If you have a passion for this, you'll find a way to do it,' Zarate said. "I know it will be difficult but I don't think it will be impossible"
Recent Stories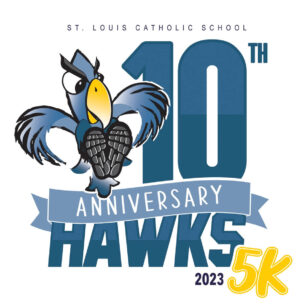 2023 will be the 10 year anniversary of the St. Louis Hawks 5K and Fun Run for Health & Wellness. The USATF certified course runs through the historic Hollin Hills neighborhood in Alexandria, VA.
The Hawks 5K goal, in conjunction