The first time Tony Valenti got into a wheelchair meant to be pushed in races, he loved it so much that it took four people to get him out of the chair.
In October 2015, Valenti became the first rider in the National Capital Region ambassadorship of Ainsley's Angels, a nonprofit group of volunteers that push those who can't run in races. Valenti has cerebral palsy, a motor disability that prevents him from bearing weight on his legs, so can't run races on his own. But with the help of a volunteer, Valenti gets to be part of two or three races a month, feeling the wind on his face as he tackles distances ranging from 5ks up to marathons.
"They have brought joy to my sons' life like I've never seen. He is wide awake when it comes to racing. If it takes a few hours to get there, we're going. … He loves it that much," his mother Linda Valenti said, adding that she's driven up to nine hours from her Lorton, Va., home so her son can participate in events from Ohio to Massachusetts.
Ainsley's Angels was founded nationally in 2011 by Kim and Lori Rossiter after their daughter Ainsley fell in love with the wind in her face while being pushed in a race in 2008. Ainsley was diagnosed with neuroaxonal dystrophy, a terminal illness that causes paralysis, and passed away in 2016. Each of the group's chairs is painted hot pink, Ainsley's favorite color.
The group has had a strong presence in the D.C. area for about three years, since Katy Reardon became the leader for the National Capital Region group, which includes southern Maryland, D.C. and northern Virginia. Reardon, who has been a runner for about 15 years, was looking for a cause to run for when she moved to Washington in summer 2015. After seeing Ainsley's Angels runners pushing riders at the Marine Corps Marathon that fall, she joined the group shortly after and took over as co-leader of the D.C. ambassadorship in May 2017 with her partner, Scott Perugia.
"It becomes not about you anymore. It's not about speed or about what you can physically accomplish. It's new type of running," she said. "It's about giving them time away from whatever keeps them on the sidelines and giving them that opportunity like everyone else has."
The D.C. area boasts 140 riders, who range in age from 3 to 60 and cannot run because of either a mental or physical disability, as well as 375 angel runners who push the riders in races and 25 guardian angels, who volunteer their time at expos or races but do not run. The group participates in two events a month, which average about 20 runners and about 10 riders per race, Reardon said.
One of the runners, Tony Vincent, joined Ainsley's Angels to give running a meaning beyond just running fast and setting personal bests. Vincent, a 56-year-old D.C. resident, started running about 12 years ago as a way to get in shape, but quickly realized his age was preventing him from setting any speed records. While training for his fourth Marine Corps Marathon in 2017, he sprained his ankle, forcing him to spectate from the course's sidelines. That's where he spotted a runner pushing an Ainsley's Angels chair with a rider "grinning ear to ear." A few months later, he ran his first race with the group at Pacers' Jingle All The Way.
"I realized I was never going to be a great runner, so I may as well give back to something," said Vincent. "It's really about the rider. We're just the legs, but we get a beautiful gift from the crowd and the rider of excitement and joy. We're letting someone participate in an activity that would be well beyond their ability."
Vincent, a well-known entity in the group who paints his beard the organization's signature hot pink color for every event, said he runs almost every race the group participates in around the D.C. area and can rattle off the names of most of his past riders, from Brandon at the 2019 Rock 'n Roll half to Emily who got drenched alongside him at last year's rainy Marine Corps Marathon to Margaret, his first rider who happened to share a name with his grandmother.
Running a race while pushing a rider is a different challenge physically as well as emotionally. Vincent said the hardest part is learning to run without swinging your arms, something he practices before longer races. While training for the Marine Corps Marathon, for example, Vincent piled about 80 pounds of weights into a hand-me-down jogging stroller and pushed it for about a 10k every other week to get used to the altered biomechanics.
New runners are always paired with a veteran who can help safely steer the rider's chair and take over if the runner needs a break from pushing, Reardon said.
The National Capital Region group is always looking for new runners and riders, Reardon said. Runners or riders can register on the group's website to get added to an email distribution list to find up about upcoming events and races. There are no pace requirements to push a rider.
"I don't know how to put into words how special this is," Reardon said. "It's not just about running, it's about this family we've built. …  We have runners from every walk of life. Everyone is friendly, everyone is welcoming."
The group is open to both veteran runners and newbies, and even inspired one woman — Linda Valenti, the mother of rider Tony Valenti — to lace up her sneakers and begin running. Though knee replacements keep her from running fast, it doesn't dull her happiness to participate with her son.
"When I saw how much fun he had and just the joy of the runners themselves when they push them, I said I need to do this," she said. "I love pushing him. I'll do the 5k, and I know it'll take me up to an hour to do them, but it's about finishing and Tony loves it. … It brings me great joy to do that."
Recent Stories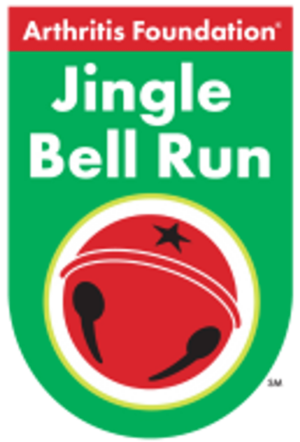 Be part of the original festive race for charity and signature Arthritis Foundation holiday event! Wear your favorite holiday attire and together, we'll jingle all the way to a cure! Register as an individual or bring a team of friends,