When the Rock 'n' Roll D.C. Marathon, stripped of its permit in the face of D.C.'s state of emergency order, announced its postponement, it hit a lot of runners right as they were starting their tapers.
But not all were planning to wait for the Nov. 7 makeup date. They had a marathon on their calendars for March 28, and they were going to run a marathon on March 28.
Georgetown's Monica Pampell, 34, was one of the many runners who took to the streets and trails. It wouldn't have been her first marathon, but it was the first she had actively trained for. 
"In the past, [I] just went out and ran it without training," she said. "This time I wanted to train for it."
A personal trainer since 2007, Pampell had every intention of training for her first marathon, the 2015 Rock 'n' Roll race, but injuries from both running and biking kept her from finishing the job. She decided to run anyway, but bonked at mile 20 and couldn't run for two weeks after. 
As runners deal with a prolonged stretch without road races, many are opting to run time trials, but adding many of the accoutrements  associated with races — pre-race pasta dinners, race bibs and medals. Some races are moving to virtual options in lieu of their canceled or posponted events.
In 2019, 26 percent of respondents to the RunningUSA National Runner Survey had participated in a virtual run in 2019.
The Road Runners Club of America is discouraging members from creating new virtual events between now and the end of May.
She left the sport until she joined the Washington Running Club in December 2018. She found a coach, who worked with her remotely, primarily via a spreadsheet training plan. She planned on a Rock 'n' Roll comeback. 
Ultimately, the race's postponement didn't Pampell by surprise.
"Once the marathon got [postponed], I decided literally in 10 seconds, 'Well I'm going to run it anyway!' Just like how the spreadsheet said, 'Race day on the 28th,' I said, 'Well I'm doing it no matter what.'"
Pampell had lofty plans for her make-up race. "As soon as I got the email, I kind of already knew in the first place [what I wanted to do] and immediately that day, I started plotting. I emailed my group and I said, 'They cancelled our race, but we'll get a group together.' I made a course and I was going to name it and brand it and go to every running store and hold my own race."
Unfortunately, not all of that ended up happening. With the regulations forcing more and more businesses to close and prohibiting groups from assembling, it became clear that organizing a make-up race with dozens of people would be impossible.
Still, Pampell knew at the very least that she would run the race and so she kept training even as some of her lofty plans fell apart.
"I just kept doing my spreadsheet and kept going out every single day as if I was going to do the race."
A week ahead of the race, Pampell thought she had it all plotted out. She made a course and emailed it to her friends, asking if they would be able to support her along the course. Some friends were quick to point out that a section of her route which included Hains Point might be closed. Pampell then created a back-up course in case that section would be closed.
"And all of this was way too much planning, like that guy in France ran a marathon on his balcony," she said. "Half of me did it because it is a reinforcement of your commitment to do what you said you were going to do."
The course she finally chose began at Fletcher's Cove, then went to the National Mall, then to Hains Point, then to the Mount Vernon Trail and out to Daingerfield Island, then back with a finish in Georgetown. She ran the entire 26.2-mile course by herself. 
"I could have just done an out and back on Capital Crescent [Trail], but how boring would that be? I wanted to make it a lot of fun," she said. "I wanted to do a tour of the city."
At one point, Pampell recalls a moment when she thought her course might not have been possible. When she approached the Lincoln Memorial on the far side, she noticed that yellow tape had been put up, blocking her path to the Memorial Bridge. "I was just running, and I ducked under the tape and some [police officers] got out of their car and started yelling at me and I yelled, 'I'm not going to Cherry Blossoms!' [and kept on running], but I needed to get on Memorial Bridge," she said. "It was my fastest mile split because I thought they were going to chase me."
To make the race more special, Pampell made her own race bib and stuck it in a plastic bag because she knew it was going to rain. Her husband and friends were out on various parts of the course to provide gels and water, just like a real race. Some of her friends even came out with signs to cheer. 
"It was like my little race and it was awesome!" she said. "I think that's why it went so well."
Despite being the only race participant, Pampell says the race was a fantastic experience, far better than the first marathon she did several years prior. "[After my first marathon], I wondered, what if I actually trained for a marathon? How much better would I be? And now I know it's a lot better," she said. "I never expected to feel as well as I did and do the time that I did."
Her finish time was 2:58:40.
As solitary as her run was, Pampell wasn't the only one out there. While she was on the Mount Vernon Trail, she passed a familiar face. A Strava flyby Alex Stickney running his own 26.2 miles.
"I recognized her from Strava and I recognized the number on the race bib and we have mutual friends, so I kind of knew in that moment, 'I think I know this person,'" Stickney said.
But unlike Pampell, whose run was carefully planned and trained for, Stickney, of Capitol Hill, was playing a little more fast and loose.
"I wouldn't put myself in that category of people [who trained for months for the race]. While a lot of people planned and trained, to be honest, I was just sitting at home alone on Friday evening and I asked myself if I could run a marathon. I texted my friend and said, 'Hey I think I'm going to run 26 miles tomorrow,' so that's what I did," Stickney said. 
"I was pretty bored."
Stickney is primarily a middle distance runner, but with track season out the window, he looked for something else to do. 
"I probably wouldn't have done it if the virus outbreak hadn't occurred," he said. "I'd probably been training for the 800."
He told his friend and the next thing he knew, Stickney was ready to run a marathon. 
"When I told [my friend], I don't think he really believed me," Stickney said. "I guess I just wanted to prove him wrong.
"Most people don't just wake up and do that sort of thing and I would never recommend that people do that sort of thing. I'll admit it was kind of a reckless thing to do."
Until this point, the longest run Stickney had done in 2020 was a 14-mile run in January. But he was still in good shape, averaging about 40 miles a week and doing some track workouts.
He said that March 28 being the same day as Rock 'n' Roll's original date was "absolute coincidence." "[It] didn't even come into my thoughts at all when I decided to do it late Friday night."
Although it was the longest run he had done all year, it was not his first time running the marathon distance. His first time running 26.2 miles was in September, although it wasn't  part of an organized race either. 
"I did it mostly because I wanted to do it so that people wouldn't bother me about running a marathon anymore," he jokes. That first marathon distance he ran came to around 3:15 including stops for traffic and 3:07 without.
Stickney's marathon time on Saturday was a vast improvement over his first time back in September. On Saturday, he finished at 2:52:46. He said his goal was to finish under 2:55 so that he would know he was capable of qualifying for Boston, if he wished.
Unlike Pampell, Stickney had no route planned. His route began at his home in Capitol Hill, crossed the National Mall to the Memorial Bridge. The yellow tape and security rerouted him to the Roosevelt Bridge instead, then onto the Mount Vernon Trail and Four Mile Run Trail before coming back north to Georgetown and finishing on the Mall. 
"It was a super cool experience, [but] I wouldn't recommend people doing it the way I was doing it," Stickney said.
In the end, both Pampell and Stickney ran their marathons for two totally different reasons, but both were proud of the races they ran. In talking with one another over Strava after their marathons, their spirits were high. They congratulated each other.
"I thought that was amazing, that someone else did his own thing," Pampell said.
"I'd heard through the grapevine that quite a few people had tried to do longer races that weekend. It's awesome that a few people were able to capitalize off their training," Stickney added.
Recent Stories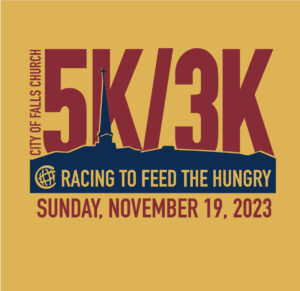 The out and back Falls Church City 5K/3K course is mostly flat on the W&OD Trail starting and finishing at 103 Columbia Street. Overall male and female winners earn free shoes and medals are awarded to all categories. Great family