Name: Taylor Williamson
Self-described age group: 35-39
Residence: Silver Spring
Occupation: Global Health Systems Manager at RTI International
Volunteer roles in the running world: I have been a pacer for the Credit Union Cherry Blossom Ten Mile for years, and I volunteer for MCRRC races as I am able. Pikes Peek is one of my favorites!
Why you run: I've run for so long that my motivations change about every couple of years. I run now because it keeps me sane by burning off excess energy and letting my mind shut down. I also really appreciate the running community in Montgomery County. It's a dedicated and engaged group of people.
How has your running changed in the last four weeks: I was training for Pikes Peek in April; aiming to better a very slow 10K PR. Since that race and all the others have been shut down, I'm taking time off to heal from a bad hamstring strain.
When did you get started running: I ran my first race when I was nine years old, and then on and off until my senior year of high school. At that point, I had a terrible skiing injury, had to stop playing soccer, and took up running seriously. I ended up running cross country and track at Division III Colorado College.
Have you taken a break from running: Many times! Sometimes because my interests shifted, particularly to skiing or cycling, other times because of injury. I also took about a year off when my daughter was born because I wanted to focus on her. I always come back to running eventually though.
Training shoe: Right now I'm in a Hoka One One Bondi because I seem to be less injury prone when I wear them. I really miss my Saucony Kinvaras though. I recently got some cheater shoes (the Nike Next%) and they are just…unreal. I love them.
Coach or training group: I am on the MCRRC racing team, and I used to run a lot with Dojo of Pain. It's tough to meet up with groups anymore. I end up running around my daughter's schedule, either run commuting, to/from daycare or naps in the running stroller.
The hardest race you've ever run: The 2015 Boston Marathon. The start was beautiful: Overcast, in the high 40s. The last half of the race though was much colder with driving rain. Then I hit the wall at 22. I ended up in the medical tent with a body temperature of 86 and missing a PR by like 20 seconds.
Most adventurous decision you've made with your running: I'm not sure if there's one of these, but I travel to low- and middle-income countries for my work, and I enjoy going out to rural areas and exploring the trails. Probably my most memorable trail run was in Haiti. I went about 2 hours outside Port-au-Prince and the driver dropped me off at the top of a mountain. It was like 2,000 or 3,000 feet down in any direction to the little villages that dotted the valley. Coming back up the mountain at the end of a three-hour trail run, in 90-degree heat, was insanely difficult.
Running mentors: Ted Casteneda, my cross country and track coach in college. My favorite Ted story is that he held the three mile American Record for like 15 minutes. At the 1973 NCAA Championships he ran a 13:10 to win his heat and break the record…only to have Steve Prefontaine run in the next heat and break his AR. He has all of these amazing nuggets of wisdom, from weird descriptions of courses (one looked like a "beaked moose", another was "long, flat, and hilly") to workout guidance like "just get it in, guy" and "in case of an upchuck situation, just keep on going".
My favorite place to run in the D.C. area is: All the little loopy trails in Rock Creek Park, though you will most often find me on Sligo Creek.
Favorite local trail: I mountain biked at Schaffer Farms for the first-time last weekend. It's a really tranquil place.
My best race was: The 2003 Division III West Regional Cross Country Championship. I had been running hard 90–mile weeks, but I was still the 8th man on my team. As a result, I was not travelling to Regionals. Then someone couldn't go, and I got bumped up to 7th. I ended up running a 30 second PR, helping our team to second place and a berth at Nationals…where we promptly faceplanted with multiple DNFs.
Favorite local race: The B&A Half is special because it's a runners' race. A cheap entry fee, an indoor staging area, copiously weird post-race food, and odd premiums (one year I got a towel).
Ideal post-run meal: Does a pint of beer count as a meal?
Favorite flavor of gel, gu, etc: Lemon-lime. Don't judge me.
Pet peeve: The term "PB." It's a PR. PB is part of a peanut butter and jelly sandwich.
Goals: My 5K and 8K PR's from college are likely untouchable. But my 10K PR is an accident. I was in the lead of a 5K and the course marshals directed me toward the 10K course, so I just finished it and that's my PR. It's stood for 17 years because I never run 10Ks. I also wouldn't mind the sub-2:50 marathon I spent years chasing and gave up on when my daughter was born.
Your advice for a new runner: Be proud of your own progress! Running ability is easily measured and we compare ourselves to others too quickly. There's ALWAYS someone faster than you and chasing, or comparing yourself to, others is a losing game.
Favorite running book: There is only one answer to this question: Once a Runner. I realize the message of that book contradicts my advice in the last question.
Song in your head during a run: Foo Fighters "My Hero", specifically the opening drum solo.
Have you dealt with a major injury: You don't run for 28 years without injury. Right now, I'm battling a hamstring strain, but I've dealt with piriformis issues, Achilles tendonitis, and runner's knee in the past, to say nothing of broken bones and torn tendons from other sports.
Running quote: "What was the secret, they wanted to know; in a thousand different ways they wanted to know The Secret. And not one of them was prepared, truly prepared to believe that it had not so much to do with chemicals and zippy mental tricks as with that most unprofound and sometimes heart-rending process of removing, molecule by molecule, the very tough rubber that comprised the bottoms of his training shoes. The Trial of Miles; Miles of Trials."
Why is the D.C. area a great place to be a runner: The urban trails and the races! There's a beautiful trail within a mile or two of everywhere in the area and a race every weekend if you want one. The MCRRC and DCRRC ones are often cheap or free!
Recent Stories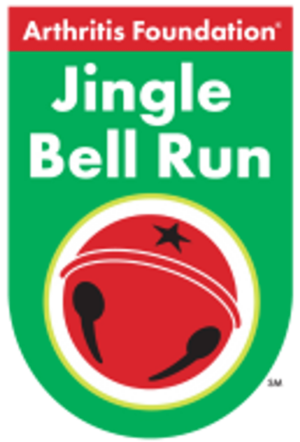 Be part of the original festive race for charity and signature Arthritis Foundation holiday event! Wear your favorite holiday attire and together, we'll jingle all the way to a cure! Register as an individual or bring a team of friends,