Saturday mornings aren't the same for Teens Run D.C., a mentoring and distance running program for underserved youth.  Zoom hangouts have replaced the group's Saturday runs, the Mentoring Matters 5k, scheduled for May 16, has been canceled and several events with local running groups didn't happen as planned in April, all consequences of the novel coronavirus pandemic and the physical distancing guidelines necessary to limiting transmission. 
For now, the organization is continuing to reach members and volunteers virtually until life returns to a new normal, said Lizzie Majewski, the group's director of operations and finance. Majewski said the AmeriCorps coaches who typically work with middle school students are sharing videos on Facebook and Instagram, plus checking in with students by phone and Microsoft Teams. 
"We will continue to educate and connect with our community, and we look forward to our group runs and gatherings returning. As many others do right now, we miss our community," Majewski said.
She said she remains hopeful Teens Run D.C. is able to continue to receive funding from community partners, so the nonprofit can continue to help area youth. 
"We have already seen many foundation and government opportunities for funding come out of this time, but we realize there are more organizations doing great work than money to go around. We are hopeful for us and for all small businesses and nonprofits that we will get through these times," she said. 
For Girls On The Run D.C., the pandemic hit at a particularly difficult time. 
The organization mentors girls in third through eighth grade, helping them develop self-confidence through physical fitness. The D.C. chapter's spring season was just getting underway when COVID-19 forced schools to close and start distance learning programs, and halted all group activities — including the organization's annual 5K race in May. 
Though the virus has had "a devastating impact," Executive Director Devoria Armstead said the organization worked quickly to begin connecting virtually with the young girls GOTR-D.C. serves. 
They partnered with GOTR International to introduce GOTR at Home, which includes videos, lessons and activities that the girls can do at home, and GOTR Connect, a video conferencing app that allows coaches to meet with their teams from home. 
"I think we've set up a really good paradigm for connecting," said Caroline Hutton, a Girls on the Run coach at Elsie Whitlow Stokes Community Freedom Public Charter School in Brookland. 
She and fellow coach Virginia Ritinski have used the app to discuss life lessons that go beyond fitness, such as differences between the young girls and how they can use GOTR as their common ground. It's also been an opportunity for the girls to socialize with friends outside of their online classes.
"I think the girls like being able to see their friends that are in different grades," Ritinski said.   
And although the 5K was canceled, planning is underway for the Virtual Spring 5K Challenge, which will take place the week of May 17. Everyone who registers will receive an online Challenge Kit to help them train — there's a version for kids and another for adults. 
"I know the girls are disappointed about the 5K, but hopefully we can work toward something that will celebrate their success," Hutton said.
Armstead said GOTR-D.C. is moving forward with the assumption that schools will be open this fall, though she is prepared to serve fewer girls during the next school year. Right now, the organization serves 2,200 girls annually, 76 percent of whom receive financial assistance. 
She's also hopeful that the combination of Giving Tuesday Now, a global day of giving that's a spinoff of the holiday season's Giving Tuesday, and Do More 24, a movement to support D.C. nonprofits, will give GOTR-D.C. a much-needed boost. You can support GOTR-D.C. during Do More 24 here.  
"We are a small organization that has a big impact on our community, and we want to keep that going," Armstead said.
Physical distancing has also affected other fundraising efforts connected to the running community. It may be months away, but D.C. Capital Striders president and founder Rick Amernick is already concerned about the affect on his group's annual Holiday Lights Run. 
The annual fundraiser, the group's largest, raises $3,000 every year for St. Jude Children's Research Hospital. The Striders also collect toys for the Salvation Army at the run. 
The virus has already forced the group to cancel its two annual four mile races, Run 4 Your Mother on Mother's Day and Run 4 Your Father on Father's Day, both of which raise money for different charities. Plus, all of the Striders' group runs — between 15 and 20 each week — have been canceled, and no one knows when they'll resume. 
Still, he's trying to make the best of things. For example, the Striders' Amazing Race spring fundraiser, in which teams of five run to D.C.-area monuments and take group photos, will likely be replaced this year with solo runs and selfies.    
Although Amernick doesn't believe COVID-19 will have a long-term impact on the group's fundraising efforts, he speculated that it could have an effect on members' participation levels. Some runners might end up realizing that they don't need group runs to stay motivated, and may not attend those outings as much. 
Yet others might realize just how much they miss the social aspect of the Striders, and become even more active.  
"There are all kinds of runners," Amernick said. 
Recent Stories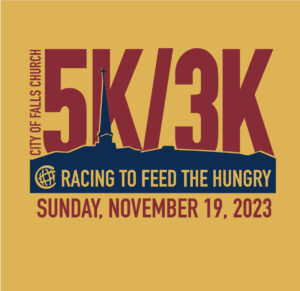 The out and back Falls Church City 5K/3K course is mostly flat on the W&OD Trail starting and finishing at 103 Columbia Street. Overall male and female winners earn free shoes and medals are awarded to all categories. Great family