Name: Alayna Bigalbal
Self-described age group: 25
Residence: Reston
Occupation: Civil Engineer
How has your running changed in the last few months: My running has definitely become more solitary due to the current pandemic and race cancellations. However, I am using this time to build up a strong running base, incorporate more strength training and drills.
Why you run: I run to challenge myself and give myself something to strive for. I love the sense of accomplishment after reaching a goal and then the determination/anticipation of hitting the next one. It is also a way for me to cope with stress and anxiety.
When did you get started running: I started running my sophomore year of high school.
Have you taken a break from running: I have never really taken a long break from running, just the typical breaks between training cycles and rest days. I love to cross train during this time. I typically bike or swim.
Training shoe: New Balance 880 and New Balance Tempo
Coach or training group: Pacers Select Team
The hardest race you've ever run: Mt. Roberts Tram Mountain Race in Juneau, Alaska. It was a four-mile race straight up Mt. Roberts on a technical hiking trail. One literally has to be a mountain goat to run this thing (ascent ~2,070 ft.).
Most adventurous decision you've made with your running: Running 2 Ultra Trail Ragnars (Appalachian Trail). As you can imagine, no sleep, small breaks, thunderstorms, and 30+ miles of running in less than 24 hours makes for a good time. I also told myself that I would run wherever I travel, which has gotten me into some interesting situations. For example, when I traveled to Ireland a few years ago, I ended up at a nude beach by accident. I immediately turned around and headed the other direction.
Running mentors: I'd like to change "Running Mentors" to "Running Mentors/Supporters." I wouldn't be the runner I am today without the support and advice of my family. Running is not only a physical challenge, but also a mental challenge. My family has and continues to provide me with the encouragement and tools to improve. My kinesiologist and chiropractor have also been great mentors/supporters by providing me knowledge on how and why the body works the way it does, how different parts of the body interact, and giving me tune-ups after countless miles.
My favorite place to run in the D.C. area is:  The Mall
Favorite local trail:  I have a lot but the top four are the W&OD, C&O Canal, Fountainhead and Burke Lake.
My best race was: Marine Corps Marathon 2019. This was my first marathon. Despite the pouring rain and unfavorable weather conditions, I was able to achieve my goal of breaking three hours (2:59) and placing in the top 10 females.
Favorite local race: PNC Parkway Classic
Ideal post-run meal: Skip the meal and take me straight to the the ice cream
Favorite flavor of gel, gu, etc: Any flavor of Huma Gel
Pet peeve: Not rounding off my run to an exact mile or half mile.
Goals: Break 2:50:00 in the marathon
Your advice for a new runner:  Listen to your body. Everyone is different. I truly believe in adjusting your training, diet, etc. based on how you feel, your goals and your lifestyle.
Favorite running book: Run Fast, Eat Slow by Elyse Kopecky and Shalane Flanagan. I love to cook and nourishing food is key for performance. I also got to meet them and get the book signed at the Shamrock Half Marathon in Virginia Beach.
Song in your head during a run: I prefer not to listen to music when I run. Running is the only time I can clear my head. But when I bike, I have a very eclectic playlist that includes rock, heavy metal, alternative/scream, rap, and pop. Just NO country music please. 
Have you dealt with a major injury: Thankfully, nothing major. Just some nagging knee and foot injuries here and there.
Running quote: "Let us run with perseverance the race marked out for us" –Hebrews 12:1
Why is the D.C. area a great place to be a runner: The running community. I have met so many kind and inspiring runners here and have made strong friendships.
Recent Stories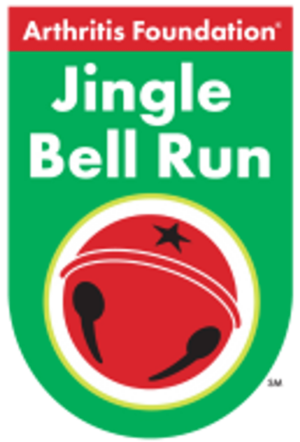 Be part of the original festive race for charity and signature Arthritis Foundation holiday event! Wear your favorite holiday attire and together, we'll jingle all the way to a cure! Register as an individual or bring a team of friends,