Tristan Forsythe didn't like what he was reading.
It wasn't that there wasn't enough writing about running out there, it just didn't speak to him in a voice he recognized.
"The stuff that I enjoyed reading was personal stories from people inside the sport, rather than results, statistics and rankings," he said.
Even when he got those stories, they were watered down, lost in translation.
In April, when he was home in Pittsburgh, his sophomore year at Georgetown interrupted by the COVID-19 pandemic, he was bored and contemplating the worst: starting another running blog. But instead of focusing on his own running, he decided to make what he always wanted to see — a window into the lives of other runners.
"I wanted to capitalize on how supportive the running community is," he said. "I knew enough people either from running in college or high school that I had a good place to start."
That's how The Oval started, essentially The Players Tribune for running. First person stories, with a lot of leeway, giving runners a platform to share their experiences. More than a social media post, but with the same personal touch.
As his friends' and acquaintances' stories found resonance among runners, the way Forsythe and his partners and teammates who sought out contributors built credibility and trust.
Stories range from the chocolate milk mile, tales of a victorious relay team, racing during the pandemic, training logs and high school legends to ruminations on why we run. Though The Oval staff began by soliciting stories from runners, they've been receiving pitches.
Though Forsythe and his staff are available to help contributors kick around ideas, most writers handle their own writing.
"Most of them know what they want to say," Forsythe said. "We give them complete freedom."
In distance training parlance, The Oval has built a base, which has allowed the site to grow and, as Forsythe says, transcend running. He worked to help an anonymous runner talk about how abuse suffered during childhood has affected her as she matured and grew in and out of the sport.
It was a story that drove home The Oval's commitment to giving runners the voice and a megaphone, particularly as subject matter moved beyond running.
"It's difficult to get across in an interview what you want to say," he said. "People will interpret things before writing them, so this is what makes us different."
Brigham Young University runner Easton Allred echoed the ethos Forsythe has tried to forge for The Oval as he closed his story of median arcuate ligament syndrome.
"I hope that my story helps you in some way, thank you for hearing me."
As for Forsythe, if he turned The Oval's view on himself, he'd write about the two years starting his junior year of high school when, through a combination of illness, injury and light competition, he didn't improve his track times.
"I knew I was capable, but it was hard to keep the faith without the numbers to prove it," he said. "When I was in high school, I'd have loved to read about how someone could go through that kind of injury and come back and run even better."
Forsythe did that, running on Georgetown's Big East runner-up indoor distance medley relay team in March, soon after he dropped his mile PR to 4:05. He's back in D.C., training and waiting for his next chance to race while taking classes for his finance and international business majors. Though he doesn't seem himself pursuing a career in journalism, his experiences with The Oval, which he recently redesigned, won't go to waste.
"It's been a good opportunity to practice communication skills," he said. "I can see how the work we've done here will be useful in the future, working with people."
Recent Stories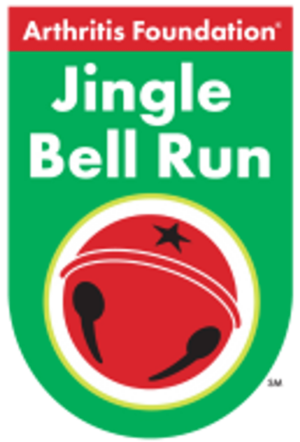 Be part of the original festive race for charity and signature Arthritis Foundation holiday event! Wear your favorite holiday attire and together, we'll jingle all the way to a cure! Register as an individual or bring a team of friends,