George Alexander was somewhere new, all alone in front of a cross country race. He pulled away from the rest of the field in the red race at the Virginia Elite Invitational at Hanover County's Pole Green Park, and he alone fought the wind that picked up throughout the day. He surged as he approached the three mile mark as the clock neared his PR of 15:52, crossing the line, flexing and expecting his time to be just under 15:50. The problem was, the was 5k.
"I guess I was mentally checked out," he said. "I was ready for it to be over, and I was wondering why people were yelling at me to keep going."
Alexander recovered and won in 16:16 with a 14-second margin over second place.
He's been training alone throughout the pandemic, workouts supplied by Matt Henry and Jason Leonard, his coaches at Ashburn's Stone Bridge High School, where Alexander is a senior. He's been racing the Shenandoah Valley Cross Country League races at the Kernstown Battlefield.
"I've been training alone for seven months, but racing is getting me back into the swing of things, getting me back to a place where I can complete when I can race with my team again," he said. "I can feel my pace a little more, I know I'll be more confident if people aren't running the same race strategy I want to."
Dozens of high school runners from Northern Virginia, Maryland and Washington, D.C. came to Pole Green Park, many seeing the strongest competition of the nascent club racing scene.
Limited by local regulations as to the number of people allowed on the course at once, the races were limited to roughly 75 runners, so the meet offered nine different "heats. "
In the girls' seeded race, Laurel resident Juliette Whitaker, a junior at Mount De Sales Academy won in 17:29 over Nova Athletic Club junior Ava Gordon, with Gordon's usual Loudon Valley teammates Scarlet (freshman) and Ricky (senior) Fetterolf in eighth and ninth and Stone Ridge junior Katherine Strong running unattached in 10th.
St. Albans senior Damian Hackett, running unattached, led local finishers in the boys' seeded race, finishing third in 15:21. Colgan senior Bryce Lentz, running unattached, was sixth, Gonzaga senior Patrick Donnelly, also running unattached, was eighth, Oakton senior Garrett Woodhouse, running for the Cougars Track Club, was ninth, and Nova Athletic Club's Matthew Smith, a senior at Loudon Valley, was 10th.
Recent Stories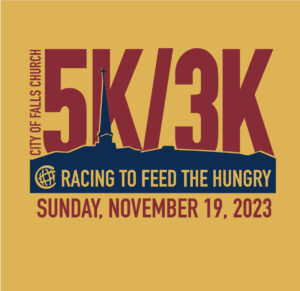 The out and back Falls Church City 5K/3K course is mostly flat on the W&OD Trail starting and finishing at 103 Columbia Street. Overall male and female winners earn free shoes and medals are awarded to all categories. Great family