Emily Hart's friends raved about how Marine Corps would be the best "first marathon" for her, with deafening crowds, thousands of volunteers, aid stations and the atmosphere of running through her home city.
When finally she ran it, her experience was completely different from what she'd heard about, but no less memorable. Like many of the D.C. area's marathoners, she charted her own course for 26.2 miles in 2020 — straight up the W&OD Trail — one of hundreds whose options were only limited by their creativity and motivation. And, public health orders limiting gathering sizes.
With the November postponement of the Rock 'n' Roll D.C. Marathon, usually in March, and the undetermined rescheduling of the Boston Marathon, these will likely be the stories of more runners who feel the itch to go for a very long timed run though at least the first half of 2021. While a smattering of small marathons are being held in the D.C. area, with others tending larger in other parts of the country, fortune will favor the self-motivated. 
Though Hart undertook the challenge with gusto, she found that the journey to the starting line was adding up to be much harder than the 26-mile run itself because the whole process ran counter to her personal style.
"With every other race, I've known what I was getting myself into," she said. "I couldn't see the finish line in my head, and it was difficult to stay motivated and keep my eye on something I really couldn't visualize. It was the biggest challenge of my life."
Other runners's stories played out just as uniquely. Ken Trombatore found himself running gingerly through Montgomery County in the dark to finish another Boston Marathon in spirit, if not in person. Up and down the Capital Crescent Trail, Emily Wilde capped off a fundraising effort accompanied by friends who tried to match New York City's energy. And Spencer Jurkiewicz kicked off the new year by cutting nearly 20 minutes off of his PR, running laps around East Potomac Park.
Even through the alternating rain and heat and seeing a few of her friends balk at racing, Hart knew, while watching the Marine Corps webcast in 2019, that she wanted in. After five years of 5ks and half marathons since graduating from college, she was ready to take the next step. But she and a friend trained through early parts of the summer in limbo, hoping against hope that the race would take place until the other running shoe fell in late July. 
"We were going through a lot of denial, thinking the pandemic wouldn't last until October, and the race was taking all of these steps to keep it going," Hart said. "It was really hot, and we just kept training anyway."
She was determined to run her first marathon, one way or another. She had to keep running for her own sanity.  For Hart, working from home for her education non-profit was already hurting her extroverted personality, and her roommate moving "home" during the pandemic only made things lonelier and worse.
"So many days, running was what got me out of bed in the morning," she said. "It was one thing I could control, but at last I know that I can get up and have that structure in my life. I don't need a gym, I just need my shoes."
She and her training partner decided that no matter what was happening the last weekend of October, they'd be running Marine Corps.
"We knew it wouldn't be the same, I am all about the spectators and the race weekend activities," she said.  
Hart looked into the unknown with her training. Prior to this summer, she had never run more than 14 miles. She got up to 20 miles but didn't know what the last 10k would hold. Even though she was confident in the training plan she stuck to, this first marathon loomed over her.
"I just didn't know if I could do this very hard thing in a very hard year without knowing anything for myself," she said. "I could read about marathons, but I wouldn't know what it was like until I experienced it for myself."
Though her training partner liked trails and Hart like running in D.C., the reality of trying to mimic and actual race forced their hand.
"We thought about trying to hit all the traffic lights and the crosswalks, and without traffic stopping for us, it wouldn't be like a race," she said. "The W&OD Trail was the best way to go."
Starting from near her home in Shirlington and running out to near her mother's house in Ashburn, the trail was reliable, with half mile markers, and also happened to pass near Hart's father's house in Falls Church. With her friends and family clued into a document with her projected checkpoint times at different mile markers and supplies organized for family members to bring out, she and her training partner set off, and soon separated when a traffic light got between them.
"It was okay, I'm more of a solo runner anyway," Hart said. "When I saw her run away, it didn't freak me out or anything." 
She did feel her heart rate spike three miles into her effort, but she calmed herself by turning off her music and giving herself a pep talk.
"I just treated it like a normal Saturday long run and things got better," Hart said.
When she reached that new ground beyond mile 20, her father was there on a bike to help her along.
"Nobody else in my family is a runner, but they all got involved somehow to make it feel like it was more than just me running for a few hours," she said. "I had to dig deep to finish that last six miles, but having my dad with me made the difference."
Dad made sure her friends had an IPA waiting for her, and they were there to pick her up when she collapsed after the finish.
Though Hart thought she'd be a one-and-done marathoner, she knew pretty soon after she picked herself off the ground that she wanted to do it again, with all of those accoutrements of a big race.
A few weeks before, Olney's Ken Tromabatore saw the Boston Marathon's chances for a postponed race go up in smoke right about the time his knee started acting up. 
He's been making the trip since 2007, and values the race for its celebratory atmosphere that unites so many of his friends in the running world.
"That's what everyone is usually training for, and it's the one place you are pretty much guaranteed to see them every year," he said. 
Even though the race's in-person cancelation removed that feature, Trombatore was insistent on keeping his streak going. He initially planned to sneak for the streak, thanks to his troublesome knee.
"I was just planning to just leave in the middle of the night while my wife was asleep and leave a note that said 'gone marathoning,'" he said. "I didn't want to inconvenience anyone, I didn't want my wife or friends to set up an aid station and be waiting if I didn't get there in time."
He eventually decided to clue Jenny in on what his plans were, but a day after supporting some Montgomery County Road Runners' virtual efforts on the Rock Creek Trail near Lake Needwood, he stuck to his self-sufficiency plan.
He dropped off a series of water bottle and supply kits, hidden in the bushes throughout a course he could run from his home, visiting four different beer farms.
"I didn't want to do it where I had run too much before," he said. "During the day, you can't run on a lot of these roads — they're two lanes with a lot of blind curves. I saw maybe 25 cars the entire night, and probably 15 were in the last hour, when it was getting close to dawn."
Trombatore stopped to take photos at each of the beer farms, and after taking a wrong turn, was able to cut out a dog leg on the course he drew up. 
"A few times, my knee started 'talking to me,' but it held up," he said. "I wasn't going my normal pace, but I had a clear night with a bright moon most of the time." 
Elsewhere in Maryland, Bethesda's Emily Wilde was looking for the exact opposite experience from her solo marathon. A two-time New York City finisher, she loves the noise and the cheering, and while she wouldn't be able to replicate Second Avenue down to the T, her friends would do what they could to bring her the next best thing. 
Wilde got involved with the Michael J. Fox Foundation soon after her father's Parkinson's diagnosis, drawn by the wide array of educational materials and networking and support opportunities the organization offered. 
"It seemed like they were doing the most, in terms of funding research and offering opportunities for the community affected by Parkinson's," she said. "I'd already run five races with them."
Her friends were eager to help however they could, either by running with her, biking with her, cheering or supplying her with refreshments.
"They were generous enough to spend their time, so I made the course easy for them," Wilde said.
That meant a few laps of her parents' Bethesda neighborhood, plus a long out-and-back on the Capital Crescent Trail, nearly reaching the D.C. line. 
"It was a lot more relaxed than other times I ran New York," she said. "I started 20 minutes late, and I was fine stopping and talking to people when I saw them. One of my friends was jogging around, ready to go and I told her we were going to take a break first."
While the course didn't have the big city atmosphere, the tradeoff with not having to get out to Staten Island before dawn was a nice change of pace.
"It was a lot easier and a lot more fun," she said. "I knew going in that it wasn't going to be my fastest marathon so I ran it with that in mind."
Spencer Jurkiewicz had other plans for his early January marathon. He had been building his mileage over the past few months to the vaunted 100-mile weeks, and he was eager to see how he would do.
He wanted to make the most of a few-week break from grad school, using his extra free time to go on some adventures. He had been hoping initially to do some trail running in Virginia, but recent rainfall dissuaded him. So did the lack of sidewalks between D.C. and either Baltimore or Annapolis. So, he changed course, to someplace much flatter: East Potomac Park. The Navy Yard resident knew it well.
"My friends and I have been meeting up there for a run most Wednesdays, so it seemed like the right place to go," he said. "People could join me for a few miles and it was easy for everyone."
With a combination of a sustained stretch of good health and his friends, he ultimately ran a 19-minute marathon PR. He had even run a 32-mile run in December, so a marathon seemed much shorter by comparison. 
"When I'm going hard I tend to zone out, having the people next to me to pace is helpful," he said. "I don't think I ran for too long without someone by my side." 
 He wobbled a little after the finish, then went for a three-mile cooldown on the National Mall afterward.
"I might not have done that after a regular marathon, but this wasn't a regular marathon," he said.
Recent Stories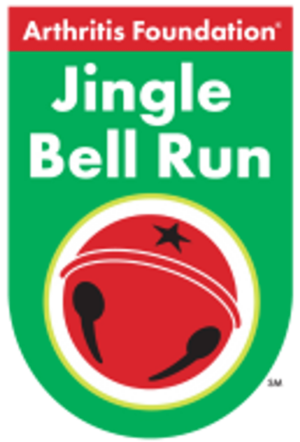 Be part of the original festive race for charity and signature Arthritis Foundation holiday event! Wear your favorite holiday attire and together, we'll jingle all the way to a cure! Register as an individual or bring a team of friends,