It started as a game — run a mile a day until things went back to normal.
For Pat Early and his children, it was a way to keep their heads up as the world reacted to the novel coronavirus, as they adjusted to school at home and a suddenly changed world. Then things didn't go back to normal.
"We thought it would be a couple of weeks, maybe a month," Pat said. "Now we're a week away from a year and they're still doing it."
His daughter, Brooke (9) and son Ace (6) stayed on pace, getting their miles around their Montclair neighborhood, local tracks, Prince William Forest Park and more. Along the way they've learned strategy, built some endurance and spread their love of running to some friends who have joined in.
Once they hit 100 days, it was up to the kids how long they wanted to take it, and they've kept it going since March 14.
A few years ago, Brooke asked Pat, an adult-onset ultrarunner, if he wanted to go for a run. He prepared the jogging stroller, and she surprised him by saying she wanted to join him on foot. Ace wasn't hard to convince, given his competitive streak with his big sister.
They have differing preferences, but they both like days when the family schedule lets them take a field trip. Brooke likes running on the forest trails. Ace prefers the track.
"I like track because that's where I beat Brooke," he said.
"You've only beaten me a few times!" she shoots back.
"I zoom past you!" he retorts. The track is the better venue to show off his aerodynamic new mohawk.
The family's rule on the streak is that the kids must decide in the morning if they're going to break it, so laziness at the end of the day is not an excuse. They did almost let one busy day fall through the cracks, but after dark Ace spoke up, and they hit the road from their front door and completed two hilly laps of their neighborhood.
They've had a lot of fun along the way. Brooke has inspired her friend to run a mile every weekend with her sister. The kids experiment with the lowest treadmill speeds to see if they can crawl fast enough. Pat's a Dairy Queen Track Club regular, and they've gotten the club's kids together for some laps. Their hero Mike Wardian joined them one day,
Ace likes going fast, but he doesn't like to go too fast. Brooke taught herself to jog slowly, but not walk, if she got tired. They learn now to run hills and how to strategize their efforts. They've run laps of the neighborhood handing off a football. Pat has taught them how to spot ice on the roads and how to keep themselves wanting more.
They usually jog leisurely, but on track days and special occasions, they'll race, usually clocking in between 8:20 and 8:30.
A week before the one-year mark, Brooke was a hard "no" on whether she would keep it up after they finished their March 13 run, but Ace signaled his plans to run "80 more years!" But by the end of the day March 14, neither kid was willing to yield, and the streak continued.
"They've both learned a lot and really taken to it," Pat said. "They know not to look back when they're racing, they really challenge each other to stay healthy. It's become a part of our life and they're developing habits that doesn't even have to do with running. It's turned into something I never expected."
Recent Stories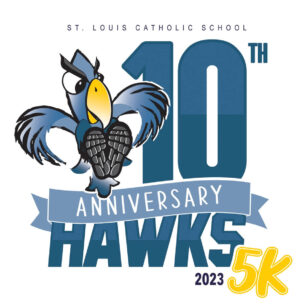 2023 will be the 10 year anniversary of the St. Louis Hawks 5K and Fun Run for Health & Wellness. The USATF certified course runs through the historic Hollin Hills neighborhood in Alexandria, VA.
The Hawks 5K goal, in conjunction