A number of local track and cross country coaches are retiring, including Loudoun Valley's Marc and Joan Hunter, Bethesda-Chevy Chase's Chad and Emily Young and Thomas Edison's Berni Flynn. Lake Braddock's Mike Mangan has been hired as head cross country coach and assistant track coach at Webber International University in Babson Park, Fla.
Local distance runners scored six double wins at the Virginia and Maryland state track championships. The following are distance winners:
Maryland
4A
800 Tinoda Matsatsa Northwest 1:57.62
1600 Matsatsa 4:15.57
3200 Andrew Schell Walter Johnson 9:32.55
800 JahMei Wyatt Clarksburg 2:16.19
1600 Grace Finnegan Richard Montgomery 4:57.88
3200 Finnegan 11:07.18
Virginia
3A
1600 1 Charlie Blundell Independence 4:27.25
3200 1 Blundell 9:30.29
4A
800 Matthew Smith Loudoun Valley 1:53.27
1600 Smith 4:16.78
800 Ava Gordon Loudoun Valley 2:17.27
1600 Gordon 4:55.07
5A
3200 George Alexander Stone Bridge 9:29.23
6A
800 Xavier Jemison McLean 1:52.97
1600 Jemison 4:17.26
3200 Bryce Lentz Colgan 9:11.12
4×800 West Springfield 8:01.89
1600 Anna Macon Corcoran Yorktown 5:07.95
3200 Gillian Bushee Herndon 10:51.35
4×800 W.T. Woodson 9:33.80
Recent Stories
Fairfax County Detectives have arrested and charged a 42-year-old Herndon man with crimes related to indecent exposures near the Washington and Old Dominion Trail in August, the department reported.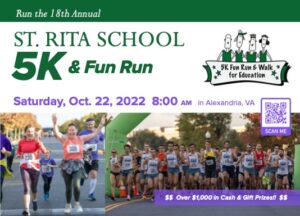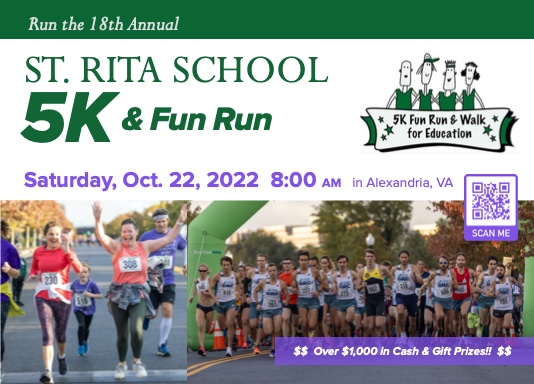 The 18th annual St. Rita 5K & Fun Run is a fall classic on treelined streets through beautiful Alexandria, Va.
Certified & chip-timed 5K follows a flat, fast, out-and-back course through Potomac Yard.
The morning festivities includes a live DJ,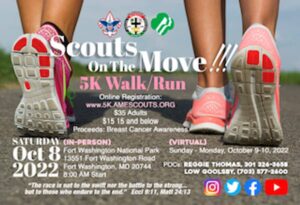 The Association of African Methodist Episcopal Scouts' (AAMES) 1st Annual 5K In-Person/Virtual Run-Walk Race
In-Person:
Saturday, October 8, 2022 at 8:00 A.M.
MARYLAND
Fort Washington National Park, 13551 Fort Washington Road, Fort Washington, Maryland 20744