Heritage High School alumna Weini Kealti, a sophomore at the University of New Mexico, won the NCAA 10,000 meter championship, running 33:10.84 for a roughly half-second edge over Oregon's Carmela Cardama Baez. West Springfield alumna Caroline Alcorta, a graduate student at Villanova, was fifth in 33:20.68. The pair raced again in the 5,000 meters, finishing behind Georgetown's Josette Norris (fourth, 15:52.05). Kelati was fifth in 15:54.46 and Alcorta was 11th in 16:18.66.
The District Track Club held the DMV Meet of Champions Sunday at the University of Maryland. Check out results here.
Georgetown alumna Rachel Schneider's 15:06.71 at the USATF Distance Classic May 16 at Occidental College put her under the 2020 Olympic qualifying time of 15:10.
ArlNow reported that the Metropolitan Washington Council of Governments' Transportation Planning Board approved $680,000 in assistance for 13 projects, including one to look into options to close a gap near the East Falls Church Metro station.
A variety of distance runners with local connections will compete in the NCAA Track and Field Championships, starting with the regional finals this weekend:
Local runners picked up some gold watches at the Penn Relays:

Georgetown's 4×800 meter relay team Kenneth Rowe (1:52.46), Ian Delgado (1:52.25), Ruach Padhal (1:49.57), Joseph White (1:50.91)
Sprint medley relay  (200m / 200m / 400m / 800m)  3:17.53       Nate Alleyne, D'Andre Barriffe, Lawrence Leake (48.2), Joseph White (1:46.45)
Two Northern Virginia natives ran on Villanova's winning 4×1500 meter team: Patriot alumna Rachel McArthur (4:18.4) and West Springfield alumna Caroline Alcorta (4:28.0).
Northwood senior Eldad Mulgeta won the high school boys' 3,000 meter championship in 8:29.05.
Oakton and American University alumna Keira D'Amato won the Olympic Development 10,000 meters in 33:43.86.

Vienna's Perry Shoemaker qualified for the 2020 U.S. Olympic Marathon Trials, running 2:43:33 at the Eugene Marathon.
Herdon alumna Hiruni Wijavaratne broke her own Sri Lankan marathon record at the Dusseldorf Marathon, running 2:34:09.
Road reconstruction in Rock Creek Park has reached Wise Road, which is now closed. This will interrupt the Western Ridge Trail, and runners will have to detour west to Oregon Avenue NW to avoid trespassing.
The Rock Creek Hiker-Biker Trail near Ray's Meadow Local Park and Jones Mill Road will experience intermittent closures through May 2 to accommodate Purple Line Project construction.
Construction of a pedestrian bridge over Route 29 in Falls Church is forcing a detour near mile 5.5 of the W&OD Trail through Fall 2019.
Here's a selection of superlatives awarded by local running clubs.
Three Loudoun Valley relay teams won national championships over the weekend, with two setting national indoor records.

Distance Medley Relay: 9:54.41 (national record): Jacob Hunter (1200 in 3:01.331) Akere Simms (400 in 50.908) Connor Wells (800 in 1:55.96) and Sam Affolder (1600 in 4:06.205)
4xMile: 17:01.81 (national record): Kevin Carlson (4:22.26),  Connor Wells (4L21.456), Sam Affolder (4:06.192) and Jacob Hunter (4:11.901). Loudoun Valley also had two other relay teams in the top eight.
4×800 7:40.49: Jacob Windle (1:57.453), Connor Wells (1:57.046), Sam Affolder (1:51.368) and Jacob Hunter (1:54.619).

At the NCAA Division I Indoor Track and Field Championships, Heritage alumna Weini Kelati (New Mexico) finished second in the 5,000 meters and third in the 3,000 meters, the Georgetown distance medley relay team of Jack Salisbury, Lawrence Leake, Ruach Padhal and Nick Wareham finished third; Patriot alumna Rachel McArthur ran on the Villanova distance medley relay team that finished fourth and Georgetown's Joe White finished fifth in the 800 meters.
Montgomery County Parks Natural Surface Trail Manager Bob Turnbull was named "Trail Builder of the Year" by Mid-Atlantic Off Road Enthusiasts, a mountain bike riding and trail building organization.
Loudoun Valley alumnus Drew Hunter set a meet record in winning the U.S. indoor championship in the two mile, running 8:25.29 from the slower of two heats. More from LetsRun.
The legal bib transfer period for the Credit Union Cherry Blossom Ten Mile runs through 11:59 p.m. Monday Feb. 28. If you miss this deadline, don't run with someone else's bib.
The National Park Service will not plow the D.C. portion of the Capital Crescent Trail during the predicted Wednesday, Feb. 20 snowfall. Crews will wait until all the snow has fallen.
DDOT will hold a public meeting on the Palisades Trolley Trail feasibility study 6:30 p.m. – 8 p.m. Thursday, March 7 at the Palisades Neighborhood Library, Meeting Room, 4901 V Street NW.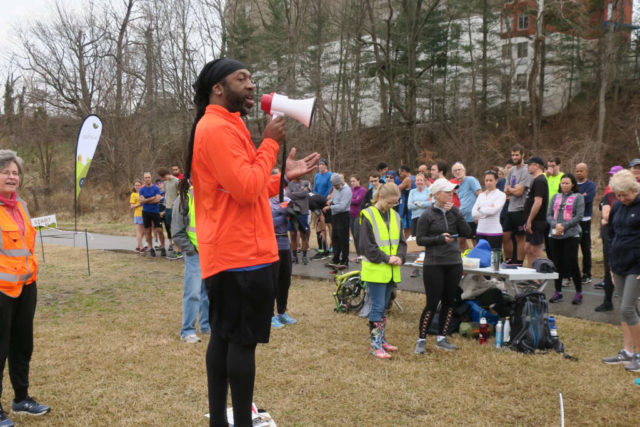 The College Park parkrun received the Chair's Award from the College Park Community Foundation.
Alexandria's Julie Hatenbach appeared on the Rambling Runner podcast following her breakthrough race at the Houston Marathon.
Alrington's Michael Wardian appeared on the Fierceful podcast.
Citing budget constraints, the Navy-Air Force Half Marathon and 5 Miler have been cancelled. George Banker suggests registering discontent with the decision in writing to:

Captain Roy Undersander
Chief of Staff, NDW
1411 Parsons Ave., SE
Suite 200
Washington Navy Yard, DC 20374-5001

Two more locals qualified for the 2020 Olympic Marathon Trials at the Houston Marathon Jan. 20. Poolesville alumnus Chase Weaverling ran 1:03:58 in the half marathon to beat the 1:04:00 standard and Georgetown Running Club member Maura Linde, a Sykesville, Md. native and Century alumna, ran 2:44:37.
Georgetown alumnus Amos Bartelsmeyer also appeared on the Citius podcast after running 3:55 for the mile in his first post-collegiate race.
Fairfax's Rochelle Basil will compete at the IAAF World Cross Country Championships, March 30 in Aarhus, Denmark, for her native New Zealand. She ran at George Mason University.
The U.S. Track and Field and Cross Country Coaches Association has named four local coaches Coach of the Year for their respective states:

Virginia – Marc Hunter, along with his wife Joan, guided Loudoun Valley's boys team to its second straight Nike Cross Nationals title.
D.C. – John Ausema's Gonzaga team won its third straight D.C. title.
D.C. – Emily Farrar guided the Woodrow Wilson girls to their first, and a public school's first, D.C. title this fall.
Maryland – Northwood alumnus Giovanni Reumente returned to his alma mater and guided his boys' team to county and regional championships and took two runners to Nike Cross Nationals.

A WTOP reporter rescued a runner who fell into Broad Branch Creek and nearly drowned Sunday, Jan. 13.
Lisa Reichmann and Julie Sapper of Run Father and Faster are producing a podcast during the approach to the Boston Marathon. Listen to it on iTunes here.
Gaithersburg High School alumnus Ian Torrence is conducting a survey on treadmill use. Take it here.
Lake Braddock alumna Kate Murphy appeared on the Citius podcast to talk about her injuries.