It takes a few glances to notice what's different about this year's Credit Union Cherry Blossom Ten Mile t-shirt.
There's no date to be found. Just recognition that it's the race's 48th running.
"We were looking for ways that we could avoid waste if the race got canceled," said race director Phil Stewart. "The medals are dateless, too, but we're including a little plastic strip you can add that says Sept. 12, 2021."
Up until a few weeks ago, Stewart was still a little unsure the race would happen as the Delta variant's progress soured national optimism for the COVID-19 pandemic to wane. But with a few alterations, Cherry Blossom will serve as "opening day" for the fall road racing season this Sunday.
With plenty of rescheduled races added to an already-crowded calendar, D.C.-area runners are facing an embarrassment of riches after an 18-month hiatus.
Yin Tsai, of Crystal City, is planning on running Cherry Blossom, the Army Ten-Miler (since canceled, scheduled for Oct 10), the PNC Parkway Classic (Nov. 7) and the Rock 'n' Roll D.C. Half Marathon (Nov. 13).
"I basically signed up for everything," he said. "So many of these races have been a part of the calendar for the last 10 years, it was weird to not have them last year.
"I'm not going to be going for any personal records, but I'm just happy to have these races back."
Stewart's reflections matched many race directors' over the past year. They've reduced race field sizes, reduced contact between runners and volunteers and generally build in as much flexibility as possible. But, as Marine Corps Marathon (Oct. 31) race director Rick Nealis noted, there comes a time when the contracts have to be signed and commit these races to their best approximation of a plan build for the conditions.
"The biggest thing has been dealing with all the unknowns the pandemic can throw at you," Stewart said. "We felt like we were planning for numerous alternatives, depending on what the situation is on race day."
The most recent change, as the Delta variant's contagiousness became so pronounced, was the National Park Service's requirement that runners wear masks before and after the race, which Stewart said would work for Cherry Blossom.
"If guidance had come out requiring masking during the race, I'm not sure we would have held it," he said. "Trying to race while wearing a mask is a pretty unpleasant experience."
Because Sept. 12 was the only date available for Cherry Blossom to reschedule, Parks Half Marathon in Maryland stepped aside from its traditional weekend, rescheduling for Sept. 26. Though the Montgomery County Road Runners Club has held a variety of races in one form or another for nearly a year, the 500-person volunteer effort will represent its largest event since the start of the pandemic. 
"Once I saw the Montgomery County Fair was able to take place, I knew we could make this happen," said race director Don Shulman. "Getting on the course, being on the starting line with people, it's going to do everyone's heart a little good to do that."
The reintroduction of large-scale in-person racing hasn't been entirely smooth — community spread of COVID-19 in Prince George's County, Md. reached the point in August that the D.C. Road Runners could not get a permit to hold the Larry Noel 15k on Sept. 5. In August, the Steamtown Marathon canceled its Oct. 10 race in Scranton, Pa. after its insurance providers wouldn't offer the race policies to protect the organizer against a COVID-related lawsuit. Several of the municipalities involved in the Pacers Running-owned New Jersey Marathon denied the race permits for its October rescheduled date. And several races that cater mainly to children under the age of 12 are being held virtually because many of the runners cannot yet be vaccinated. The Somerset Elementary Back to School 8k, for instance, will be postponed until next spring to give runners a chance to feel more comfortable gathering. 
Shulman said that the age limit for vaccination forced Parks to call off its traditional high-five hill lined with exuberant children. While it's a far cry from kissing a Wellesley student during the Boston Marathon (which is frowned upon this year), it reflects Shulman's attitude toward holding the race successfully.
"Mandates don't dictate health- common sense dictates health," he said. "Runners are going to be the first to stay home if they don't feel healthy."
A number of large races have announced vaccination requirements for runners, including the Boston, Chicago and Oklahoma City marathons and Philadelphia's Broad Street Run. Nealis said although he hadn't decided on a vaccination-or-test mandate, with a Sept. 9 meeting with military command looming, it was likely the race would follow what had become the industry standard for large races. Vaccination and availability of Marines to support the race also remains a factor.
"I've got a good position at the end of October to see how things go for the first wave of big marathons," Nealis said. "And since we both use the Pentagon, I'll be watching to see how things go for the Army Ten-Miler."
A few stalwarts will be missing, like the Clarendon Day races, Jingle All the Way and the Veterans Day 10k. Pacers Running trimmed back its variety of fall races to focus on two–the inaugural D.C. Half Marathon Sept. 19, which takes the place of the discontinued Navy-Air Force Half, and the PNC Parkway Classic Nov. 7. Pacers held a few open-course races along the Mount Vernon Trail over the winter before holding fully-fledged 5ks in Alexandria and Arlington in April and May.
"We just didn't see the actual registration numbers aligning with what we were hearing from the running community," said race director Lisa Reeves. "Everyone says 'we're ready to get back to racing, we want to return to running,' yet those registration numbers are not reflecting that sentiment, so we're focusing on our high-level brand races."
In addition, Reeves said, the rush to hold 2021 races in a short season would likely lead events to cannibalize each other, fighting for a smaller, self-selected group of runners eager to race than in typical years.
That drop in participation was reflected in recent races held by Potomac River Running, where the South Lakes 10k in August saw 196 finishers, compared to 332 in 2019, and the Labor Day 5k, which drew 157 finishers compared to 347 in 2019.
Shulman said the rise in the Delta variant coincided with a drop in the Parks Half Marathon entries.
"We had a tremendous start to registration this year, we were thrilled, but Delta started picking up steam," he said. "There's only so much we can do to make the race safe for people, as long as they use common sense. We won't hold it against them if they get to late September and decide they aren't comfortable racing, it's all up to them."
The actual racing is relatively safe, Reeves said. "If you spread 500 people over three miles of open road that's 40 feet wide, your chances of transmission are pretty limited, but the bottlenecks are the problem."
For Pacers, eliminating those bottlenecks means eliminating race-day packet pickup to prevent crowding, changing the Parkway Classic course to cut the need for shuttle buses and leaving the starting line open for runners who don't want to participate in a mass start.
Stewart has traveled to a few races over the summer, including the Peachtree 10k in Atlanta on July 4 and the Quad-City Times Bix 7 in Iowa.
"It was interesting to see, at Peachtree, there was still a lot of attention being paid to various COVID mitigations," he said. "By the time I got to Bix, it was back to normal, right before the Delta variant became prevalent."
While runners coped with suspending their racing plans for more than a year, the racing hiatus was difficult for race directors, too. Shulman had been planning for one last year directing parks before abdicating. Reaves downright had trouble with the downtime at first after 15 years of directing at least a dozen races.
"When COVID hit and that switch turned off, I took it very personally," she said.." It took me quite a few weeks to get over the initial shock of what was happening."
She ultimately made use of the free time, restarting a baking career and spending more time running than she had done in five years.
"It allowed me the opportunity to reevaluate events and life in general, it provided me an opportunity for myself and other race organizers to work together to lobby Virginia on restrictions," she said, noting that the weekly calls with a half-dozen race directors was as therapeutic as it was productive. 
As for making wholesale changes to races after the sabbatical, most race directors seemed more interested in ensuring their skills hadn't atrophied.
"I'm thinking far ahead, but I can't think too far ahead because I have to shake the dust off," Reeves said.
The consensus was that returning the racing experience was paramount. 
"Hopefully it will feel similar to their experiences in the past, except there won't be a cherry blossom in sight," Stewart said. "There's not much I can do about that."
Recent Stories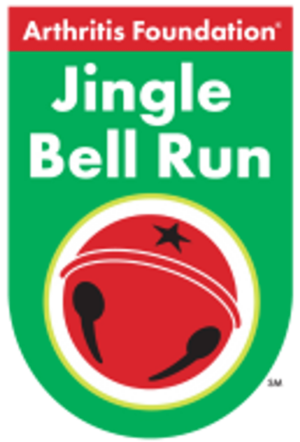 Be part of the original festive race for charity and signature Arthritis Foundation holiday event! Wear your favorite holiday attire and together, we'll jingle all the way to a cure! Register as an individual or bring a team of friends,