Kenyan Edwin Kimutai left the American field behind to fend for itself at the rescheduled Credit Union Cherry Blossom Ten Mile, pulling away in the third mile and cruising to a 32-second win in 45:45.
Behind him, Abbabiya Simbassa and Augustus Maiyo battled for the U.S. 10 mile championship, with Simbassa gapping Maiyo, the 2012 Marine Corps Marathon champion, by five seconds, finishing second overall in 46:18.
"I felt good," said Kimutai, 28, who has a 1:00:57 half marathon PR. "The course was good. It was flat, and I like racing on the roads. I was good the whole time. I normally run the marathon but wanted to run some speed. I'm running the Paris Marathon, so it was time for me to come see if my speed was good."
It was indeed good.
Coloradan Frank Lara (fifth overall, fourth American in 47:13) had planned to run 4:35 pace to shoot for the 45:54 American record, but Kimutai started out with a pair of 4:28s before slowing briefly to 14:02 at 5k.
Credit Union Cherry Blossom Ten Mile
Sept. 12, 2021
Washington, D.C.
"I was aiming more for 14:14, so I knew we were out pretty hot when I hit 5k in 14:04," Lara said.
Maiyo and Simbassa were a second ahead of him, and they pulled away from Lara and the larger chase pack in the fourth mile.
Reed Fischer, from Boulder, expected the race to go out fast, but hung back to let the race settle. In the sixth mile, he felt himself pull away from the rest of the chase pack.
"I made a subconscious little surge and I was by myself," Fischer said. "I realized I was a few meters ahead of everyone else so I figured I might as well ride it and take advantage of the chance."
He saw Lara coming back, but also had a cushion to take a chance and speed up to catch him.
"We raced for a half mile or so, I maintained my pace and he fell off just a little."
Fischer was fourth overall and third American in 46:59. He will race the Chicago Marathon.
Meanwhile, Simbassa, who trains in Flagstaff, ran just off of Maiyo's shoulder, trying to make the race as easy as possible after finishing second at the New Haven 20k six days prior, which served as the U.S. 20k championships.
"I didn't want to go with (Kimutai)," Simbassa said. "I was happy just sitting and making a move in the last 400 meters."
Maiyo knew Simbassa was sitting on him, but he preferred taking the lead.
"I knew he was going to kick it in the last minute, but I just kept going," Maiyo said. "We still made it a race."
Maiyo, who lives in Colorado Springs, will race the Boston Marathon.
Lara welcomed a slight headwind heading south on Hains Point in miles six and seven.
"On the way out, the headwind kept us cool but the tailwind didn't help on the way back because it was so warm," he said. "If it gave us a push, I definitely didn't feel like it."
Recent Stories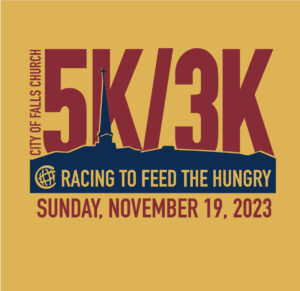 The out and back Falls Church City 5K/3K course is mostly flat on the W&OD Trail starting and finishing at 103 Columbia Street. Overall male and female winners earn free shoes and medals are awarded to all categories. Great family