D.C. private school runners won both individual varsity races at the Landon Invitational in the first large cross country race for many runners in almost two years.
St. Albans senior Pierre Attiogbe was the first of five D.C. school runners across the line, running 17:25 to Sidwell Friends senior Michah Lachman's 17:44. Attiogbe broke away in the third mile and relied on the focus he had practiced most days during the height of the pandemic.
"I ran a lot of time trials, so I got used to running hard alone," he said. "The rest of the guys slowed down in the second mile, but I kept going. I tried to practice feeling comfortable leading.
"Training last year helped me feel more at home running on my own. Getting to do it in a race felt right."
Lachman didn't focus on his finishing time, though overall he felt the course, several loops around the Landon campus, was harder than the previous week's Oatlands Invitational course.
Sept. 18, 2021
Bethesda, Md.
Photos by Charlie Ban
"I was happy with how I handled it today," he said. "We all made a conscious decision to take the first mile easy, and that was the flattest mile, so we ran the hardest on the tougher parts of the course."
Senior Nicholas Grabarz led his St. John's team to a 38-55 win over St. Albans with his third place finish in 17:53. Although he didn't last when he tried to go with Attiogbe, the pace he maintained late in the race showed him his training was paying off.
"I might not have my top speed right now, but I can hold a pace longer when I'm tired," Grabarz said. "We might not have put in great times today, but we had good efforts and good results."
Maret senior Marisa Poe won the girls' race in 19:46 despite making two wrong turns in the last mile. The first time, her coach was nearby to correct her. Later on, runner-up Katherine Strong of Stone Ridge (second in 19:54) shouted to her.
"I tried to keep it slow early on and keep the pack together," she said. 
The humid morning was a far cry from Poe's highlight this summer–two weeks of training at altitude in Flagstaff, Ariz.
"My first run up there was a minute slower, I wasn't used to running 8:30 pace," she said. "But it helped me focus on my effort, not the times. When I got back here, the air was a little juicer but I was mentally prepared and confident."
Strong found consolation in the opportunity to race with her team again. Though she raced a few club cross country meets unattached in 2020, they lacked the overall energy that she and her teammates found at Landon.
"Now it feels back to normal," she said. "I still enjoyed racing, and I was glad I was able to do something, but this is what I've been looking forward to. We might have taken this all for granted before."
Stone Ridge won the girls' race with 74 points over Sidwell's 82. St. John's had four finishers in the top 14, but didn't field a full team in the varsity race.
Elizabeth Seton's Evelyn Rogers (20:07) was in a little over her head competing with Poe and Strong, but it's also one of her first large races. She too ran club races that topped out at about 30 runners each, so a race with more than twice as many runners was a treat.
"They got away from me on the hills, but I usually caught back up when the course flattened out," she said. 
The problem was, the third mile was the hilliest.
"I probably should have backed off a little earlier. "
Recent Stories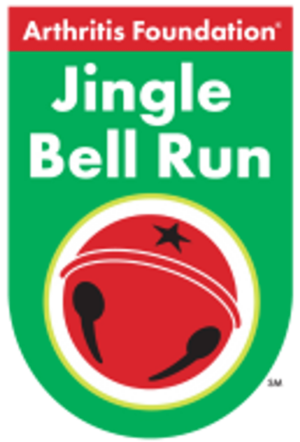 Be part of the original festive race for charity and signature Arthritis Foundation holiday event! Wear your favorite holiday attire and together, we'll jingle all the way to a cure! Register as an individual or bring a team of friends,