The days are getting longer and the weather is getting warmer — which can mean one big thing for the running community: more runners are taking to the region's sidewalks, paths and trails.
As more runners ditch the treadmill in favor of running outside, there are health and safety reminders to consider. Chief among them is knowing the correlation between warmer temperatures and running risk, said Dr. Wiemi Douoguih, the medical director of MedStar Sports Medicine for the Washington region. Spring can yield some warm-but-not-too-warm running conditions, but "just because the air feels [cooler], you have to be careful," he said.
Temperatures can feel comfortable and quickly get dangerous as you exercise, he said. Runners need to be careful with outdoor exercise when temperatures are between 73 and 82 degrees, but with higher humidity levels — a foregone conclusion in the D.C. area — temperatures as low as 73 can be high risk, Dr. Douoguih said.
"The higher the humidity, the lower the temp you have to be worried about the risk," he said. "For the seasoned runner it may not be a big deal, but as you get older, it's more and more important to pay attention to."
Humidity is a big obstacle in the D.C. area, and it takes some time to adjust to it as well as the season's warmer weather, said Jerry Alexander, who coaches both Georgetown Running Club and Northern Virginia Running Club.
"A temperature that may seem like nothing in August … that same temperature in May when you're not used to it can knock you for a loop," Alexander said. "Let your tolerance for heat and humidity build up gradually."
There some times of day that may be best to avoid the day's worst heat and the wet blanket of humidity, Douoguih said.
"Morning tends to be cooler because the sun hasn't been up; and nights it can be warm because there has been a longer period of sun exposure, especially in the Mid-Atlantic," he said.
Morning runners should also take into account the physiological effects of pre-dawn jaunts such as running on an empty stomach or with little stretching, too. It's always wise to "to consult with a physician before going for a run," he recommends.
And for those who want to get a more detailed look at the humidity in the area, Douoguih recommends a getting a wet bulb temperature that measures the relative humidity of the air and categorizes the risk. They are available through a number of online retailers.
Heat illness is no joke, Alexander said. During his decade of consistent running, he suffered from heat illness almost every year. He vowed to not allow the same fate to befall him the following year, yet he was stricken with it again and again. He said it's a reminder that all runners, even the experienced ones, need to practice extreme caution when heading out during warmer weather and prepare for the conditions.
"Getting an injury .. there's nothing you can do about it — but heat illness is completely preventable," he said.
During a run
The foundation for a safe and healthy run during warmer weather is good hydration practices.
"Hydration is critical — many people think they can just drink right before a run and that would be enough — but you need to keep the body hydrated, especially during warmer weather," Douoguih said.
Runners should hydrate themselves anywhere from one to two hours before exercise. Additionally, if that exercise is a long run (more than one hour), they should hydrate every 20-30 minutes during the run, Douoguih said. In general, runners should focus on taking in 8-10 ounces of water ahead of runs and getting "a splash" of water during those longer runs.
What runners wear matters, too. When it's hot out, put on light-colored, loose-fitting clothing that wicks sweat from the body, Douoguih said. Short sleeves and shorts are preferred over long sleeves or pants when it's toasty outside.
And spring time is prime time for rainy weather and pop-up storms, so "try to run when it's not raining," Alexander put it simply with a chuckle. Alas, if you find yourself caught in a deluge, be alert and mindful about your visibility — cars may not notice you as easily, he added.
The summer months of June through September are the deadliest as far as lightning is concerned, according to the National Weather Service. It recommends anyone outside get inside as soon as they hear thunder and seek shelter in a building or hard-topped metal vehicle. For those running during a thunder/lightning event, the National Weather Service says avoid open areas; stay away from isolated tall trees, towers or utility poles; and stay away from metal conductors such as wires or fences.
After a run
When the run is done, there are still some actions to take for proper recovery.
Most important is to get fluids and rehydrate, Dr. Douoguih said. Drinking water or a sports drink will do the trick to replace the fluids lost during exercise, he said.
So how much should runners drink? The National Athletic Trainers' Association recommends drinking 32 ounces or 1 quart for every 2 pounds of body weight lost during exercise. Hydration levels are dependent upon a runner's size and body composition, but another way to monitor how much fluid to drink is by monitoring the color of urine — as the body becomes more hydrated, urine is lighter.
Douoguih said the effects of sunlight can be underestimated, and workout-weary runners should get inside to cool off and recover. However, don't get into a place too heavily air-conditioned either as that can shock the body. Room temperature should be just right, he said.
After a hot-weather run, it may take longer to recover so be patient with your body, Alexander said.
"Don't push the limits and when you're done focus on hydration and get out of the heat and be smart about it," he said.
How hot is too hot to run?
"If you're asking if it's too hot, it's probably too hot for you," Alexander said of runners who may be wishy-washy about venturing outdoors.
Every runner is different, but there may come a time when it is just too hot to head outside for a run.
"I think anything above the 82 degree wet bulb temperature," said Douoguih, who added runners should take the temperature, ambient heat, humidity and sunlight all into account too when making that decision.
For those who don't have a wet bulb temperature reading, start considering alternatives if the temperature creeps above 85 degrees, Douoguih said.
Just because it's too hot to run doesn't mean runners have to miss a day — they can always log miles on a treadmill or swim laps at a pool, Alexander said. It's better to avoid heat illness and incur a tiny training deficit than run in dangerous conditions and get heat illness or something more severe, he added.
Alexander said he tells the runners he coaches to stop running if they feel even a little bit dizzy during warm-weather runs. It's all about listening to your body and staying safe, he said.
"Some people can handle heat well and others just can't — it's important to know yourself and ask yourself if you can go out without hurting yourself," he said. "If you think you can't, you can't — and I would always air on the side of caution."
Recent Stories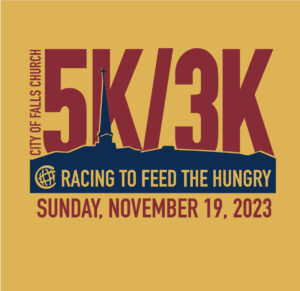 The out and back Falls Church City 5K/3K course is mostly flat on the W&OD Trail starting and finishing at 103 Columbia Street. Overall male and female winners earn free shoes and medals are awarded to all categories. Great family